Q&A with Paris Barns - International Tax Manager at Allan Hall Business Advisors
04 May 2022
Learn more about Paris Barns, International Tax Manager at Allan Hall Business Advisors, AGA accounting member firm in Sydney, Australia.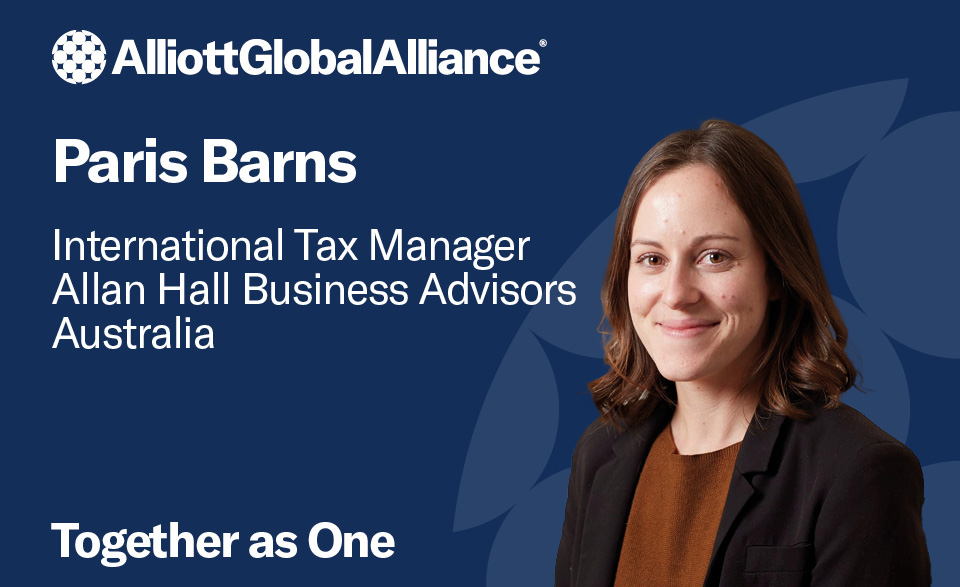 Paris Barns is Allan Hall's International Tax Manager and first port of call for Alliott Global international enquiries, which she has done for a number of years.
WHY DID YOU CHOOSE THIS AS YOUR CAREER:
I like helping business owners to streamline their interactions around the world.
WHAT IS THE BEST PART OF YOUR JOB:
Exposure to interesting challenges – always learning and the international issues faced by our clients are endless. You can never know it all and I really like that part of it.
WHAT IS YOUR FIRM'S DIFFERENCE IN YOUR OPINION?:
Allan Hall is a Top 50 firm demonstrating how a suburban practice can deliver everything small businesses need. We are future-focussed, innovative and continuously improving. We don't rest on our laurels and we're continually mindful of what our clients and staff need from us, which we're able to deliver through our different divisions or with an international outlook.

WHAT DO YOU CONSIDER TO BE YOUR GREATEST ACHIVEMENT TO DATE?:
Transitioning into International Services soon after joining Allan Hall and helping build our international division.

WHAT MOTIVATES YOU:
Problem solving, always learning and the professional growth that comes with that. And of course my team, especially mentoring and teaching others.
NAME ONE THING YOU CANNOT DO WITHOUT?:
Coffee and Yoga equally!
ARE YOU A MEMBER OF ANY COMMERCE, CULTURAL OR COMMUNITY ORGANISATIONS?:
I have been a member of Avalon Surf Lifesaving Club since I was 6 years old – I'm still a volunteer lifesaver and my youngest child is also a nipper.
WHAT IS THE ONE THING YOU WOULD LIKE TO SEE ALLIOTT GLOBAL ALLIANCE IMPLEMENT:
I can't wait to get back to live conferences and meeting all our new members and catching up with our existing colleagues.
Further reading:
Alliott Global Alliance and Allan Hall among finalists at Australia Accounting Awards 2022
Good Bad Ugly - The outlook for Australian accountants
About Allan Hall Business Advisors:
Allan Hall Business Advisors is a firm of Chartered Accountants and specialist business advisors established on Sydney's Northern Beaches in 1957 and are currently ranked 42nd in Australia in the highly regarded Australian Financial Review Top 100 Accounting firms.
With eight partners and 90 staff, and recently opened satellite offices in Brisbane and Adelaide, the firm has grown to become one of the largest, non-CBD, integrated chartered accounting and business advisory firms in Australia.
For more information please contact Scott Jago or Paris Barns