AGA Members Together Again at North America Leadership Conference
15 June 2022
Members from Alliott Global Alliance (AGA), one of the largest and fastest growing global multidisciplinary alliances, finally met in person for the 2022 North America Leadership Conference in Austin, Texas. Members enjoyed a full program of business sessions, networking and social activities.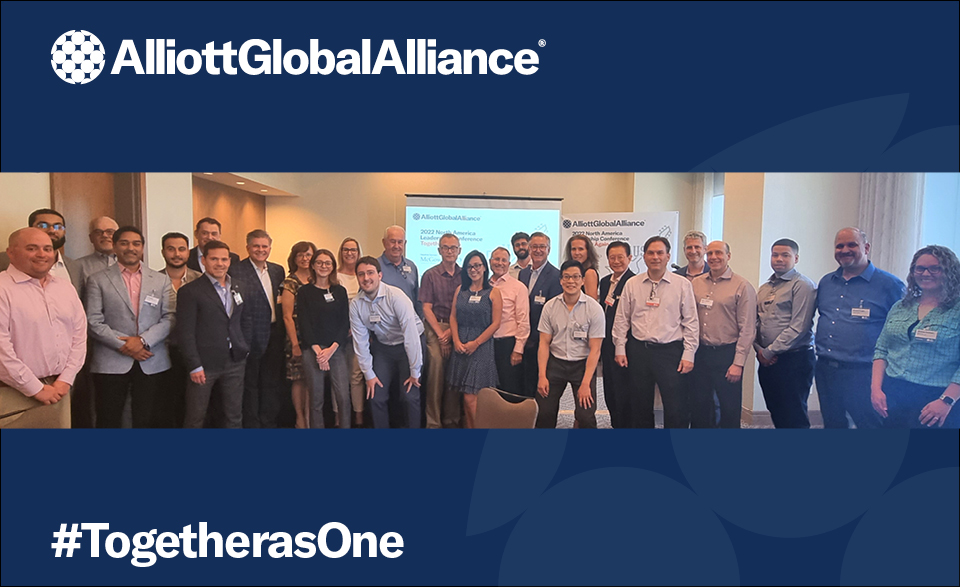 Sponsored by McGowan PRO, the professional liability insurance specialists, the event attracted 30 delegates from the region.
The conference commenced with a welcome by the North America Leadership Team, Worldwide Chair Darsi Casey, North America Regional Chair, Daryl Petrick and Deputy Chair, Chris Blake.
Giles Brake, AGA's CEO summarised the rapid growth of AGA's legal and accounting membership overall and in the region, and the milestones reached in recent months including representation in its 95th country and hitting 200 member firms.
Giles also shared examples of how the alliance's recently achieved global scale is having strategic impact on member firms' client development initiatives and success rates in pitching for new cross-border engagements and in generating new fee earning opportunities through a larger number of cross referrals.
Having overseen growth in membership of 37% in North America since 2020, Damien McMenamin, AGA's Chief Growth Officer, set out AGA's strategy to target and recruit further law and accounting firms in major commercial centers across the region.
After introductions to our new members, several delegates shared recent success stories and innovations, highlighting the importance of being actively involved in the alliance and developing collaborative relationships.
Mike Kraten, Founder of management consulting practice AQPQ, led a discussion on the importance of ESG, and Heidi Henderson from The Growth Partnership presented on how to handle difficult conversations. Daryl Petrick then facilitated a cross-generational panel to explore whether remote workers can truly emerge as leaders of their firms.
On day 2, Adelaide Ness from Rainmaker Companies, led a session on how to redefine internal and external client service strategy to recruit and retain the best talent, and the business conference concluded with a Managing Partners Forum facilitated by Valérie Menard from HNA in Montreal. Concurrently, Adelaide Ness presented a session for non-partners on how to step into the most trusted advisor role with clients.
The conference's business sessions were interspersed with unique opportunities to network and experience the Southern hospitality on offer in the vibrant city of Austin.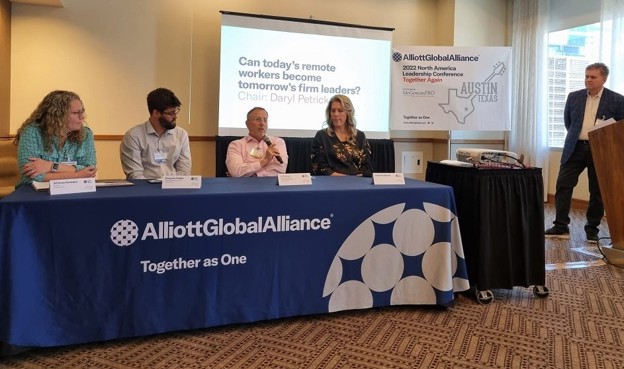 Giles commented:
"As shown by the post event feedback (an unbelievable average 9.4 out of 10 rating), this was an exceptional event for our managing partner level members and our 'up and comers'. We are a member-driven organization which means our events are co-produced by the region's members and the Executive Office, resulting in their high relevancy to the short and longer term challenges faced by leaders of North American mid-size professional firms. Together, we had not only a fun and re-energizing experience, but we also uncovered solutions to many of the adversities leaders face in managing their firms in these turbulent and unpredictable times. We look forward to seeing everyone in the region again in Washington DC in early November for our Worldwide Conference."
Further Reading:
EMEA Regional Conference attracts record attendance to Budapest
Alliott Global Alliance expands reach to 90 countries
New Members Continuum Legal, Tuggle Duggins and Rogers & Co join AGA in North America.
About Alliott Global Alliance:
Founded in 1979, and with over 210 member firms in 95+ countries Alliott Global Alliance is an international alliance of independent, law, accounting, and specialist advisory firms, working across the world Together as One.
Each of our members share a common goal: to learn and share knowledge, resources, and opportunities to make the world smaller and their businesses stronger.
We work with a spirit of generosity and openness — so that together, we can continue to fulfil our ambitions, gain greater experience, and drive mutual success.
Alliott Global Alliance is expanding fast, and the alliance has its sights set firmly on growing its legal and accounting membership to 100 countries. Opportunities are available to independent professional firms in specific countries in Africa, but also in Europe, China, the ASEAN region, Australasia, the Gulf Cooperation Council region, Central and South America and in North America. For information about membership, email membership@alliottglobal.com.