Top rated North Carolina law firm Tuggle Duggins P.A. joins AGA
29 April 2022
Alliott Global Alliance has continued its expansion into the south-eastern United States by admitting Top 10 North Carolina law firm Tuggle Duggins as the alliance's sole legal representative in the state.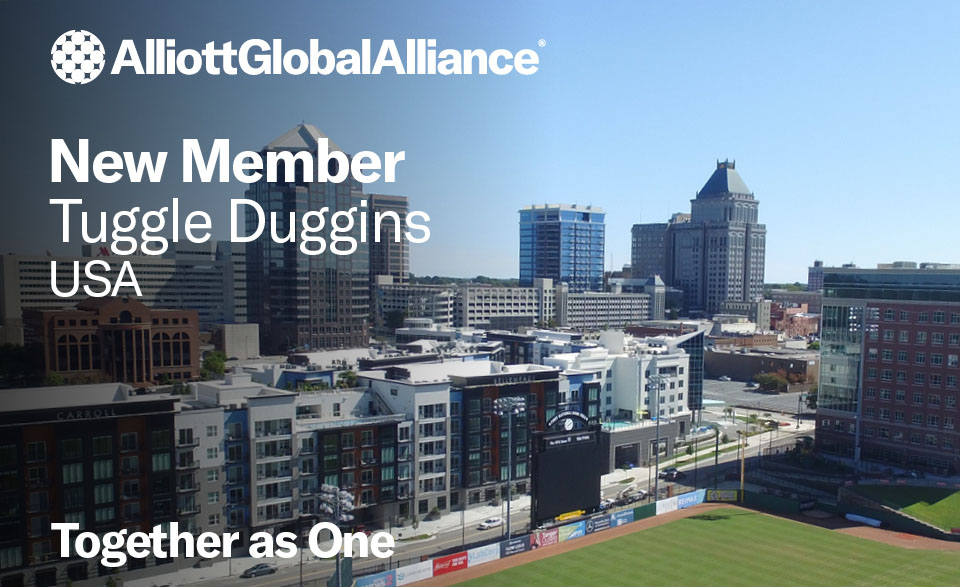 Established in 1974, and based in Greenboro, the 31 attorney firm offers advice in litigation, corporate and tax, commercial real estate, trusts and estates and intellectual property to clients across many industries, including but not limited to manufacturing and distribution, wholesale and retail sales, construction, eCommerce, information services, insurance, hospitality, health care, automotive and aviation, financial services, technology, professional services, furniture, real estate and development.
The firm already works with a number of local offices of multinational clients and sees that expanding as a number of manufacturing concerns are starting operations in North Carolina. Business at the firm can be conducted in the English, Spanish and German languages.
Vaughn Ramsey, Director comments:
"We uphold very strong core values at Tuggle Duggins that are embedded into our culture including trust, integrity, excellence in everything we do and dedication to providing unparalleled service to our clients. We are therefore delighted to have found a high-profile global group that we can work alongside, and that shares the same ethos.
"We look forward to meeting our fellow members at regional and global events and to start to build those important working relationships that can untimely lead to successful collaborative business opportunities across borders."
Alliott Global Alliance CEO Giles Brake adds:
"We are delighted that Tuggle Duggins has chosen AGA as one of their strategic international partners. They are an exceptional firm of lawyers who can field almost any legal matter in North Carolina- clients needing legal advice in the state of North Carolina will be in very good hands.

"Global investment in North Carolina is significant with over a thousand foreign subsidiaries operating in the state. With AGA's global resources and brand behind Tuggle Duggins' strong local reputation, the firm is in a strong position to expand their client base and offer extensive global support to clients who are expanding their business to new international markets. A warm welcome to Nathan, Vaughn, and the rest of the team in Greensboro."
So far in 2022, Alliott Global Alliance has added three firms to its North American membership: Rogers and Company CPAs (Washington DC Metro Area), Tuggle Duggins P.A. (Greensboro, North Carolina), and Continuum Legal Group LLP (Atlanta, Georgia,  soon to be announced). Further development of the alliance is planned in 2022 for the key commercial centres across the Mid-Atlantic, South, Midwest, Southwest, and West Coast regions.
About Tuggle Duggins:
Since 1974, the choice of discerning businesses and business owners with interests in the Carolinas, throughout the U.S., and internationally.
A great deal has changed since we first opened our doors in 1974, but our commitment to businesses and business owners remains our central focus. We are fortunate that our clients ask for help with their business interests locally, around our state, across the U.S. as well as internationally.
Tuggle Duggins is a multi-specialty, multi-disciplinary law firm focused on the needs of closely held businesses and business owners. We provide representation in legal matters ranging from conventional, personal, and business issues to complex legal matters. Read more
About Alliott Global Alliance:
Founded in 1979, and with 200 member firms in 95 countries, Alliott Global Alliance is an international alliance of independent, law, accounting, and specialist advisory firms, working across the world Together as One. Each of our members share a common goal: to learn and share knowledge, resources, and opportunities to make the world smaller and their businesses stronger.
We work with a spirit of generosity and openness — so that together, we can continue to fulfil our ambitions, gain greater experience, and drive mutual success.
Alliott Global Alliance is expanding fast, and the alliance has its sights set firmly on growing its legal and accounting membership to 100 countries. Opportunities are available to independent professional firms in specific countries in Europe, but also in, China, the ASEAN region, Australasia, the Gulf Cooperation Council region, Central and South America and in North America. For information about membership in North America, contact membership@alliottglobal.com.