Rogers & Company CPAs joins AGA in Washington DC Metro Area
23 March 2022
Top 25 accounting firm Rogers & Company, PLLC ('Rogers & Company') has joined Alliott Global Alliance ('AGA') as the alliance's accounting member for the Washington DC Metropolitan Area, expanding the alliance's presence in the mid-Atlantic region of the U.S. East Coast.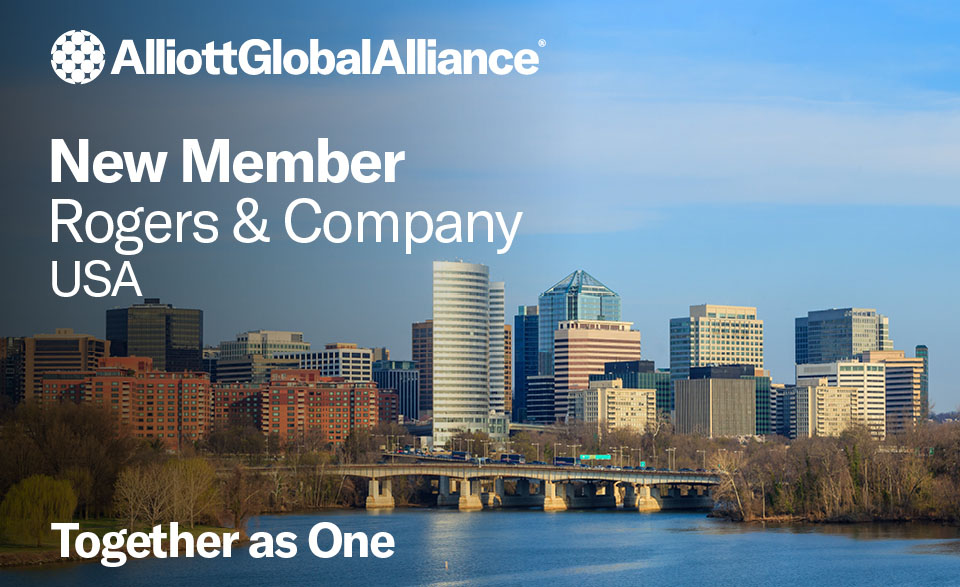 Established in 2003 and headquartered in Vienna, VA, Rogers & Company provides industry-leading audit, assurance, and tax compliance services to some of the most recognized national and international non-profit organisations including public and private charities, associations, foundations, advocacy groups, arts and cultural institutions, scientific and research organizations and health, welfare, and educational groups. Rogers and Company is a market leader in this niche sector, regularly challenging the dominance of the bigger firms.
Membership of AGA immediately expands Rogers & Company's reach to over 90 countries across the Americas, EMEA and APAC regions, increasing their capacity and enabling the firm's professionals to deliver high levels of client service wherever in the world they are needed. Just as importantly, the firm sees membership of AGA playing an important part in the firm competing for and winning further engagements from international non-profit organizations with entities across different jurisdictions.
The firm is extremely diverse with 70% of the workforce being women and staff are comprised of many nationalities who can conduct business in the English, Spanish, Mandarin, Cantonese, Russian, Hindi, Punjabi, Nepali, Urdu, Vietnamese, Filipino, Tagalog, Persian, French, Korean, Italian, Newar, and Japanese languages.
Darrin S Rogers, Managing Partner at Rogers & Company comments:
"Some of our clients have compliance and statutory reporting needs in other world regions including Africa, Europe, and Asia. They also work with clients in other states across the US so our AGA membership will be invaluable for marketing purposes, knowledge sharing and will offer many opportunities for us to provide more resource to our existing clientele both nationally and internationally."

"We are excited to join the alliance and look forward to collaborating with all the talented professionals at our member firms."
Alliott Global Alliance CEO Giles Brake adds:
"We are delighted that a fast-growing US CPA firm such as Rogers and Company views AGA as an integral part of their future growth strategy, particularly with regards to bidding for large and global non-profit clients. Joining AGA also enables the firm to service the needs of the firm's existing clients who have needs outside of the DC Metro Area. We are proud to be associated with a firm that has such a stellar reputation and extend a very warm welcome to Darrin and all the team."
So far in 2022, Alliott Global Alliance has added three firms to its North American membership: Rogers and Company CPAs (Washington DC Metro Area), Tuggle Duggins PA (Greensboro, North Carolina - to be announced shortly) and Continuum Legal Group LLP (Atlanta, Georgia – to be announced shortly). Further development of the alliance is planned in 2022 for the key commercial centers across the Mid-Atlantic, South, Midwest, Southwest, and West Coast regions.
About Rogers & Company CPAs:
Rogers & Company is a national public accounting and consulting firm comprised of diverse professionals who bring together the best practices, experiences, and service concepts to deliver premier assurance, tax, and consulting services to non-profit organizations. With some of the world's most recognized organizations as clients, the firm provides distinctive services offered by highly skilled, attentive professionals.
The firm focuses on serving:
Charities
Associations and business leagues,
Educational organizations
Religious organizations
Health and social welfare entities
Private foundations
Political organizations
Scientific organizations,
Endowments and donor advised funds,
Employee benefit funds.
The firm serves clients across the Washington DC Metropolitan Area.
About Alliott Global Alliance:
Founded in 1979, and with 200 member firms in over 90 countries, Alliott Global Alliance is an international alliance of independent, law, accounting, and specialist advisory firms, working across the world Together as One. Each of our members share a common goal: to learn and share knowledge, resources, and opportunities to make the world smaller and their businesses stronger.
We work with a spirit of generosity and openness — so that together, we can continue to fulfil our ambitions, gain greater experience, and drive mutual success.
Alliott Global Alliance is expanding fast, and the alliance has its sights set firmly on growing its legal and accounting membership to 100 countries. Opportunities are available to independent professional firms in specific countries in Europe, but also in, China, the ASEAN region, Australasia, the Gulf Cooperation Council region, Central and South America and in North America. For information about membership in North America, contact Damien McMenamin (damien@alliottglobal.com), Chief Growth Officer.