Sabev & Partners Law Firm joins Alliott Global Alliance in Bulgaria
21 June 2022
Alliott Global Alliance ('AGA'), one of the largest and fastest-growing global multidisciplinary alliances, with 210 member firms in 95 countries, has expanded further into Southeast Europe (SEE) by appointing Top 25 law firm Sabev & Partners Law Firm ('Sabev & Partners') in Bulgaria as its legal service partner in the country.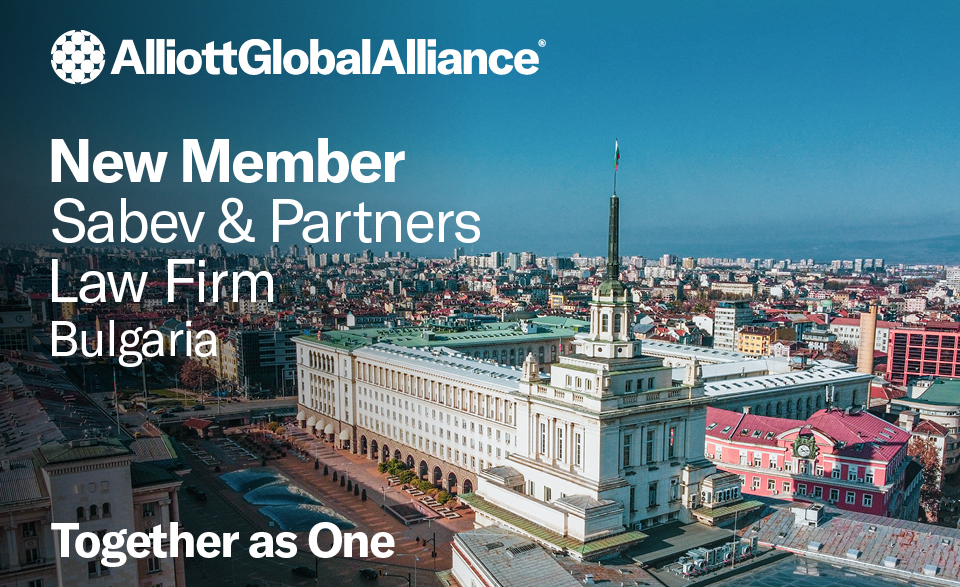 With its main office in Sofia and a second in Varna, Sabev & Partners is a high profile Legal 500 ranked firm. Established in 1998, the firm's core practice focuses on providing comprehensive corporate, commercial, M&A, bankruptcy and insolvency and banking legal services to local and international corporate clients including in the pharmaceutical, manufacturing, property and real estate, construction, financial and industrial metals industries.
Sabev & Partners is also often engaged by and provides services to Bulgarian government institutions including Ministry of Finance, Ministry of Justice, Ministry of Transport, IT & Communications, Public Procurement Agency and the State Agriculture Fund.
Business is conducted at the firm in Bulgarian, English and Russian.
Partner Boryana Boteva, comments:
"It is a pleasure to be part of this rapidly growing global alliance and am looking forward to all the collaborative and mutually beneficial local and global opportunities available to us via our colleagues in over 95 jurisdictions.

"We plan to participate actively in events organised by AGA to give our firm a visible platform and we are particularly interested in tools and support that will help us to improve our presence in the local and international marketplace plus we are keen to share ideas for improved practice management."
Alliott Global Alliance's CEO, Giles Brake adds:
"We continue to develop a strong alliance of law and accounting firms in the fast-developing Southeast Europe region. Following an extensive search of Bulgaria's law firm market, Sabev & Partners was very much our preferred law partner in Bulgaria. They are an impressive team with highly experienced, internationally focused lawyers, and their affiliation will have significant strategic impact on our membership within and outside their region. Sabev & Partners are ready to provide reliable support and broad expertise to any clients doing business in their jurisdiction. We offer a very warm welcome to everyone at the firm."
This latest appointment follows on the heels of MST Partners joining the alliance in the Slovak Republic in January and the appointment of Milosevic Law firm in Serbia to AGA in February. The alliance has its sights set on expanding its European coverage further in 2022, particularly in Scandinavia and in the CEE and SEE regions.
About Sabev & Partners:
Established in 1998 Sabev & Partners is a private partnership established in 1998 with the aim of assisting the business activities of local and international companies.
The firm's core practice is focused on offering continuous and comprehensive legal services to corporate clients. Sabev & Partners advises clients from various industries, such as production and trade in pharmaceuticals, non-ferrous metals, engineering, packaging, public transportation, real estate and construction, commercial properties and golf resort development, renewable energy, IT and electronic payment systems, banking and financial services.
Currently the main team consists of 12 legal experts including partners and associated lawyers, with the additional support of several of-counsels, trainees and administrative staff.
About Alliott Global Alliance:
Founded in 1979, and with 210 member firms in 95+ countries Alliott Global Alliance is an international alliance of independent, law, accounting, and specialist advisory firms, working across the world Together as One.
Each of our members share a common goal: to learn and share knowledge, resources, and opportunities to make the world smaller and their businesses stronger.
We work with a spirit of generosity and openness — so that together, we can continue to fulfil our ambitions, gain greater experience, and drive mutual success.
Alliott Global Alliance is expanding fast, and the alliance has its sights set firmly on growing its legal and accounting membership to 100 countries. Opportunities are available to independent professional firms in specific countries in Africa, but also in Europe, China, the ASEAN region, Australasia, the Gulf Cooperation Council region, Central and South America and in North America. For information about membership in Europe, email membership@alliottglobal.com.