Law firm MST Partners joins Alliott Global Alliance in Slovak Republic
18 January 2022
Alliott Global Alliance (AGA), one of the world's largest global multidisciplinary alliances, with 200 member firms in over 85 countries, has expanded further into the Central & Eastern Europe region by appointing MST Partners (MST) in Bratislava in the Slovak Republic.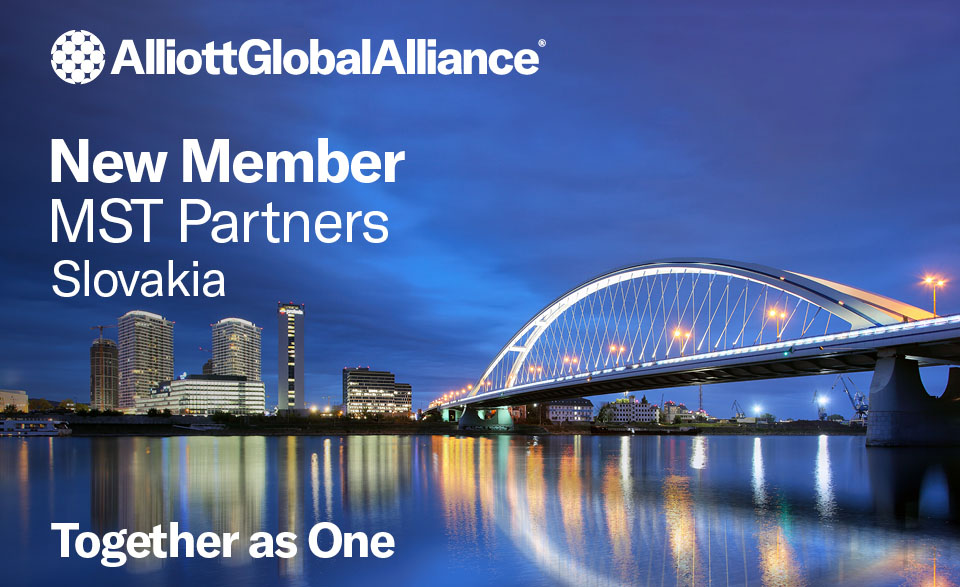 MST becomes the alliance's first ever law firm member in the Slovak Republic and their appointment comes on the heels of Legans Law Office joining the alliance in the Czech Republic in August 2021.
MST was founded in 2010 by lawyers Martina Mundierova, Rastislav Skovajsa and Martin Timcsák, who all have prior experience of working for some of the country's most high-profile law firms.
Now ranked as one of the country's Top 25 law firms, MST provides a wide portfolio of legal services to foreign and Slovak clients, including litigation, arbitration, intellectual property law, real estate, IT law, public procurement, and acquisitions.
The firm has won many prestigious awards and competitions over the years including receiving a recommendation for telecommunications and IT Law in the 2021 Law Firm of the Year category and the team has also won awards for dispute agenda, development projects, public procurement, and IP. Business is conducted at the firm in the Slovak, Czech and English languages.
Partner Martin Timcsák comments:
"It is a great honour to have been appointed as AGA's first law firm member in the Slovak Republic. This partnership will help us to market ourselves as an international law firm supported by a highly skilled global team of experts and resources. We are excited to be able to offer existing and new clients assistance with their business requirements outside of the country."
Alliott Global Alliance's CEO, Giles Brake adds:
"AGA is growing fast and in MST, we have found another outstanding firm to represent us in this important region of Europe. The region's fast-growing companies want to partner with more collaborative, highly efficient, medium sized firms that offer a wider range of services in a larger number of jurisdictions. Affiliation with AGA enables SST to remain fully independent yet expand their resource base and professional network to ensure a high standard of services to the region's internationally focused businesses and private investors. We are delighted to welcome Martina, Martin, Rastislav and their team to AGA."
The alliance has its sights set on expanding its European coverage further in 2022, particularly in Scandinavia, and in Central and Eastern and Southeast Europe.
About MST Partners:
At MST Partners we offer comprehensive legal services including real estate law and development and assist with infrastructure projects.
Other legal services available include:
Intellectual property, advertising and media, labour, public procurement, IT, bankruptcy, enforcement, constitutional, litigation and arbitration, banking, insurance, unfair competition, and issues of protection of foreign investments allocated in the Slovak Republic.
In addition to providing legal services, we also engage in publishing activities related to the core areas of our operations, such as litigation, insurance, public procurement, and contractual relations. MST Partners operate in Bratislava and Košice.
About Alliott Global Alliance:
Founded in 1979, and with 200 member firms in over 85 countries Alliott Global Alliance is an international alliance of independent, law, accounting, and specialist advisory firms, working across the world Together as One.
Each of our members share a common goal: to learn and share knowledge, resources, and opportunities to make the world smaller and their businesses stronger.
We work with a spirit of generosity and openness — so that together, we can continue to fulfil our ambitions, gain greater experience, and drive mutual success.
Alliott Global Alliance is expanding fast, and the alliance has its sights set firmly on growing its legal and accounting membership to 100 countries.
Opportunities are available to independent professional firms in specific countries in Africa, but also in Europe, China, the ASEAN region, Australasia, the Gulf Cooperation Council region, Central and South America and in North America. For information about membership in Europe, contact Damien McMenamin (damien@alliottglobal.com), Chief Growth Officer.