Milosevic Law Firm joins Alliott Global Alliance in Serbia
28 February 2022
Alliott Global Alliance ('AGA'), one of the largest and fastest-growing global multidisciplinary alliances, with over 200 member firms in 90 countries, has expanded further into the Southeast Europe (SEE) region by appointing Milosevic Law Firm in Serbia and Bosnia and Herzegovina.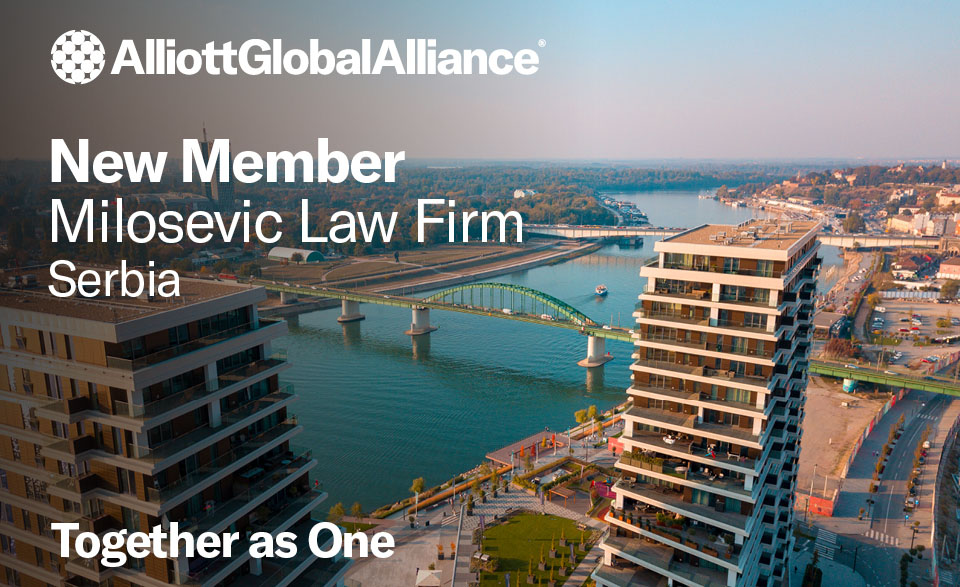 With its main office located in Belgrade, Milosevic Law Firm is one of the country's Top 25 full-service law firms. A team of internationally trained lawyers offer expertise in real estate and construction, projects and infrastructure, corporate law, M&A, dispute resolution and due diligence to clients active mainly in the real estate, construction, energy and mining, trade and transportation and banking and finance industries.
In addition to developing their key business services in 2022, the firm also plans to expand their practices in technology law and digital currencies, considering the recently adopted law on Digital Assets in Serbia. Business is conducted at the firm in Serbian, English, Bosnian, Montenegrin, and Croatian languages.
Vladimir Milosevic, Partner & Attorney-at-Law comments:
"It is a pleasure to be part of this fast-growing global alliance and am looking forward to all the collaborative and mutually beneficial opportunities available to us via our colleagues in over 90 countries around the world.

Membership of AGA will allow us to boost our visibility across borders and assist us to further build upon our reputation of being reliable and trustworthy business partners and legal experts."
Alliott Global Alliance's CEO, Giles Brake adds:
"We are developing a strong regional network of law and accounting firms in this dynamic and fast developing part of Europe. Milosevic Law Firm represents exactly the type of progressive firm of highly experienced lawyers that we have been looking for in their jurisdictions. With the backing of AGA, the firm can be even more competitive against the region's larger law firms for the business of international clients requiring support in Serbia and Bosnia. We offer our support and a warm welcome to Vladimir, Milinko, Dusan and all the team."
This latest appointment follows on the heels of MST Partners joining the alliance in the Slovak Republic in January. The alliance has its sights set on expanding its European coverage further in 2022, particularly in Scandinavia and in the CEE and SEE regions.
About Milosevic Law Firm:
Milosevic Law Firm is a leading law firm in the financial and business industry, boasting over 10 years of experience and operating across the region in Serbia, Bosnia and Herzegovina, and Montenegro. The firm represents several major high-profile clients in Bosnia where partner, Vladimir Milošević, holds a licence to practice law.
Our firm is focused on our clients' demands for an exceptional legal service model that provides value. We understand that, for clients, value is not a mere hourly rate comparison. Value means efficient processes for tracking and reporting; creative approaches to reducing legal risk; enhanced cost certainty; and RESULTS.
We have also designed a system focused on client service by aligning our culture, structure, and processes with one goal in mind – CLIENT SATISFACTION.
About Alliott Global Alliance:
Founded in 1979, and with over 200 member firms in 90 countries Alliott Global Alliance is an international alliance of independent, law, accounting, and specialist advisory firms, working across the world Together as One.
Each of our members share a common goal: to learn and share knowledge, resources, and opportunities to make the world smaller and their businesses stronger.
We work with a spirit of generosity and openness — so that together, we can continue to fulfil our ambitions, gain greater experience, and drive mutual success.
Alliott Global Alliance is expanding fast, and the alliance has its sights set firmly on growing its legal and accounting membership to 100 countries. Opportunities are available to independent professional firms in specific countries in Africa, but also in Europe, China, the ASEAN region, Australasia, the Gulf Cooperation Council region, Central and South America and in North America. For information about membership in Europe, email membership@alliottglobal.com.