APAC Conference Brings AGA Members Together Again in Singapore
20 July 2022
Alliott Global Alliance (AGA), one of the largest and fastest growing global multidisciplinary alliances hosted its 2022 APAC Regional Conference in vibrant Singapore recently where members from ten countries enjoyed a full program of business sessions, networking and social activities.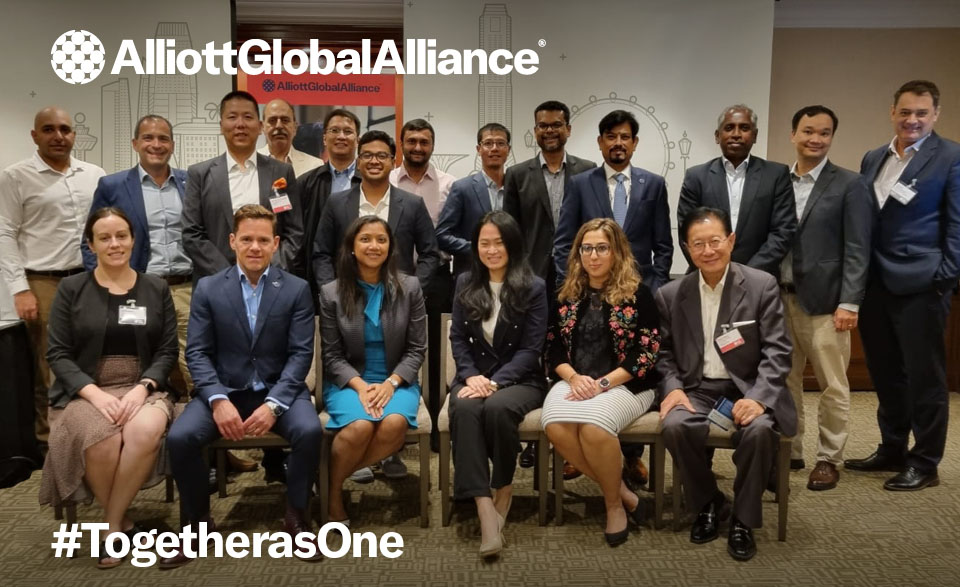 The conference commenced with a welcome from APAC Chair Scott Jago and APAC Deputy Chair Amie Cheung, before Victor Mills, CEO of the Singapore International Chamber of Commerce, explained how Singapore became and remains a global hub.

Giles Brake, AGA's CEO updated the region's members on the rapid growth of AGA's legal and accounting membership and the strategy for greater collaboration and for 'switching on' the alliance for business. Damien McMenamin, AGA's Chief Growth Officer, also set out AGA's strategy to target and recruit further law and accounting firms in prime territories across the Asia Pacific region.

Rahul Banerjee, Founder & CEO of local client, BondEvalue, shared his journey from a one-man team to a 50-person fintech business with offices in Singapore, India and Mexico. Rahul also offered insights into the cross-border challenges he faced and lessons learned.

With most firms around the world facing down the 'talent crunch', Shanghai law member, Peter Pang, Managing Partner of IPO Pang Xingpu Law Firm, led a discussion on staff retention and employee satisfaction strategies.

Other highlights included Bernhard Lieder of ATHLEADERS leading an invigorating workshop on what business can learn about teamwork from the world of sport, designed to ensure attendees learned how to communicate and collaborate more effectively across a region with such marked cultural differences.

Singapore accounting member J. Balasubramaniam ('Bala') of JBS, ensured delegates became familiar with the advantages and disadvantages of Singapore's tax system, after which Cecily Ng, Senior VP at Salesforce Singapore explained how CRM software helps professional firms to get an improved view of opportunities to expand business with their clients. Finally, Anthony Marrin from HY Leung & Co, law member in Hong Kong, presented the latest trends in cyber and financial crime before participating in a multi-jurisdictional panel covering KYC, AML at which selected professional advisors compared regulations in their countries and shared tips on how to mitigate, spot and deal with fraud.

Conference sessions were interspersed with opportunities to network in a relaxed environment, including dinner at the Singapore Cricket Club.
Giles commented:
"We have expanded significantly since 2019 yet been thwarted in our efforts to integrate newer members fully into the alliance, with communication limited to virtual meetings. This in-person conference has played an important part in deepening relationships and exciting and engaging members in what the alliance can do for their clients and for their firms in today's unpredictable, complex and very internationalised business environment. A huge thank you to our exceptional Singapore host firms, JBS and Advocatus."
Further Reading:
Q&A with Varun Garg, Senior Consultant at Coinmen Consultants
Alliott Global Alliance is Headline Sponsor at 35th LAWASIA Conference
Indian Law Firm Soloman & Co Joins Alliott Global Alliance
An update on Tax Changes in China
About Alliott Global Alliance:
Founded in 1979, and with over 210 member firms in 95+ countries Alliott Global Alliance is an international alliance of independent, law, accounting, and specialist advisory firms, working across the world Together as One.

Each of our members share a common goal: to learn and share knowledge, resources, and opportunities to make the world smaller and their businesses stronger.

We work with a spirit of generosity and openness — so that together, we can continue to fulfil our ambitions, gain greater experience, and drive mutual success.

Alliott Global Alliance is expanding fast, and the alliance has its sights set firmly on growing its legal and accounting membership to 100 countries. Opportunities are available to independent professional firms in Europe, China, the ASEAN region, Australasia, the Gulf Cooperation Council region, Central and South America and in North America, and regions in Africa. For information about membership, email membership@alliottglobal.com.