Q&A with Varun Garg, Senior Consultant at Coinmen Consultants
20 July 2022
Read this short interview with Varun Garg, Senior Consultant at Coinmen Consultants, AGA accounting member firm in New Delhi, India.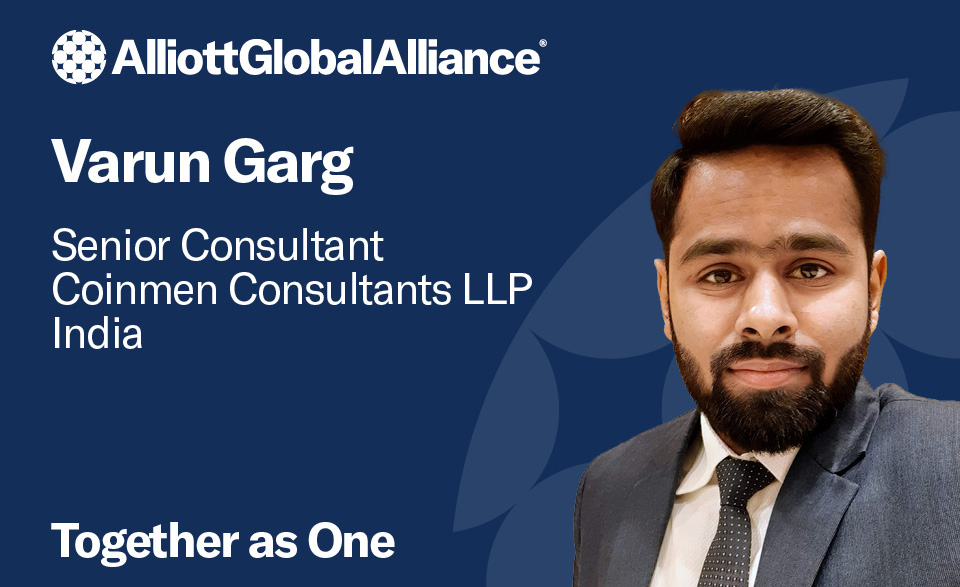 As part of our continued focus on talent, specifically, the younger professionals working at Alliott Global Alliance member firms in the APAC region, we recently caught up with Varun Garg, a rising star at our accounting firm member Coinmen Consultants LLP, (Coinmen) in New Delhi, India. We asked him to share with us why he chose a career in accountancy, what motivates him and what he values from being part of the Alliance.
Why did you choose this as your career?
Growing up, I realised I love working with numbers, it just came easy to me. While studying, I found ease in complicated world of accounting and taxes. The decision to become a Chartered Accountant was easy. As a CA, it is my passion to analyse how entrepreneurs start their business, see what they have achieved and look for insight into the opportunities that may be open to them in future. I love interacting with entrepreneurs and to help them to read and understand this language of numbers.
What is the best part of your job?
Interacting with individuals from diverse geographies such as Spain, Korea, Japan, etc, is the best part of my job. I help them understand their business in numbers, help them set up businesses in India end to end (along with offering insight into Indian culture), and I love learning about their cultures.

What is your firm's difference in your opinion?
We, as a firm, we believe in repositioning India's image to foreign investors by helping them set up their businesses here in India with ease.
We do not just believe in being the tax or accountancy consultants but strive to help across all aspects of their enterprises, acting as business partners to them.
What do you consider to be your biggest achievement to date?
Providing solutions to all the queries raised by our clients. To be more specific, we have a client who was not doing well financially due to many reasons including Covid. We have been helping them for the past 4 years to survive this rollercoaster ride successfully by suggesting ways to manage their cash flows, raise funds, etc.
What motivates you?
Adding value to our clients' ventures is most motivating to me.

Name one thing you cannot do without.
Not one but three in fact. Good music, my Pets, and Trekking!!
Are you a member of any commerce, cultural or community organisations?

Yes. I am a member of the Institute of Chartered accountants of India.
What is one thing you would like to see Alliott Global Alliance implement.

More online and offline interaction opportunities between mid-level employees of the Alliott Global family. I would love to meet and discuss various issues and non-issues with my counterparts from all over the world.
About Coinmen Consultants LLP
Founded in 2010, Coinmen is a financial and business consulting firm established by three visionary Partners Vikrant Suri, Mohit Aggarwal, and Nitin Garg, following their respected careers in the Big 4 accounting firms and successful individual paths. Eleven years later, they now have a team of 75 and 5 Partners. Based in Delhi and Gurugram, the firm has a strong consulting practice and international orientation, with Japanese, Italian, Korean, and Spanish desks.