Accounting firm SUMM ApS joins Alliott Global Alliance in Denmark
15 August 2022
Alliott Global Alliance ('AGA'), one of the largest and fastest-growing global multidisciplinary alliances, with 215 member firms in 95 countries, has expanded its service offering in Denmark by appointing SUMM ApS, (SUMM) as its accounting member in Denmark.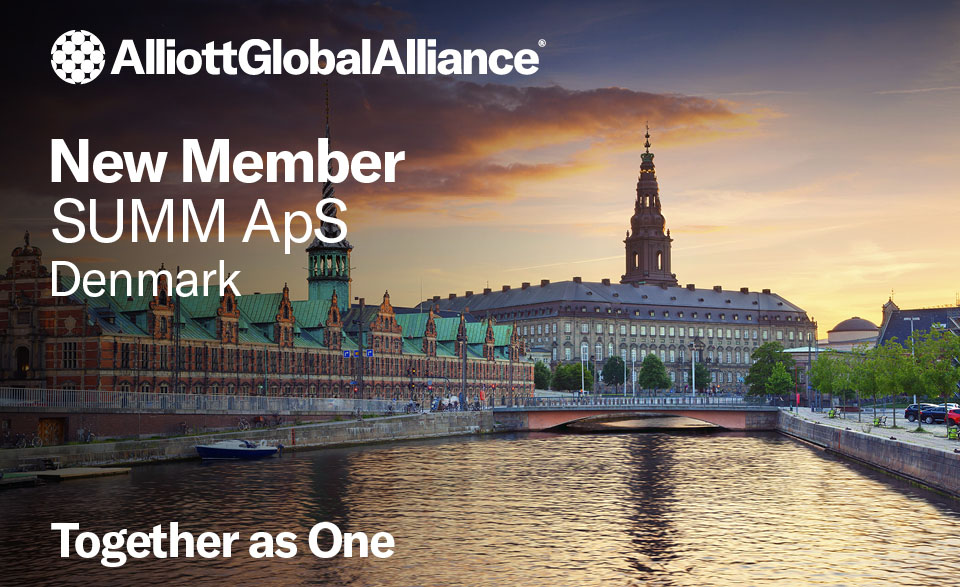 AGA is now able to provide accounting services in Denmark through independent member firm SUMM ApS ('SUMM'). The admission of the Copenhagen and Odense based firm expands AGA's presence in the Nordic region.

Founded in 2014 and headed up by partners Deniz Patilovski and Hassan Ajiina, SUMM's appointment gives AGA dual representation in Denmark with law firm GALST providing the additional, complementary legal services needed by businesses and individuals setting up and expanding their interests in the country.

A wide range of accounting, CFO, interim, audit and tax services are provided to clients mainly in the consultancy, trading, and production sectors. These and additional specific niche services ensure clients receive a 360° service.

Having won a prestigious "Gazelle" business award for two consecutive years, SUMM has also been identified by the Daily Børsen, Denmark's leading business publication, as one of Denmark's elite businesses, honouring its continuous growth in revenue over the last four years.

Business is conducted at the firm in the Danish, English, Swedish, Turkish, Arabic and Norwegian languages.

Deniz Patilovski and Hassan Ajina comments:
"We are honoured to have been selected as AGA's accounting firm representative in Denmark. Our aim is to utilise the alliance and offer our clients a single point of contact, putting them in touch with AGA members where they have international operations, including in Brazil, India, the UK, and UAE.

"Membership of AGA brings with it a strong profile and to capitalise on this, we will re brand ourselves as an international accounting firm. Through this increased visibility, and by actively working with our fellow members, we aim to attract new business opportunities."
Alliott Global Alliance's CEO, Giles Brake adds:
"One of the alliance key objectives is to ensure mid-size, internationally focused clients have access to accounting and legal services throughout the European Union and EEA region. Gaining a stronger foothold in the Nordic region is essential to this strategy, so introducing an accounting firm in Denmark of SUMM's standing and values is another important step forward in our journey."

"With the international AGA brand behind them, this exceptional, fast-growing, ambitious accounting firm is in a strong competitive position to attract and retain international clients who need compliance and advisory services to be provided in different jurisdictions as they grow. A very warm welcome to Deniz, Hassan and all the team in Denmark."
AGA has plans to expand its coverage further into the Nordic region and is currently seeking interest from growing, internationally oriented professional firms in Norway, Finland, Latvia, Iceland, Estonia and Lithuania.
About SUMM ApS:
SUMM is a top 50 accounting firm based in Copenhagen and Odense, Denmark. The firm, founded in 2014, provides tax, accounting, and audit services.

Customer service is paramount, and our team always offer our clients 110%, and provide a rapid turnaround on answers to questions 24/7.

We live by the principle "work smarter - not harder". Our professionalism ensures that we can think outside the box in relation to financial issues and we are always innovative and solution oriented.
More than just numbers:
We've got numbers in our blood, but we can do so much more than that. Most of all, we're about people. We listen to the challenges you face and help to fix and optimise.

It's about people, not just numbers.
About Alliott Global Alliance:
Founded in 1979, and with 215 member firms in 95 countries Alliott Global Alliance is an international alliance of independent, law, accounting, and specialist advisory firms, working across the world Together as One.

Each of our members share a common goal: to learn and share knowledge, resources, and opportunities to make the world smaller and their businesses stronger.
We work with a spirit of generosity and openness — so that together, we can continue to fulfil our ambitions, gain greater experience, and drive mutual success.
Alliott Global Alliance is expanding fast, and the alliance has its sights set firmly on growing its legal and accounting membership to 100 countries. Opportunities are available to independent professional firms in specific countries in Africa, but also in Europe, China, the ASEAN region, Australasia, the Gulf Cooperation Council region, Central and South America and in North America. For information about membership in Europe, email membership@alliottglobal.com.