Ongoing immigration problems for British & EU businesses as a result of Brexit
07 September 2021
Prior to Brexit, UK businesses used to be able to send staff to work in EU countries without restriction and vice versa. Here Graeme Kirk, our global mobility expert from Ellisons Solicitors in the UK tells us why this has changed.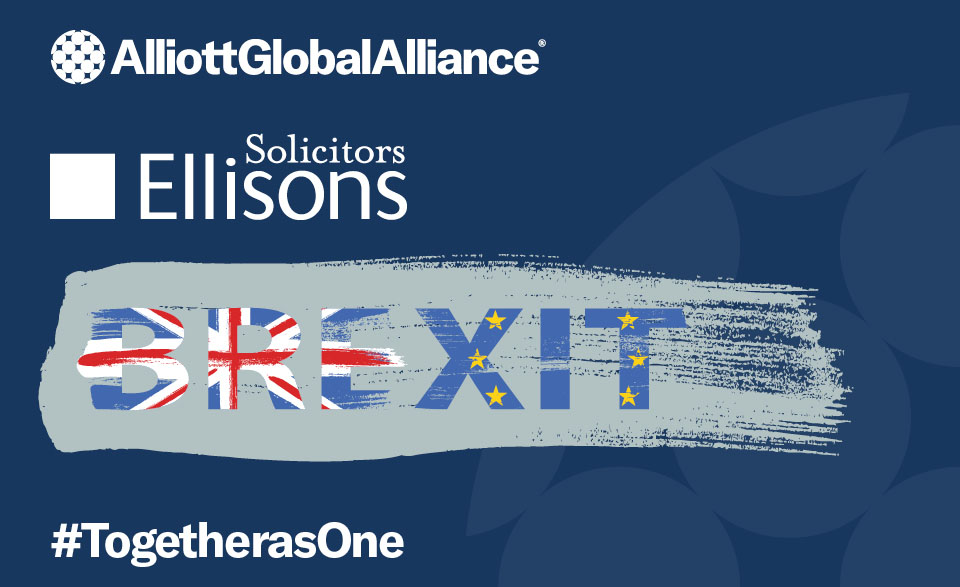 Prior to Brexit, UK businesses used to be able to send staff to work in EU countries without restriction and EU Companies used to be able to send their staff to work in the UK without restriction. 
As a result of Brexit, all this has changed and businesses both in the UK and Europe are now realising the full consequences of Brexit and how it adversely affects their business model.
For UK businesses wishing to send workers to European countries, even on a temporary basis, it is necessary for these workers to meet the immigration requirements of each EU or EEA country in which they are going to be working, as there is no common immigration policy for workers or business visitors in either the European Union or the European Economic Area.
For EU or EEA Companies wishing to send staff to the UK to work on a temporary basis, they will be required to come within the highly restricted provisions of the UK Business Visitor Rules contained in Appendix V – Visitor: Permitted Activities of the UK Immigration Rules.
Under these Rules, which now include provisions arising from the EU-UK Trade and Cooperation Agreement, a visitor may:-
a) Attend meetings, conferences, seminars, interviews; and
b) Give a one-off or short series of talks and speeches provided these are not organised as commercial events and will not make a profit for the organiser; and
c) Negotiate and sign deals and contracts; and
d) Attend trade fares for promotional work only, provided the visitor is not directly selling; and
e) Carry out site visits and inspections; and
f) Gather information for their employment overseas; and
g) Be briefed on the requirements of a UK based customer provided any work for the customer is done outside of the UK.
In addition, in an international Group situation, an employee of an overseas based Company may: -
a) Advise and consult; and
b) Trouble-shoot; and
c) Provide training; and
d) Share skills and knowledge on a specific internal project with UK employees of the same corporate Group provided no work is carried out directly with clients.
In addition, an internal Auditor may carry out regulatory or financial audits at a UK branch of the same Group of Companies as the visitor's employer overseas.
In addition, and very usefully, an employee of a foreign manufacturer or supplier may install, dismantle, repair, service or advise on equipment, computer software or hardware, where the manufacturer or supplier has a contract of purchase or supply or Lease with a UK Company or organisation.
There are other very specific and sector-based activities allowed within the UK Visitor Rules including elements for work related training, science and academia, the legal sector, the religious sector, the creative sector and for sports persons. However, for mainstream business, not falling within one of the very specialist sectors allowed the ease of doing business has declined markedly as a result of Brexit.
UK Companies who wish to use the services of an overseas employee of a Company with whom they have contracts may have to consider applying for a Tier 5 (Temporary Worker) Licence. However, the Tier 5 (Temporary Worker) Licence only works in certain business sectors, as allowed, for example, under GATTS Agreement and the EU-UK Trade & Cooperation Agreement, which both cover only specific business sectors.
In addition, all business visitors are subject to a one-hundred-and-eighty-day limit on any stay in the UK, with the basic principle understood that a visitor should not spend more than six months in any twelve-month period in the UK. Within the EU, under the Schengen Agreement, British nationals can only spend ninety days in any one hundred and eighty days in any of the Schengen countries, including time spent on holiday.
There has also been the use of the Frontier Worker Visa system for EU nationals to continue working in the UK, but this only works for individuals who were already working in the UK prior to 31st December 2020, whilst living in the EU and again is subject to restrictions.
Currently, there is no sign that there will be much, if any, relaxation in the above rules for mainstream business sectors in the foreseeable future.
For more information please contact Graeme Kirk, Senior Counsel, Ellisons Solicitors Graeme.Kirk@ellisonssolicitors.com or Sohan Sidhu sohan.sidhu@ellisonssolicitors.com
(Read more about Alliott Global Alliance's Global Mobility team)
About Ellisons Solicitors:
Ellisons Solicitors is a top 200 UK full-service law firm, and one of the region's oldest, most established and fastest growing firms.
With a team of almost 250 colleagues, including 29 partners – the firm has six offices located across Essex and Suffolk, alongside an office in London: Colchester, Chelmsford, Ipswich, Bury St Edmunds, Tendring (Clacton-on-Sea and Frinton-on-Sea)
At Ellisons we can provide advice and assistance in most areas of English law, including company law, commercial law, property law, dispute resolution, employment matters, family law and tax law.