Tervuren GMS appointed by Alliott Global Alliance in Uganda
19 July 2021
Alliott Global Alliance ('AGA'), one of the world's largest multidisciplinary alliances of professional services firms, continues its expansion into Africa's audit and accounting market by appointing Tervuren GMS as its sole accounting member in Kampala, Uganda.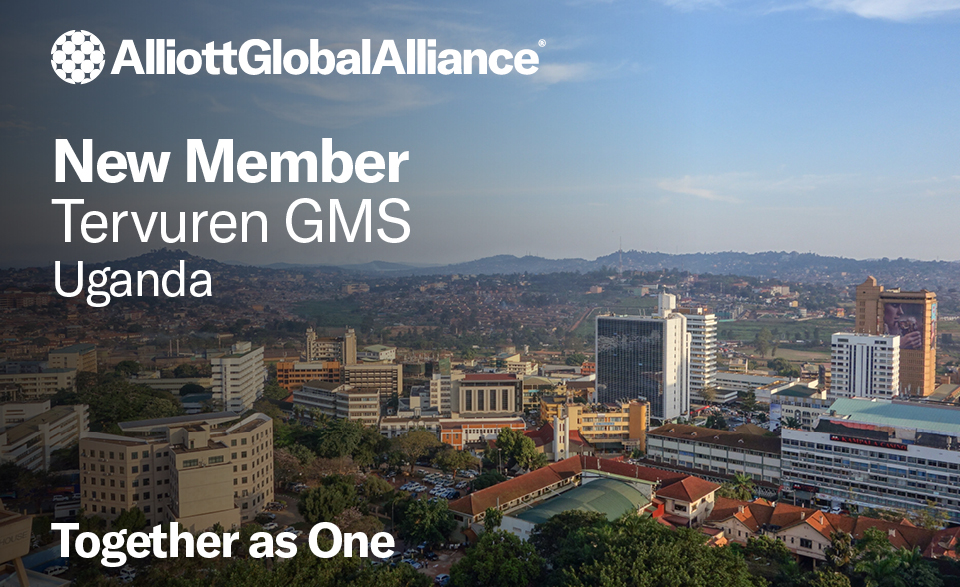 This ambitious firm, offering audit, advisory, outsourcing and tax services to clients mainly in the construction, manufacturing, not for profit, tourism, agriculture, and financial services sectors, was founded by Gonzaga Mugumya and Richard Okia. Mugumya, formerly Audit Manager at Standard Chartered, Stanbic Bank Group and PWC, has worked across Africa, Asia, and the Middle East. Okia has been instrumental in the growth of several global advisory firms in Uganda. A Certified Forensic Investigations Professional, Okia has also acted as a consultant for projects funded by the European Union, UNHCR, WFP, DFID, and the Swedish and Dutch Governments.
A fast-growing firm with a well-established network in the business community, including Richard's contacts as a former international cricketer for Uganda, the firm is keen to develop its Global Mobility, International Tax and Transfer Pricing practices in the coming years. Tervuren GMS is a member of the Institute of Certified Public Accountants of Uganda, and the firm is also a member of the Institute of Forensic Investigation Professionals, the Association of Compliance Professionals Africa, and other professional associations.
Richard Okia comments:
"We have many locally based clients with business interests in Kenya, the UK and South Africa who we can now support with confidence through our collaboration with AGA member firms. With the AGA brand behind our local name, we will have access to new opportunities with multinational businesses doing business in Uganda, across Africa and further afield.

"We look forward to enhancing our learning and professional development by accessing the full set of resources AGA offers and to mutually sharing professional experiences with like-minded professionals worldwide."
Giles Brake, Alliott Global Alliance CEO, adds:
"While the full impact of COVID is yet to be established, Uganda is one of Africa's fastest growing economies and there is a huge opportunity in the country's mid-tier accountancy market for progressive and agile firms that can offer clients technical proficiency, business acumen and global services. With the cross-border resources of AGA behind them, including the support of accountants and lawyers in 235 cities worldwide, this ambitious and entrepreneurial firm is well positioned to achieve growth in the Ugandan market. We are delighted to appoint our first ever member in Uganda and to welcome Richard, Gonzaga and their team to the Alliance at what is an exciting time for AGA in Africa."
AGA's African Alliance has a presence in the following African countries: Cameroon, Ghana, Kenya, Lesotho, Malawi, Mauritius, Morocco, Nigeria, Senegal, South Africa, Tunisia, Uganda, Zambia, and Zimbabwe. AGA is also headline sponsor of this year's African Legal Awards, the continent's most high-profile awards event for the legal profession.
About Tervuren GMS:
We deliver exceptional client service while upholding our core values and strong professional standards.
When our clients share what they appreciate most about Tervuren GMS, they always say it is the people. Whether it is great technical advice, the timely delivery of an important project or simply the assurance that comes from a trusted advisor relationship, in the end it is our people who make the difference. Our vision is to be the clear choice by ensuring our people are extraordinary, our clients see a difference in us, and the public trusts us. Read more 
About Alliott Global Alliance
Founded in 1979, and with 195 member firms in 82 countries Alliott Global Alliance is an award-winning alliance of independent, law, accounting, and specialist advisory firms, working across the world Together as One. Each of our members share a common goal: to learn and share knowledge, resources, and opportunities to make the world smaller and their businesses stronger.
We work with a spirit of generosity and openness — so that together, we can continue to fulfil our ambitions, gain greater experience, and drive mutual success.
Alliott Global Alliance is expanding fast, and the alliance has its sights set firmly on growing its legal and accounting membership to 100 countries. Opportunities are available to independent professional firms in specific countries in Africa, but also in Europe, China, the ASEAN region, Australasia, the Middle East, Central and South America and in North America. For information about membership in Africa, contact Sophia Rook-Blackstone (sophia@alliottglobal.com) Membership Development Executive.