AGA targets further African growth with sponsorship of The African Legal Awards 2021
08 June 2021
This year's African Legal Awards will be sponsored by Alliott Global Alliance as the Alliance shines a light on its growing strength in Africa's legal services market.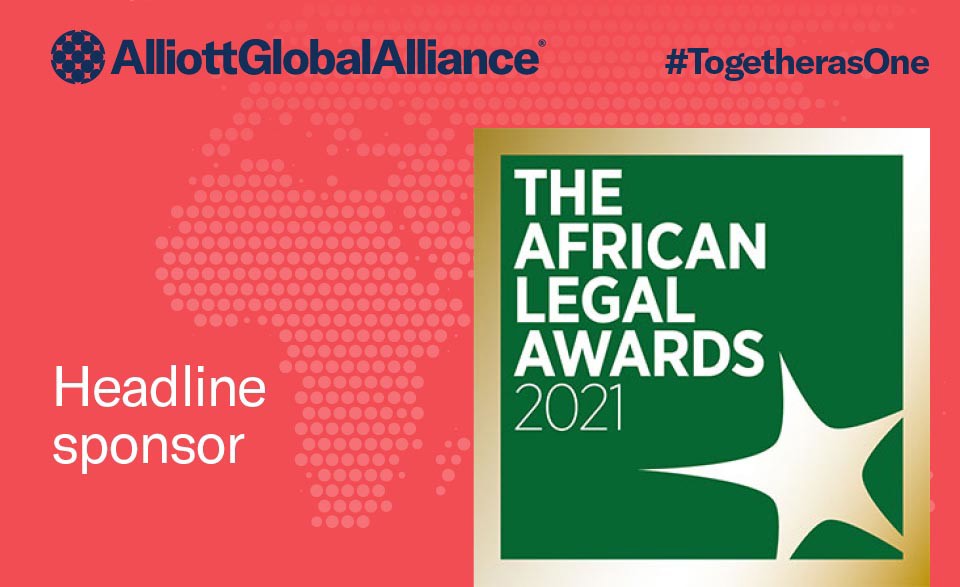 Alliott Global Alliance, one of the world's leading multidisciplinary (law and accounting firms) 'networks' with 195 member firms in 80 countries, is delighted to announce its headline sponsorship of the African Legal Awards 2021, the continent's most high-profile awards event for the legal profession.
Scheduled to take place in-person on 3 September in Johannesburg, The African Legal Awards recognise exceptional achievement by Africa's legal elite. Hosted by Law.com International and partnered with the Corporate Counsel Association of South Africa (CCASA) and Africa Legal, the awards showcase Africa's remarkable legal talent, recognising more of a pan-African audience every year.
Now in its 8th year, the Alliance is proud to be the awards' headline sponsor and to promote its professional services brand and the expertise of its member firms to the legal industry's most influential figures.
In just two years, the Alliance has expanded from one law firm in a single country to 11 law firms in 10 countries. Its African network includes market-leading, independent law firms in Cameroon, Ghana, Kenya, Malawi, Mauritius, Morocco, Nigeria, South Africa, Zambia, and Zimbabwe. An integrated alliance of accounting firms in 8 African countries ensures further efficiencies and strategic opportunities for members and clients.
Member firms have submitted entries in various award categories, while the Alliance itself will be competing for the African Legal Network/Alliance of the Year award alongside leading African law firm networks such as LEX Africa.
Giles Brake, CEO of Alliott Global Alliance, comments:
"AGA is an emerging force in Africa and an Alliance that is truly switched on for clients doing business within and beyond Africa. We have built a network of African law firms with significant experience of advising Africa's national and international business community. Working together, member firms are positioned to serve global corporations and multinational groups investing in Africa. We invite other strong, independent African law firms to look at the regional and global resources we provide to support their future growth."
Clare Sutherland, Global Awards Director of Law.com, adds:
"We are pleased to welcome Alliott Global Alliance as this year's Headline Sponsor. It's encouraging to see so many of the Alliance's member firms submitting entries to secure recognition of their achievements and demonstrate their ability to provide specialist expertise and innovation to clients doing business within and outside Africa."
About Alliott Global Alliance:
Founded in 1979, and with 195 member firms in 80 countries Alliott Global Alliance is an award-winning alliance of independent, law, accounting, and specialist advisory firms, working across the world Together as One. Each of our members share a common goal: to learn and share knowledge, resources, and opportunities to make the world smaller and their businesses stronger. 
We work with a spirit of generosity and openness — so that together, we can continue to fulfil our ambitions, gain greater experience, and drive mutual success.
Alliott Global Alliance is expanding fast, and the alliance has its sights set firmly on growing its legal and accounting membership to 100 countries. Opportunities are available to independent professional firms in specific countries in Africa, but also in Europe, China, the ASEAN region, Australasia, the Middle East, Central and South America and in North America. For information about membership in Africa, contact Sophia Rook-Blackstone (sophia@alliottglobal.com) Membership Development Executive.