SKY Law appointed to represent Alliott Global Alliance in the Philippines
22 September 2022
Alliott Global Alliance ('AGA'), one of the largest and fastest-growing global multidisciplinary alliances with 215 member firms in 95 countries, can now provide clients with legal services in the Philippines through new law firm member Kua Sy & Yeung Law Offices ('SKY Law').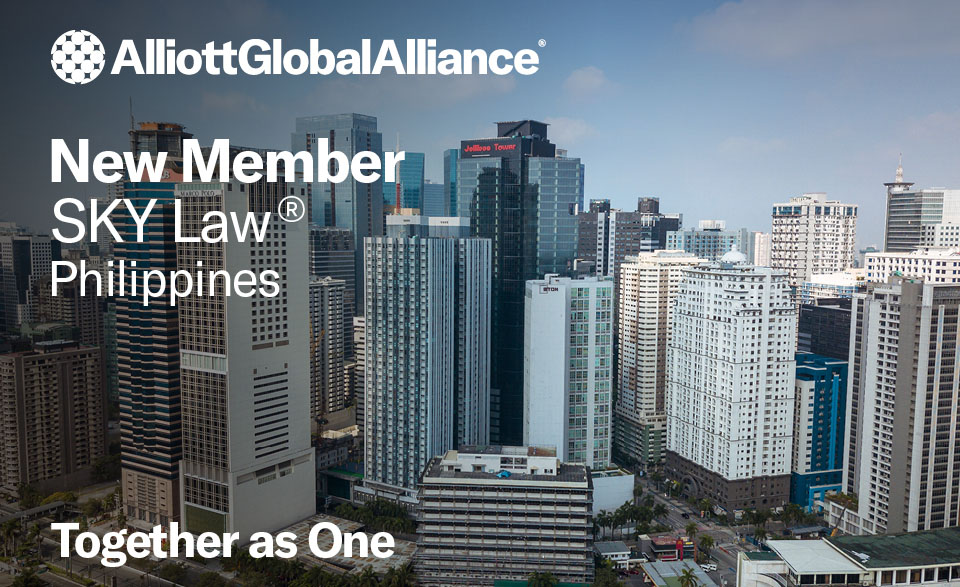 Founded in 2019, SKY Law is a commercial law firm that has its main office in the Ortigas Central Business District in Metro Manila. A team of well-trained, innovative, and experienced lawyers has built a strong client base of domestic and international corporate clients across different industries in less than three years, including in business process outsourcing, retail, manufacturing, financial services, and telecommunications.
SKY Law is a Recognised Firm in M&A (2022/2023) by IFLR1000 and is also cited in the Asia IP Rankings 2022 as a Tier 2 Law Firm for Patents, Copyright, and Trademarks, while partner Edson Byron Sy is listed among the Top 10 Philippines Client Choice Lawyers as published by Asian Legal Business (ALB) magazine.
Furthermore, the firm was shortlisted for multiple awards at the 2020 and 2021 Asian Legal Business Philippine Law Awards which celebrates the outstanding performance of private practitioners and in-house legal teams in the Philippines. The firm was also shortlisted for Labour and Employment Law Firm of the Year in the 2020 Asian Legal Business Southeast Asia Law Awards.

The partners at SKY Law are active members of the Chinese-Filipino Business Club and the British Chamber of Commerce Philippines. 

Managing Partner Kurt Glen T. Yeung comments:
"We are excited and honoured to have been selected as AGA's sole representative law member in the Philippines. We now have access to professional colleagues across nearly a hundred jurisdictions to whom we can reach out whenever our clients require additional legal or accounting assistance.

"By visibly representing AGA as its exclusive law firm member in the region, we can, with the support of its strong brand, promote our international profile extensively and by working with fellow members domestically and globally, we hope to build a firm foundation of friendship which in turn will lead to mutually beneficial business opportunities for all."
Alliott Global Alliance's CEO, Giles Brake adds:
"SKY Law join AGA after an extensive search for the right firm to represent the Alliance in the Philippines. The firm's co-founding partners have illustrious backgrounds working for the country's largest law firm and have vast experience in serving international private investors and some of the Philippines' largest multinational companies. With an international alliance of 215 firms in 95 countries supporting them, SKY Law can now extend their services to their clients to almost any of the world's major commercial centres. A warm welcome to everyone at SKY Law."
SKY Law's appointment gives AGA dual representation in the Philippines with accounting firm AAA and Co., CPAs providing the additional, complementary audit, tax and accounting services needed by companies and entrepreneurs setting up and expanding their business interests in the region.

Though affiliation with AGA, local independent law and accounting firms can offer clients global reach and access to an extensive range of professional services that enables them to compete head on with the larger international firms in their jurisdictions. Across the Asia Pacific region, AGA has member firms in China, Hong Kong, Bangladesh, Singapore, Indonesia, Malaysia, India, Australia, Papua New Guinea, New Zealand, Japan, South Korea, Nepal, Pakistan, Thailand, Taiwan, the Philippines, and Vietnam.
Further reading:
APAC Conference Brings AGA Members Together Again in Singapore
Alliott Global Alliance is Headline Sponsor at 35th LAWASIA Conference
About SKY Law:
Legal expertise in all areas of business and private life
At SKY Law, we support individuals and businesses in resolving conflict, safeguarding their futures, and maximizing opportunities, and our broad range of practice areas reflects the extensive experience and background of our lawyers, all of whom work collaboratively to provide the highest quality service.

Our lawyers constantly strive to provide clients with the most creative, practical, and cost-effective solutions for their businesses and this enables them to satisfy their legal needs across their day-to-day business operations, as well as in their significant commercial transactions.

About Alliott Global Alliance:
Founded in 1979, and with 215 member firms in 95 countries Alliott Global Alliance is an international alliance of independent, law, accounting, and specialist advisory firms, working across the world Together as One.

Each of our members share a common goal: to learn and share knowledge, resources, and opportunities to make the world smaller and their businesses stronger.
We work with a spirit of generosity and openness — so that together, we can continue to fulfil our ambitions, gain greater experience, and drive mutual success.

Alliott Global Alliance is expanding fast, and the alliance has its sights set firmly on growing its legal and accounting membership to 100 countries. Opportunities are available to independent professional firms in specific countries in Africa, but also in Europe, China, the ASEAN region, Australasia, the Gulf Cooperation Council region, Central and South America and in North America. For information about membership email membership@alliottglobal.com.