Ritz Attorneys appointed Alliott Global Alliance's law firm member in Malawi
13 October 2020
Alliott Global Alliance (previously 'Alliott Global Alliance'), one of the world's largest multidisciplinary alliances of professional services firms, has expanded its presence in Africa by appointing Top 10 law firm Ritz Attorneys at Law ('Ritz Attorneys') in Blantyre, Malawi.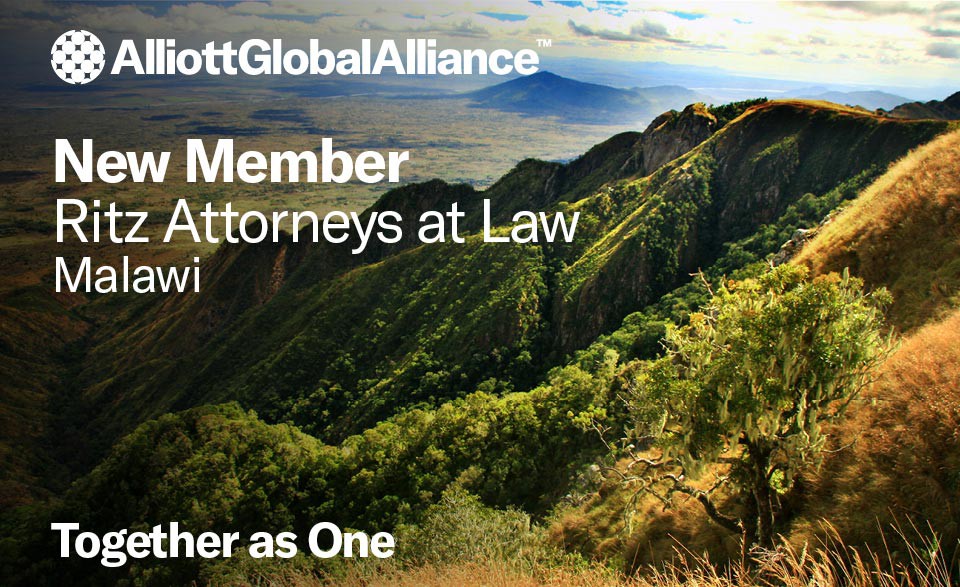 This appointment furthers the alliance's African growth strategy and follows closely on the heels of recent affiliations with K&M Law (Cameroon) SST Inc (South Africa) and Muvingi & Mugadza Legal Practitioners (Zimbabwe).
A full-service law firm, specializing mainly in commercial banking and finance, Ritz Attorneys was established in 2013 by Managing Partner Mr. Lusungu Gondwe and Mr. Bright Theu. Driven by a strategy and vision to become the leading law firm in Malawi by the year 2023, the firm has grown significantly over the last seven years and, after appointing three partners, 10 lawyers plus additional support staff, Ritz Attorneys is now the largest law firm in Malawi by headcount.
Working mainly for clients in the commercial, banking, finance, tax, public and administrative, intellectual property and energy and mining sectors, Ritz Attorneys is a premium member of the Malawi Confederation of Chambers of Commerce, a partnership of enterprises and associations representing all sectors of the economy. They are also affiliated with the World Bank and are currently contributing to their "Doing Business in Malawi" project by focusing on insolvency in the country.
Partner Wanangwa Hara comments:

"On behalf of the firm, we are honored to be members of Alliott Global Alliance. Our firm is well positioned to be a proactive participant within the global legal marketplace. Through our affiliation, we have the opportunity to share business and ideas with colleagues on a global platform. We intend to forge long standing relationships and to collaborate with colleagues within our jurisdiction and beyond our borders. Our clients have interests within SADC, COMESA and across the globe in China, the UAE, Belgium, UK, and the United States. Membership of the alliance will expand our reach, make us more competitive in our country and enable collaboration as one global family."
Ouassim Akil of AKONSEIL in Morocco, who represents the African region on the alliance's EMEA Regional Advisory Committee, adds:
"We are delighted to appoint Wanangwa and his colleagues at Ritz Attorneys as our law firm member in Malawi. This is another high calibre firm that has joined our fast-developing membership in Africa. We send a warm welcome to everyone at the firm."
Alliott Global Alliance COO Giles Brake said:
"Ritz Attorneys share our vision of Alliott Global Alliance becoming a major force in Africa's professional services marketplace. We are delighted to affiliate with the firm as they take their next steps on the world stage. They are an ambitious firm that delivers high standards and specialist expertise to clients in their country and across the globe."
Alliott Global Alliance is growing organically in Africa at a steady rate and has member firms in South Africa, Cameroon, Nigeria, Kenya, Malawi, Tunisia, Senegal, Egypt, Morocco, Zimbabwe, and Zambia. The alliance is targeting further expansion in Africa.
About Ritz Attorneys at Law
Dynamic lawyers with global legal knowledge, our mission is to provide the best quality legal services through a motivated, hardworking, dedicated, and friendly workforce. Ritz Attorneys at Law is among the top 10 leading law firms in Malawi. It was established in 2013. Lusungu Gondwe heads the firm as Managing Partner with the superintendence of an Executive Management Committee.
The firm offers a wide range of legal services in the contemporary world of banking, finance an fintech, trade and investment, telecommunications, and public private partnerships. The firm has built a reputation for efficient and innovative solutions to complex and novel legal issues. The firms' clients are mainly in the finance sector, general corporate world, mining, commerce, tax, insurance, intellectual property, and foreign direct investors.
About Alliott Global Alliance
Founded in 1979, and with 180 member firms in 80 countries Alliott Global Alliance is an award-winning alliance of independent, law, accounting, and specialist advisory firms, working across the world Together as One. Each of our members share a common goal: to learn and share knowledge, resources, and opportunities to make the world smaller and their businesses stronger.
We work with a spirit of generosity and openness — so that together, we can continue to fulfil our ambitions, gain greater experience, and drive mutual success.
Alliott Global Alliance is expanding fast, and the alliance has its sights set firmly on growing its legal and accounting membership to 100 countries. Opportunities are available to independent professional firms in specific countries in Africa, but also in Europe, China, the ASEAN region, Australasia, the Gulf Cooperation Council region, Central and South America and in North America. For information about membership in Africa, contact Sophia Rook-Blackstone (sophia@alliottglobal.com), Membership Development Executive.