Molenaar and Griffiths (SST Inc.) appointed as Alliott Group's first law firm member in South Africa
27 April 2020
Alliott Group, the world's sixth largest multidisciplinary alliance of independent professional firms, has increased its law firm presence in Sub-Saharan Africa through the admission of business law firm Molenaar and Griffiths (SST Inc.).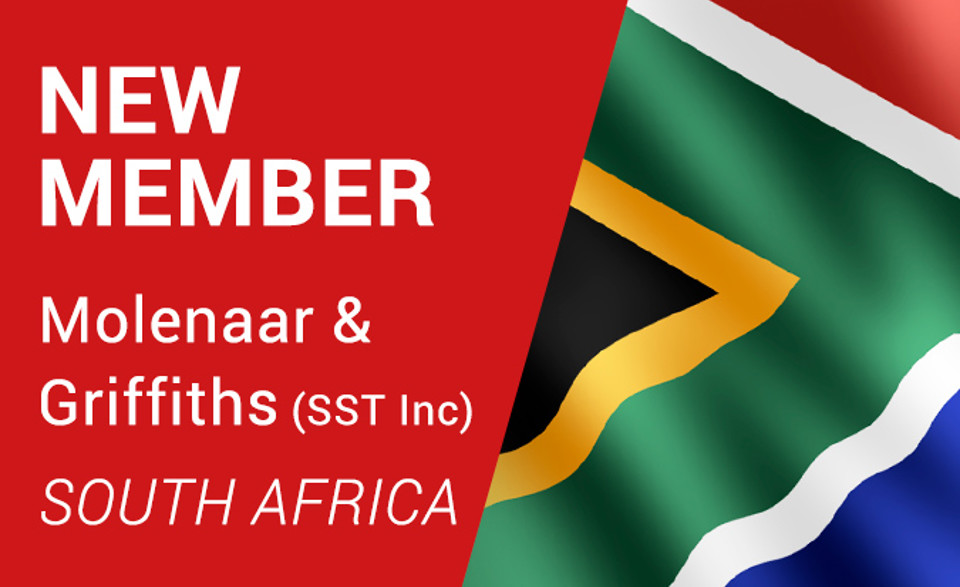 Alliott Group, the world's sixth largest multidisciplinary alliance of independent professional firms, has increased its law firm presence in Sub-Saharan Africa through the admission of business law firm Molenaar and Griffiths (SST Inc.). The firm has offices in Pretoria, Johannesburg and Port Elizabeth.
Molenaar and Griffiths' appointment follows hot on the heels of law firm Muvingi & Mugadza joining the alliance in Zimbabwe earlier this month and complements the alliance's accounting firm presence in South Africa through MMS Group. Molenaar and Griffiths is the 12th firm to join Alliott Group in 2020.
Through this appointment, the alliance gains a dynamic business law firm that can handle general commercial but also the more specialist legal requirements of clients doing business in South Africa.
Established in 1952 in Sasolburg, 80km from Johannesburg, the firm has expanded to Pretoria and Port Elizabeth and has undergone significant growth in the last few years. Managing Partner Louis Stroebel oversees a diverse law practice staffed by an additional three equity partners and 35 managers, consultants and support staff who offer expertise in corporate and commercial, real estate, conveyancing, estate planning, dispute resolution and employment law. The firm handles or has acted for a number of franchises and has assisted with the acquisition or disposal of JSE listed companies across a range of industries and has a busy M&A practice that has some involvement in private equity and venture capital funds.

A growing client base of business and high net worth clients with cross border operations and offshore structures requires the firm to have access to an international network of lawyers but also tax advisers on whom they can rely to handle clients' business and personal legal and tax affairs.
Louis comments:
"We are focused on growing our firm and believe strongly in the power of networks and partnerships to drive new growth opportunities. Joining an alliance of law but also accounting and specialist services firms fits perfectly to our clients' needs. This new relationship instantly expands our service model to 165 independent firms in 69 countries."
Ouassim Akil of AKONSEIL in Morocco, who represents the African region on the alliance's EMEA Regional Advisory Committee said:
"We are delighted to appoint Louis and his colleagues at Molenaar and Griffiths as our first law firm member in South Africa. They are exactly the calibre of law firm we have been looking to introduce into our fast-developing membership in Africa. We send a warm welcome to everyone at Molenaar and Griffiths (SST)."
From June 1st, 2020 the firm's offices will merge into one trading entity known as SST Inc.
Alliott Group is growing organically in Africa at a steady rate and has member firms in South Africa, Nigeria, Kenya, Tunisia, Senegal, Egypt, Morocco, Zimbabwe, and Zambia. The alliance is targeting further expansion in Africa.
About Molenaar and Griffiths (SST Inc):
Each of Molenaar & Griffiths' Incorporated practices has focused departments offering clients a comprehensive range of legal services in their respective areas of legal practice. These practice areas include Corporate and Commercial Law, Property Law, Conveyancing, Estate Planning, Administration of Deceased Estates, Dispute Resolution, Labour Law, Notarial Work and much more.
In addition to our legal expertise, our practices pride itself on its longstanding and loyal relationships with our clients. Being a client focused law firm, we make it our business to understand the legal needs of our clients and to find innovative solutions to complex and intricate legal problems.
About Alliott Group:
Founded in 1979, and with 165 member firms in 69 countries, Alliott Group is an award-winning international association ('alliance') of independent accounting and law firms that need deeper levels of cross border resources to develop reputation, visibility, and new business. Alliott Group provides services to help its member firms to position themselves as the 'go to' firms in their local markets for businesses and private individuals with multi-market business interests.
Alliott Group is expanding fast, and the alliance has its sights set firmly on growing its legal and accounting membership to 100 countries. Opportunities are available to independent professional firms in specific countries in Africa, but also in Europe, China, the ASEAN region, Australasia, the Gulf Cooperation Council region, Central and South America and in North America. For information about membership, contact Damien McMenamin (damien@alliottgroup.net), Head of Global Business Development.