Law firm Counselence joins Alliott Global Alliance in Bangalore
19 April 2023
Alliott Global Alliance ('AGA') has admitted Counselence, a Top 10 corporate law firm in Bangalore (officially 'Bengaluru'), the capital city of the state of Karnataka in India to membership.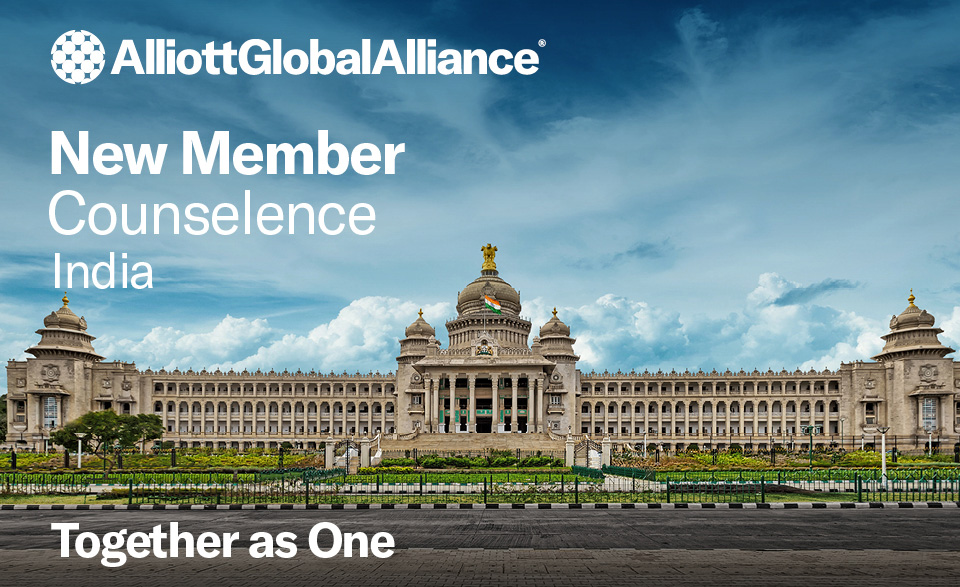 Counselence' s affiliation with AGA expands the alliance's legal presence to one of Asia's most important tech hubs and a city widely regarded as the 'Silicon Valley of India'. For Counselence, joining AGA, a ranked Band 1 Law Firm Network (Chambers and Partners), elevates the firm to among Bengaluru's most reputable law firms and offers the firm access to a global resource base of technical expertise, trusted connections, and practice growth opportunities. The firm remains fully independent but now is part of an alliance that offers legal, financial, and accounting services to clients in almost any city across the world.
Founded in Bengaluru by Biju Varghese and Padmanabhan Ananth ("Paddy"), the partners have over three decades of experience working for international law firms and multinational companies including Norton Rose Fulbright, IBM, Reliance Industries and Wipro.
The team at Counselence provides corporate and commercial, labour and employment, litigation, statutory compliance, and real estate legal services to clients operating across a broad range of sectors including IT, ITeS & e-commerce, pharmaceutical, industrial, hospitality and real estate, inter-governmental organisations, international charitable foundations, and national industry associations including NASSCOM, the apex Indian trade body for the tech sector.
Bengaluru contributes to 38% of the country's total IT exports, and, with Counselence already having experienced growth of over 20% in the last two years, the partners plan to expand their legal service offerings further in 2023/24 to capitalise on the continued growth of this sector and in the other fast-growing financial, defence, aeronautical and pharmaceutical sectors investing in the region. Counselence is a member of the IBA, and the Indo-American Chamber of Commerce and business is conducted at the firm in the English, Kannada, Hindi, Malayalam, and Tamil languages.
Paddy commented:
"We are honoured to have been appointed as AGA's exclusive law firm representative in the State of Karnataka, India. Joining the alliance will enhance our international profile and capabilities and offer our expanding global clientele additional trusted support in India, across the APAC region and worldwide. We are confident that we can also provide efficient, value for money legal services to our fellow members' clients doing business in India.

"We look forward to meeting our colleagues at regional and global events very soon so we can commence forming long-term collaborative relationships."
Alliott Global Alliance's CEO, Giles Brake added:
"Counselence's appointment brings high calibre legal expertise to AGA in one of Asia's most dynamic technology hubs. This region of the world offers rich opportunities to international investors looking to expand their business interests to new markets. Such clients will be in very experienced hands with Counselence supporting them in India but also across six world continents. We offer a very warm welcome to Biju, Paddy, and all at Counselence."
Across the Asia Pacific region, AGA now offers a wide range of professional services via its member firms in China, Hong Kong, Bangladesh, Singapore, Indonesia, Malaysia, India, Australia, Papua New Guinea, New Zealand, Japan, South Korea, Nepal, Pakistan, Thailand, Taiwan, Philippines, and Vietnam.
About Counselence:
Propelling businesses forward with bespoke legal advice:
As Alliott Global Alliance's legal representative in Bengaluru, Karnataka India, Counselence believes in providing quality, real-time business-legal support to corporate and multi-national entities and high net-worth individuals (HNI) by identifying the right counsel to suit a specific business need and, by working across sectors, global boundaries, industries, and jurisdictions, to provide them with the best legal strategies.
About Alliott Global Alliance:
Founded in 1979, and with 215 member firms operating out of 300 offices in 95 countries Alliott Global Alliance is an international alliance of independent, law, accounting, and specialist advisory firms, working across the world Together as One.
Each of our members share a common goal: to learn and share knowledge, resources, and opportunities to make the world smaller and their businesses stronger. We work with a spirit of generosity and openness — so that together, we can continue to fulfil our ambitions, gain greater experience, and drive mutual success. 
Alliott Global Alliance is expanding fast, and the alliance has its sights set firmly on growing its legal and accounting membership to 100 countries. Opportunities are available to independent professional firms in specific countries in Africa, but also in Europe, China, the ASEAN region, Australasia, the Gulf Cooperation Council region, Central and South America and in North America. For information about membership email membership@alliottglobal.com.