First Africa Regional Conference Takes Place in Kenya
22 August 2022
Alliott Global Alliance (AGA), one of the largest and fastest growing global multidisciplinary alliances, hosted its first African Regional Conference in Nairobi recently. Lawyers and accountants from 18 countries enjoyed a full programme of business sessions, networking and social activities.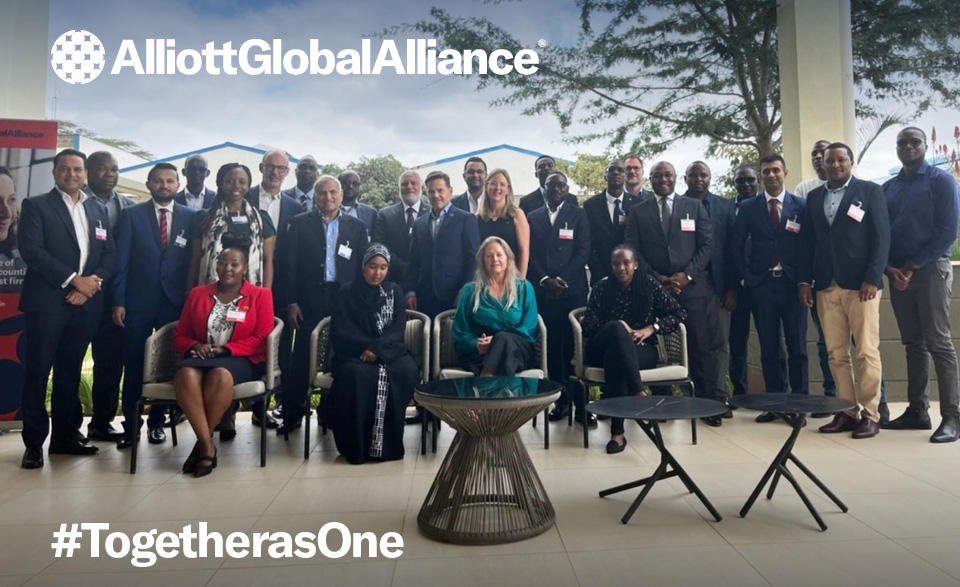 The conference which was organised in close collaboration with Kenyan member firms Gitonga Mureithi & Company Advocates and Ababsy and Associates, was carefully designed to nurture links between members across the African region, many of whom had only met virtually during the pandemic. The importance of the region was emphasised by Giles Brake, CEO and Deputy Worldwide Chair Giorgio Marcolongo, who highlighted the Alliance's significant growth in Africa since 2019, with 17 firms joining across the continent.

Giles Brake and Sophia Rook Blackstone, AGA's Membership Growth Manager, introduced all of the region's members and set out AGA's strategic plans to facilitate greater collaboration and 'switch on' the alliance for business in Africa and across the world.

Interactive, member-led sessions focused on some of Africa's business growth trends including areas such as mobile money (Abdihafid Yarrow, Ababsy & Associates, Kenya), the development of the East Africa Community (Richard Okia, Tervuren GMS , Uganda), cannabis farming (Nyasha Munyuru, Muvingi & Mugadza Legal Practitioners, Zimbabwe) and cryptocurrency (Ashveen Gopee, Lex Frontier, Mauritius).

Shehzada Walli of Stallion Attorneys, law member in Tanzania and Zanzibar, then led a discussion on selling professional services in the digital era and an additional breakout looked at how the alliance can drive further collaboration and tighter connections between members in Africa and globally.

With the talent crunch very much in mind, Leonie Pentz from the South African office of AIMS International, AGA's Preferred Partner in executive search and talent management, faciliated a discussion on finding, retaining, and motivating professional staff in an era of international mobility. Leonie explained that toxic corporate cultures, too much innovation and change and the failure of leadership to recognize performance lie at the root of the Great Resignation. After sharing that only 20% of resignations are pay related, members were advised to take action by consulting with staff about what they really want and by working on organizational purpose.

Conference sessions were interspersed with opportunities to enjoy relaxed evening networking and a memorable game drive in the Nairobi National Park.

Giles commented:
"Our first African Regional Conference was a major success in building strong bonds between the region's very like-minded law and accounting members. The Alliance has grown exponentially in Africa in recent years, with member firms busy working together to expand the geographic footprint of their existing clients. Even more encouraging is that the AGA brand is getting noticed in Africa - as a result, member firms are attracting international clients and competing on a level playing field with the bigger firms in their local marketplaces.

"We would like to send a huge 'thank you' to our exceptional host firms, Gitonga Mureithi & Company Advocates, and Ababsy & Associates."
AGA's African alliance includes market-leading, independent firms in Algeria, Egypt, Cameroon, Ghana, Kenya, Lesotho, Libya, Malawi, Mauritius, Morocco, Nigeria, South Africa, Tanzania, Tunisia, Uganda, Zambia, and Zimbabwe.
Further reading:
Alliott Global Alliance Sponsors LawCon Conference in Tanzania
About Alliott Global Alliance:
Founded in 1979, and 215 member firms in 95 countries Alliott Global Alliance is an international alliance of independent, law, accounting, and specialist advisory firms, working across the world Together as One.

Each of our members share a common goal: to learn and share knowledge, resources, and opportunities to make the world smaller and their businesses stronger.

We work with a spirit of generosity and openness — so that together, we can continue to fulfil our ambitions, gain greater experience, and drive mutual success.

Alliott Global Alliance is expanding fast, and the alliance has its sights set firmly on growing its legal and accounting membership to 100 countries. Opportunities are available to independent professional firms in Europe, China, the ASEAN region, Australasia, the Gulf Cooperation Council region, Central and South America and in North America, and regions in Africa. For information about membership, email membership@alliottglobal.com.