Fares Legal joins Alliott Global Alliance in Algeria and Libya
20 January 2022
Alliott Global Alliance (AGA), one of the world's largest global multidisciplinary alliances, has expanded into Algeria and Libya by appointing Fares Legal Group ('Fares Legal') as its law firm representative in both countries.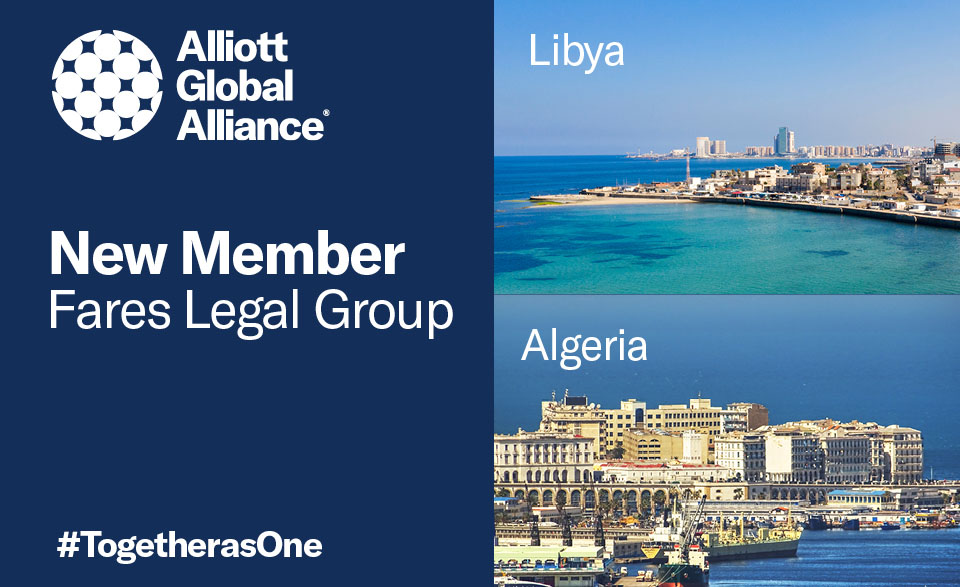 Association with this Top 25 law firm bolsters AGA's presence in the MENA (Middle East & North Africa) region. For its part, Fares Legal expands its range of services to reach some 90 countries, offering improved support to clients seeking growth opportunities or facing challenges beyond their immediate geographic boundaries.
With the Alliott Global Alliance brand behind them and the global resource base offered by the Alliance's 200 member firms across the world, Fares Legal is in an optimum position to take its client services and growth to a new level.
A full-service law firm, Fares Legal was founded in 2007 by Elias Fares, Yannil Belbachir and Rodolfo Drudi.
Since incorporation, the firm's internationally experienced team of professionals has developed a client base consisting of some of Libya and Algeria's largest industrial, commercial, and financial groups. The firm's focus includes working on EPC and claims contracts related to the construction, oil and gas and renewable energies industries, and working alongside major international contractors and procurers from the negotiation stage through to project delivery.
Managing Partner Yannil is a regular speaker at worldwide summits and international conferences on topics including those related to the oil and gas and infrastructure industries. In 2020, three of the firm's lawyers contributed to the 2020 World Bank's Doing Business guide in which they compared regulations across 190 economies.
Multinational clients of the firm include Dessau Construction, Ansaldo Energia, Hundai Engineering, Ircon International, Menarini Industrie Farmaceutiche, Obermeyer, Korea Trading And Industries Co., Ltd, VFS Global, Bomare Company, Metka, Fiat, Volvo Trucks, SP – Engineering & Construction, Larsen & Toubro Ltd. Business at the firm is conducted in Arabic and in the English, Spanish, Italian and French languages.
Yannil Belbachir comments:
"We are delighted to have joined AGA at a time of exceptional growth. The alliance offers our firm a high-profile platform from which to expand our service offering to our current clients locally and to those who have operations in other jurisdictions. In turn, we can reach out to carefully vetted AGA member lawyers and accountants whenever our clients need assistance outside of the markets we serve.

"This partnership will help us to build our profile internationally and we look forward to sharing best practice and learning with our trusted and highly skilled colleagues."
Alliott Global Alliance CEO, Giles Brake, adds:
"We are pleased to start 2022 by admitting another high calibre law firm to AGA's fast-expanding legal membership. Clients of AGA member firms can reach out with confidence to Fares Legal whenever they need legal support in Libya and Algeria.

"Yannil, Rodolfo and their team bring to this important region of the world not only an impressive level of business law expertise and track record in serving multi-jurisdictional companies, but also a high level of energy and innovation."
Alliott Global Alliance is growing continuously and now has member firms in the following African countries: Algeria, Cameroon, Ghana, Kenya, Lesotho, Libya, Malawi, Mauritius, Morocco, Nigeria, South Africa, Tanzania, Tunisia, Uganda, Zambia, and Zimbabwe.
About Fares Legal Group:
Your trusted business law firm
Fares Legal is an international business law firm that has been advising and defending international contractors, manufacturers, suppliers, and international institutions for 15 years in emerging markets.
At Fares Legal we provide a full package of legal services combining in-depth expertise and knowledge with a solution-oriented approach.
From preliminary legal advice to litigation, from EPC projects and public contracts to corporate, labor and IP laws, our team of professional attorneys is well established, prominent and experienced to take in hand our client's needs and provide solutions to their most complex legal challenges. 
About Alliott Global Alliance
Founded in 1979, and with 200 member firms in 90 countries, Alliott Global Alliance is an international alliance of independent, law, accounting, and specialist advisory firms, working across the world Together as One. Each of our members share a common goal: to learn and share knowledge, resources, and opportunities to make the world smaller and their businesses stronger.
We work with a spirit of generosity and openness — so that together, we can continue to fulfil our ambitions, gain greater experience, and drive mutual success.
Alliott Global Alliance is expanding fast, and the alliance has its sights set firmly on growing its legal and accounting membership to 100 countries.
Opportunities are available to independent professional firms in specific countries in Africa, but also in Europe, China, the ASEAN region, Australasia, the Gulf Cooperation Council region, Central and South America and in North America. For information about membership in the African region, contact Sophia Rook-Blackstone (sophia@alliottglobal.com), Membership Growth Manager.