Clarity Law joins Alliott Global Alliance in Guatemala
27 February 2022
Alliott Global Alliance ('AGA'), one of the world's largest and fastest-growing multidisciplinary alliances of professional services firms with over 200 member firms in 90 countries, has appointed one of Guatemala's Top 25 law firms as its law member in Guatemala.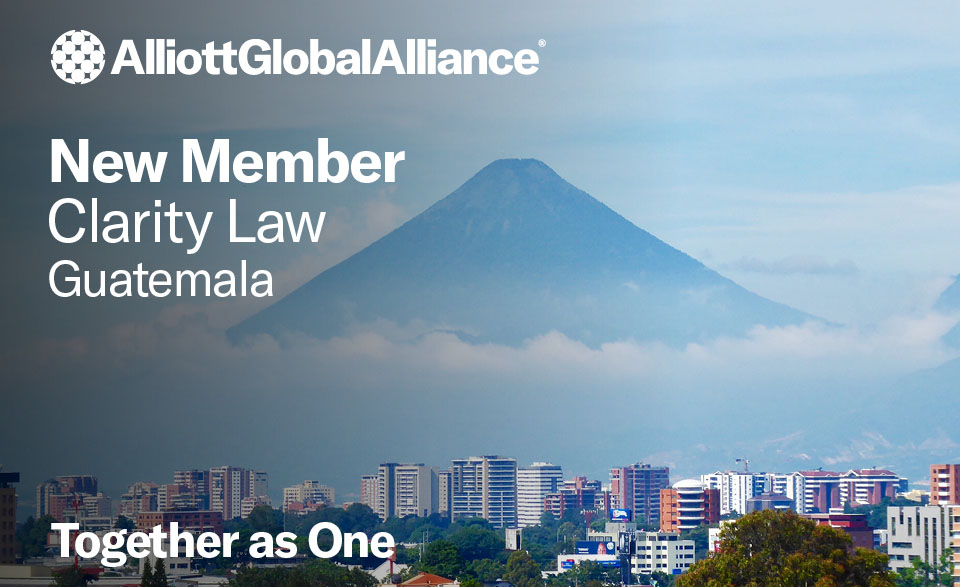 The appointment expands the reach of Clarity Law to over 90 countries and ensures the alliance can support clients in another Central American country.
Clarity Law, founded in 2019 by José Augusto Toledo and Gustavo Hernández, who were later joined by Ligia Salazar, brings together a team of experienced lawyers whose aim is to offer clients the sophistication and experience of a large firm with the service and accessibility of a smaller practice. Offering expertise in corporate law, banking and finance, real estate and M&A, the firm is ranked highly in Chambers & Partners, Legal 500, IFLR, Latin Lawyer, Who's Who Legal and LACCA. Staff at the firm conduct business in Spanish and English.
José Augusto Toledo, a former managing partner at a leading Central American law firm, comments:
"It is an honour to represent AGA in Guatemala and to be recognised as its exclusive law firm member in the country. We can now offer our clients with business requirements in multi jurisdictions access to services provided by our new global partners.

"We are keen to share ideas, learn from the membership, and put our growing international client base into trusted hands and we are committed to further strengthening the opportunities available to AGA in this important region and look forward to being part of the AGA family."
Giles Brake, Alliott Global Alliance CEO, adds:
"I am very pleased to welcome Clarity Law to our alliance. They are a growing, ambitious firm of high calibre lawyers who will represent the alliance with distinction in this important Central American country.

"The alliance continues to build a strong presence across Latin America, positioning itself as an alternative global provider of legal, tax, accounting, audit, and advisory services to the region's middle market companies. Clarity Law joins AGA during a period of exhilarating growth, and we anticipate the firm will play a key role in AGA's continued expansion and success in the region. We offer a very warm welcome to all the Clarity team."
AGA's Latin American membership is growing organically at a fast rate with new accounting and law members now present in 13 countries across the Latin American continent in: Argentina (Estudio Nunes & Asociados Abogados), Brazil (Madrona Advogados and Consulcamp Auditoria e Assessoria), Mexico (Vazquez Tercero & Zepeda and Blasco yu Asociados), Costa Rica (DV Business Solutions), Ecuador (Tax Financial Leaders Del Ecuador), Chile (OGL Abogadas and Proximo Auditores) El Salvador (Amaya & Guevara Auditores), Panama (Galeano & Asociados) and (PGS), Peru, (ARE), Colombia (Peña Mancero Abogados) and Guatemala (Clarity Law).
About Clarity Law:
A recently established law firm, but with decades of experience. We have learned to think as users of legal services and to understand what they value: Attention, Flexibility, Clarity in expected results, and Cost predictability.
We are excited to work in a "problem anticipation" culture, thinking ahead about issues the client may face, proposing potential solutions. Communication is essential to know what is needed and when it is needed, based on bonds of trust.
Being entrepreneurs ourselves, allows us to understand the priorities and challenges of doing business. Our services add value to our client`s ventures as our advice goes beyond the legal scope. Once we know our client`s business, we propose creative and cost-efficient solutions. Read more.
About Alliott Global Alliance:
Founded in 1979, and with over 200 member firms in 90 countries Alliott Global Alliance is an international alliance of independent, law, accounting, and specialist advisory firms, working across the world Together as One.
Each of our members share a common goal: to learn and share knowledge, resources, and opportunities to make the world smaller and their businesses stronger. We work with a spirit of generosity and openness — so that together, we can continue to fulfil our ambitions, gain greater experience, and drive mutual success.
Alliott Global Alliance is expanding fast, and the alliance has its sights set firmly on growing its legal and accounting membership to 100 countries. Opportunities are available to independent professional firms in specific countries in Africa, but also in Europe, China, the ASEAN region, Australasia, the Gulf Cooperation Council region, Central and South America and in North America. For information about membership in Central and South America email membership@alliottglobal.com