Brazilian Lawyer Danilo Mininel appointed to Alliance's Latin America & Caribbean Leadership Team
17 October 2022
Alliott Global Alliance ('AGA'), one of the world's fastest-growing global alliances with 215 law and accounting member firms in 95 countries has announced that Danilo Mininel, Co-Founding Partner of Brazil law member Madrona Advogados, has been appointed to the Latin America and Caribbean Regional Advisory Committee, with immediate effect.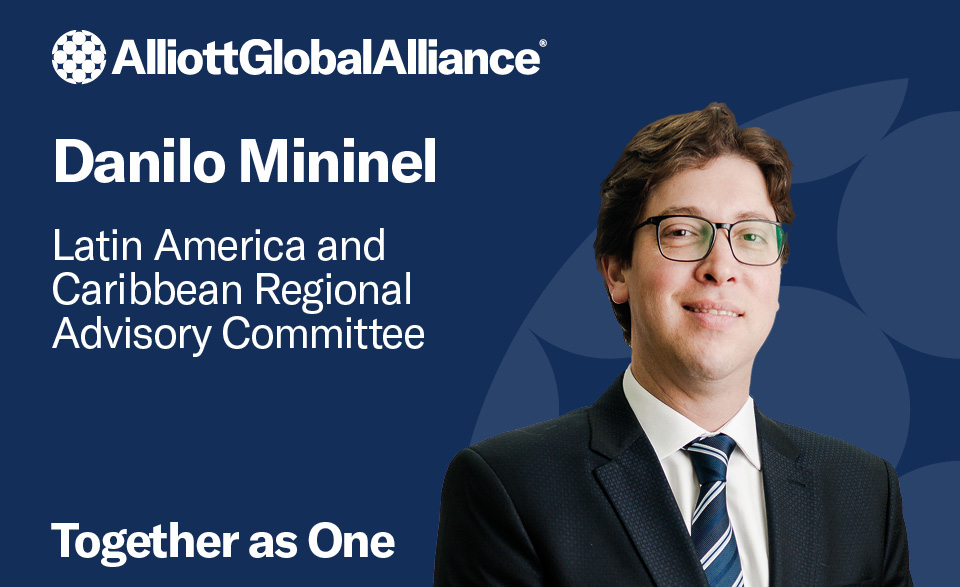 Based in São Paulo, Danilo joins the committee at a time of significant membership growth in the region. 16 firms have joined AGA in the region in the last three years, achieving expansion to eight new countries in the process.
Danilo will play an important part in representing the views and interests of the region's law members. Furthermore, Danilo will also be involved in shaping a strategy to position AGA as a global solutions provider to the region's international business and investor communities.
Danilo comments:
"It is an honour to be appointed to the Latin America & Caribbean Advisory Committee and to support the Worldwide Board with the next stages of their strategic planning for the region.

"I am looking forward to working alongside my colleagues on the committee as we continue to focus on the expansion of AGA in Latin America, and to building strong relationships with our new and established regional members with a view to developing mutually beneficial business opportunities."
Alliott Global Alliance CEO, Giles Brake adds:
"Danilo brings gravitas and Board-level experience to the region's leadership team. Since joining AGA earlier this year, Danilo has demonstrated a passion for the alliance's vision and values and an ability to build strong connections with member firms in other Latin American jurisdictions and across the world. With São Paulo hosting the region's conference in June 2023, Danilo's appointment comes at an important time."
Across Latin America and the Caribbean, AGA currently has member firms in Argentina, Brazil, Chile, Colombia, Costa Rica, Ecuador, El Salvador, Guatemala, Mexico, Panama, Peru, Saint Kitts & Nevis, Uruguay, and Venezuela.
Further reading:
AGA recibe a miembros de 16 países en su Conferencia de América Latina y el Caribe en Panamá
About Madrona Advogados:
Madrona Law is a full service, top 25 law firm based in São Paulo and Brasilia, Brazil.
With a focus on corporate law, mergers and acquisitions, capital markets, financial law, and infrastructure, in addition to a strong performance in tax, real estate, civil litigation, and labor law, the firm's motivation is to invest in people and work so that clients reach their goals, always with ethics and responsibility. With a team of more than 110 legal professionals with great experience and with recommendations by several national and international publications, the team at Madrona Advogados is aligned with the principles and objectives that they set out to achieve.
About Alliott Global Alliance:
Founded in 1979, and with 215 member firms in 95 countries, Alliott Global Alliance is an international alliance of independent, law, accounting, and specialist advisory firms, working across the world Together as One. Each of our members share a common goal: to learn and share knowledge, resources, and opportunities to make the world smaller and their businesses stronger.
We work with a spirit of generosity and openness — so that together, we can continue to fulfil our ambitions, gain greater experience, and drive mutual success.
Alliott Global Alliance is expanding fast, and has its sights set firmly on growing its legal and accounting membership to 100 countries by 2025. Opportunities to represent the alliance are available to independent professional firms in specific jurisdictions in Central and South America and across the Caribbean. For further information about membership in Latin America, contact membership@alliottglobal.com