Alliott Global Alliance Expands to Finland Through Byro Legal
16 June 2022
Alliott Global Alliance ('AGA'), one of the largest and fastest-growing global multidisciplinary alliances, with over 210 member firms in 95 + countries, has expanded to Finland. The appointment of law firm Byro Legal Ltd (Byro) in Helsinki, Finland, increases AGA's presence in the Nordic region.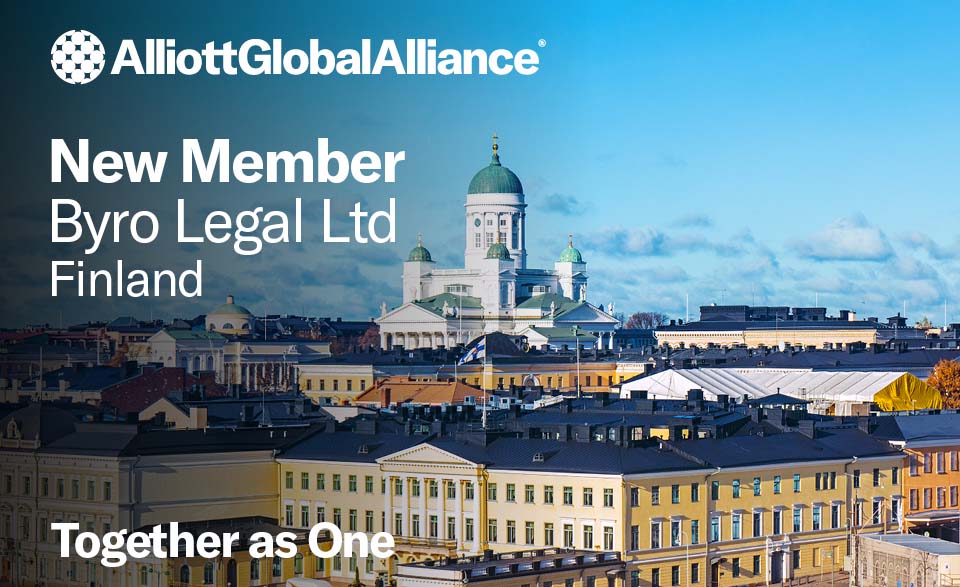 The partners at this dynamic law firm, who have all worked at large international law firms, have extensive experience of assisting international clients and have grown operations extensively at the firm since its inception in 2021. Byro offers dispute resolution, corporate M&A, tech, real estate, and employment services to a diverse client base who work primarily in the tech and communications, energy and infrastructure, wholesale and retail and private equity and venture capital sectors.
Business is conducted at the firm in the English and Finnish languages.
Partner Artturi Puoskari, comments:
"We are honoured to have been selected to be AGA's law firm representative in Finland. Our aim is to utilise the alliance and put members in touch with our clients with international operations and to collaborate with our peers to forge global business relationships which in time may lead to mutual opportunities.

"We are excited to join AGA at a time when it is continuing to grow and, through the experience we have of the local professional services market, we look forward to supporting the Executive Office with their strategy to expand further across the region."
Alliott Global Alliance's CEO, Giles Brake adds:
"One of the alliance key objectives is to ensure clients have access to legal and accounting services right across the interconnected economies of the European Union. Gaining a stronger foothold in the Nordic region is critical to this objective, so introducing a law firm in Finland of Byro's calibre into our international alliance represents a major step forward.

"This progressive, young law firm is growing fast, and we intend to play an important part in helping them to increase their profile on the regional and international stages and to access growth opportunities that are beyond the reach of the typical medium-sized, independent law firm. With an international focus, expertise in advising multi-jurisdictional clients, and now with the resources of a global alliance behind them, Byro are set for further success. A very warm welcome to Julius, Paulus, Artturi and all the team in Helsinki."
AGA has its sights set on expanding its European law firm coverage further in 2022, particularly in Norway, Iceland, Estonia, Lithuania, Switzerland, Croatia, and Liechtenstein.
About Byro Legal:
Byro Legal is an independent business law firm on a mission to make their clients and people happy. The firm was founded by lawyers who wanted to create a modern law firm with modern values.
Their approach to providing advice is simple: they deliver client-centric, quality-driven advice to their clients. To ensure that they can fulfil their service promise to their clients, Byro runs a lean, committed team that is solely comprised of experienced lawyers that have a background from the top firms in the market. Instead of having a pyramid organization, they guarantee that an experienced expert handles each assignment. This is how they ensure high-quality and efficient execution.
Read more about our services.
About Alliott Global Alliance:
Founded in 1979, and 210 member firms in 95+ countries Alliott Global Alliance is an international alliance of independent, law, accounting, and specialist advisory firms, working across the world Together as One.
Each of our members share a common goal: to learn and share knowledge, resources, and opportunities to make the world smaller and their businesses stronger.
We work with a spirit of generosity and openness — so that together, we can continue to fulfil our ambitions, gain greater experience, and drive mutual success.
Alliott Global Alliance is expanding fast, and the alliance has its sights set firmly on growing its legal and accounting membership to 100 countries. Opportunities are available to independent professional firms in specific countries in Africa, but also in Europe, China, the ASEAN region, Australasia, the Gulf Cooperation Council region, Central and South America and in North America. For information about membership in Europe, email membership@alliottglobal.com.