Alliott Global Alliance expands in North Africa through ADVOC Law Firm in Egypt
06 March 2023
Alliott Global Alliance (AGA), one of the world's largest global multidisciplinary alliances, has expanded its legal presence in North Africa by appointing ADVOC Law Firm ('ADVOC Law') as its representative law firm member in Egypt.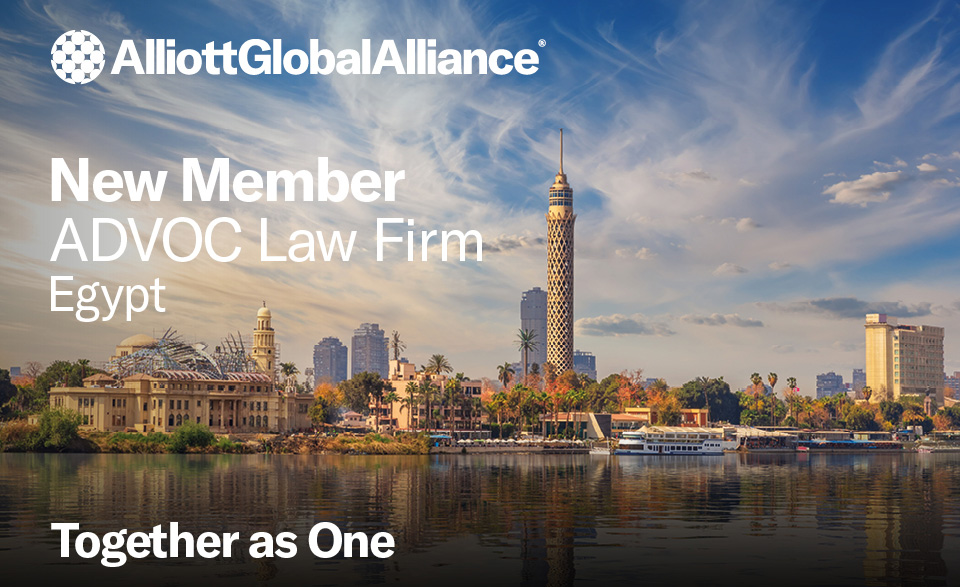 AGA is ranked as a Band 1 Law Firm Network by Chambers and Partners and has 215 member firms in 94 countries.
Based in Cairo and founded in 2016 by highly regarded and experienced Dr Emad Mohamed Hefnawy and Mr Ahmed Mohamed Elsayed, ADVOC Law offers corporate, procedure and litigation, arbitration, and business advisory services to clients mainly in the insurance, technology and digital transformation, banking and finance, and energy and power sectors.
ADVOC Law also helps clients working across emerging markets including those involved with start-ups and sports and entertainment and having achieved 42% growth in the last two years, the partners see these as further growth areas for the firm in future, as well as providing fintech and maritime legal services.
An expert in his field, Dr Hefnawy is legal advisor to the Union Chambers of European Experts and the firm is a member of the Egyptian Lawyer Association and the Arab Lawyer Union. Business is conducted in the Arabic, French and English languages.
Dr Hefnawy comments:
"We are honoured to have joined such an esteemed and high-ranking alliance as AGA and to be recognised as its exclusive law firm member in Egypt.

"Through our membership and by utilising the strong brand message of AGA, Together as One, we can now highlight our new international reach so clients with multi-jurisdictional requirements can benefit from the expertise of our colleagues in member firms in 95 countries around the world, and so expanding and enhancing the service offering we can provide."
Alliott Global Alliance CEO, Giles Brake, adds:
"With rich and varied opportunities on offer in the exciting growth markets of North Africa and the wider MENA region, developing strong strategic partnerships in Egypt has been one of the alliance's key priorities. ADVOC Law demonstrated to us they have a high level of expertise and cross-border experience, but also a collaborative, client-centric approach. Working closely with their colleagues at our accounting member firm EO GROUP, ADVOC Law will meet the complex and varied needs of clients investing in and through the MENA region and worldwide. As an AGA member firm, our new colleagues in Egypt are in an optimum position to develop an international profile and lever a deeper resource base that will unlock new opportunities in national, regional, and global growth markets."
AGA now has dual membership in Egypt, with EO GROUP providing accounting services. AGA is one of the largest professional services alliances in Africa with coverage in 19 countries: Algeria, Botswana, Cameroon, Egypt, Ghana, Kenya, Lesotho, Libya, Malawi, Mauritius, Morocco, Nigeria, Senegal, South Africa, Tanzania, Tunisia, Uganda, Zambia, and Zimbabwe. Further growth is planned in 2023.
Listen to our podcast:
A perfect alliance across professions - expanding AGA's footprint in Africa
About ADVOC Law Firm:
AGA's sole legal member in Egypt, ADVOC Law Firm is a full-service law firm based in Cairo.
The firm's mission is to provide the highest quality service to clients while maintaining long term business relationships with them, providing guidance and transparency, and guiding them efficiently through the decision-making process.
ADVOC Law offers corporate, procedure and litigation services, arbitration, and business advisory services to domestic and international clients mainly working in the insurance, technology and digital transformation, banking and finance, and energy and power sectors. 
About Alliott Global Alliance:
Founded in 1979, and with 215 member firms in 94 countries Alliott Global Alliance is an international alliance of independent, law, accounting, and specialist advisory firms, working across the world Together as One.
Each of our members share a common goal: to learn and share knowledge, resources, and opportunities to make the world smaller and their businesses stronger.
We work with a spirit of generosity and openness — so that together, we can continue to fulfil our ambitions, gain greater experience, and drive mutual success.
Alliott Global Alliance is expanding fast, and the alliance has its sights set firmly on growing its legal and accounting membership to 100 countries. Opportunities are available to independent professional firms in specific countries in Africa, but also in Europe, China, the ASEAN region, Australasia, the Gulf Cooperation Council region, Central and South America and in North America.
For information about membership in Africa email membership@alliottglobal.com