A perfect alliance across professions - expanding AGA's footprint in Africa
28 February 2023
In this podcast, Africa Legal's Tom Pearson invites Giles Brake, CEO of Alliott Global Alliance ("AGA"), and Stephen Gitonga, partner and founder of law firm member Gitonga Mureithi & Company Advocates to share their back stories and vision for the future.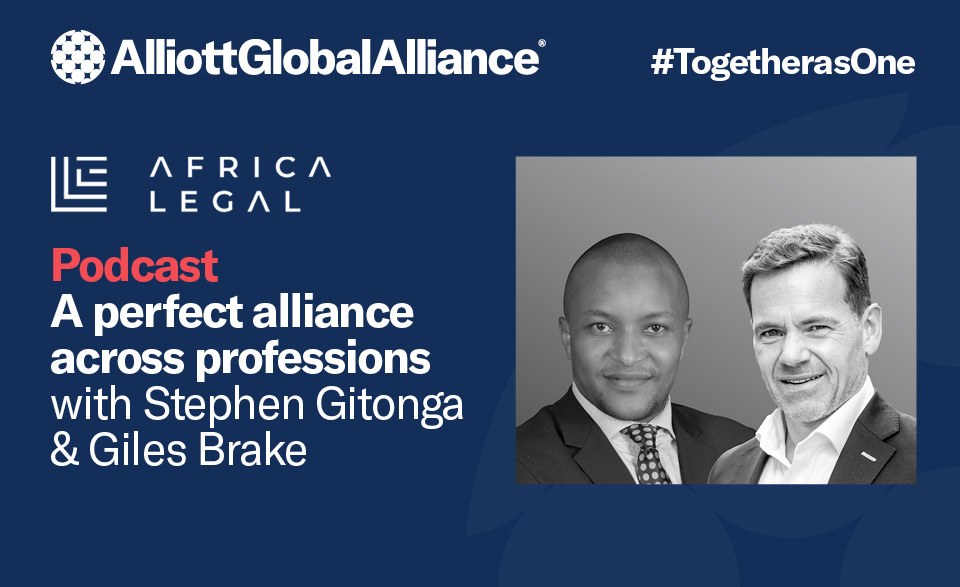 AGA has 210 member firms (including 84 law firms) in 95 countries.
Inspired by the need to provide more than just accounting and tax services to their growing list of clientele, Alliott Global Alliance (AGA) has evolved into one of the largest multidisciplinary alliances of professional firms. CEO of the alliance, Giles Brake attributes this to the synergy between accounting and law firms, which has presented opportunities to collaborate on day to day compliance, tax, private wealth and major international deals.
"The reason it worked and clicked is because law firms face many of the same challenges as accounting firms which have clients who are expanding all the time. I think both professions saw huge opportunities to collaborate and to cross refer in terms of the business model," says Brake.
Firms that are part of the alliance meet a strict criteria, Brake adds. In return, they gain significant value by being able to tap into a global resource base, ultimately putting their clients into a safe pair of hands with a non-competing firm that they trust.
While AGA's roots were tightly established more than four decades ago, and its association with law firms began in 2004, its push into Africa was part of an accelerated growth plan that started to kick into action about five years ago.
In 2018 Stephen Gitonga, partner and founder of Gitonga Mureithi & Company Advocates joined AGA.
This was after the Kenyan-based law firm sought to team up with an international network to boost their global offering. Gitonga says AGA was the perfect fit.
"We did not just want an alliance for business, but one that would work for us in terms of training, the sharing of expertise, and the opportunity to collaborate on regional and global tenders, for example. To us, one of the biggest selling points of AGA was the exclusivity you get in your jurisdiction, and that for us was quite appealing," he noted.
Both Brake and Gitonga elaborate on the mutual benefit for the alliance's accounting and law firms, a unique combination that's really attractive for a progressive international company. Brake says AGA's vision for the near future is to continue expanding organically throughout the continent.
"We need to maintain this growth trajectory that we're on. It's easy to say bigger isn't always better, but I think it is in our case, and I think being bigger will increase the opportunities for our members and of course for their clients as well.
That means, however, having the right firms in the right jurisdictions that can meet the growing needs of clients. Everybody knows that Africa has huge promise as an investment location, and some of the markets in Africa are very large. So we need to be there."
Click below to listen to the full podcast on:
Copyright : Re-publication of this article is authorised only in the following circumstances; the writer and Africa Legal are both recognised as the author and the website address www.africa-legal.com and original article link are back linked. A bio for the writer can be provided on request.
AGA is now one of the largest professional services alliances in Africa with coverage in 19 countries: Algeria, Botswana, Cameroon, Egypt, Ghana, Kenya, Lesotho, Libya, Malawi, Mauritius, Morocco, Nigeria, Senegal, South Africa, Tanzania, Tunisia, Uganda, Zambia, and Zimbabwe.
Further reading:
Alliott Global Alliance ranked as Band I Law Firm Network by Chambers Guide
About Alliott Global Alliance
Founded in 1979, and with 215 member firms in 95 countries Alliott Global Alliance is an international alliance of independent, law, accounting, and specialist advisory firms, working across the world Together as One.
Each of our members share a common goal: to learn and share knowledge, resources, and opportunities to make the world smaller and their businesses stronger.
We work with a spirit of generosity and openness — so that together, we can continue to fulfil our ambitions, gain greater experience, and drive mutual success.
Alliott Global Alliance is expanding fast, and the alliance has its sights set firmly on growing its legal and accounting membership to 100 countries. Opportunities are available to independent professional firms in specific countries in Africa, but also in Europe, China, the ASEAN region, Australasia, the Gulf Cooperation Council region, Central and South America and in North America. For information about membership in Africa email membership@alliottglobal.com