Alliott Global Alliance expands coverage in Latin America with the admittance of Asesoria de Riesgos Empresariales (ARE) in Peru
21 October 2020
Alliott Global Alliance (previously 'Alliott Global Alliance'), one of the world's largest multidisciplinary alliances of professional services firms, has expanded its presence into South America by appointing top ranked accounting firm Asesoria de Riesgos Empresariales (ARE) based in Lima, Peru.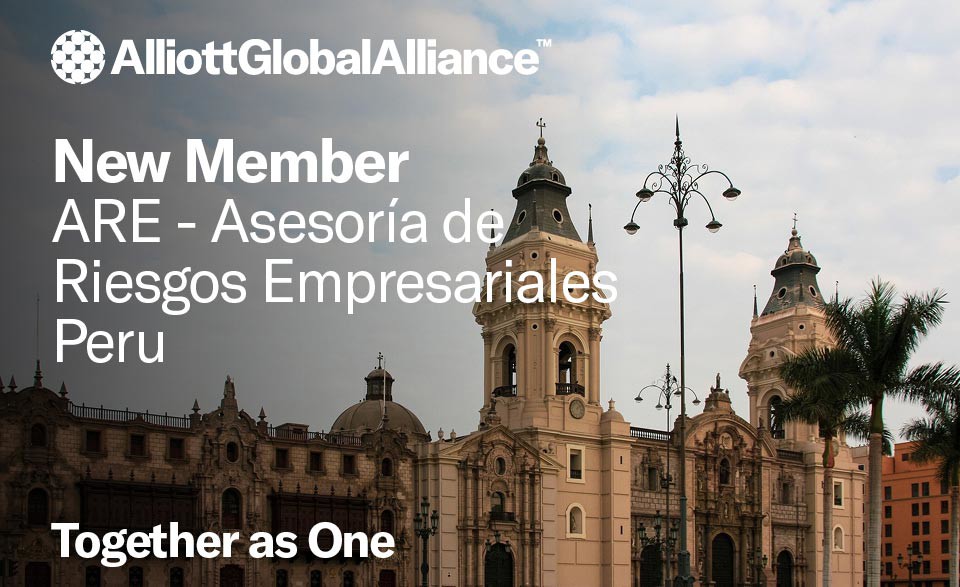 Founded in 2002, three partners plus professional and support staff provide accounting, outsourcing, tax, statutory audit, financial, operational, and business advisory, and specialised consulting services. ARE has an established international clientele with interests in Italy, UK, Canada, Belgium, Korea and China as well as in neighbouring countries in the Latin America region. ARE joins an alliance of 185 accounting, law and specialist firms in 225 cities across 80 countries.
Mainly working across the industrial, retail, construction, and mining sectors, ARE lists many high-profile corporations as well as local companies and the foreign subsidiaries of some multinationals as its clients.
Partner Elias Tovar comments:

"We are delighted that we have been admitted as Alliott Global Alliance's accounting firm member in Peru. We are already highly experienced in working across many jurisdictions and have clients who will benefit greatly from membership of such a high-profile global alliance. We look forward to working with our fellow members on new opportunities and to utilising AGA's global brand to raise our profile further in our national marketplace, to help reinforce our high standards and promote our audit services."
Alliott Global Alliance COO Giles Brake said:
"ARE join us at an exciting time of expansion both globally and across Latin America. We are building our presence in the region by selecting strong independent firms who reflect our values. ARE provide the alliance with a recognised accounting presence in the country and will be a real asset to the membership. We extend a very warm welcome to Elias and his colleagues in Lima."
Alliott Global Alliance's Latin American membership is growing organically at a steady rate with new accounting and law members joining in countries across the Latin American continent in the last 12 months, including in: Argentina (Estudio Nunes & Asociados Abogados), Brazil (Zancan, Almeida e Silva Advogados and Consulcamp Auditoria e Assessoria), Mexico (Vazquez Tercero & Zepeda), Costa Rica (DV Business Solutions), Ecuador (Tax Financial Leaders Del Ecuador), Chile (OGL Abogadas and Proximo Auditores) El Salvador (Amaya & Guevara Auditores) Panama (Galeano & Asociados) and now Peru.
About Asesoria de Riesgos Empresariales (ARE):
Creating Strong Foundations for Stable Growth
ARE provide accounting, tax, financial, operational, and business advisory, and consulting services to companies driving for more profitable operations through integral and specialized consulting to develop and optimize their activities.
To read more click here.
About Alliott Global Alliance:
Founded in 1979, and with 185 member firms in 80 countries Alliott Global Alliance is an award-winning alliance of independent, law, accounting, and specialist advisory firms, working across the world Together as One. Each of our members share a common goal: to learn and share knowledge, resources, and opportunities to make the world smaller and their businesses stronger.
We work with a spirit of generosity and openness — so that together, we can continue to fulfil our ambitions, gain greater experience, and drive mutual success.
Alliott Global Alliance is expanding fast, and the alliance has its sights set firmly on growing its legal and accounting membership to 100 countries. Opportunities are available to independent professional firms in specific countries in Africa, but also in Europe, China, the ASEAN region, Australasia, the Gulf Cooperation Council region, Central and South America and in North America.
For information about membership in Central and South America contact Sophia Rook-Blackstone (sophia@alliottglobal.com).
To find out more about our kinship of professional firms and to read the story of our rebrand, click here.