AGA headlines Cryptoverse Summit 2023
28 April 2023
Alliott Global Alliance ('AGA') is headline sponsor of the Cryptoverse Summit 2023. This is the second year the alliance has headlined the event which takes place in Mauritius on 17th May.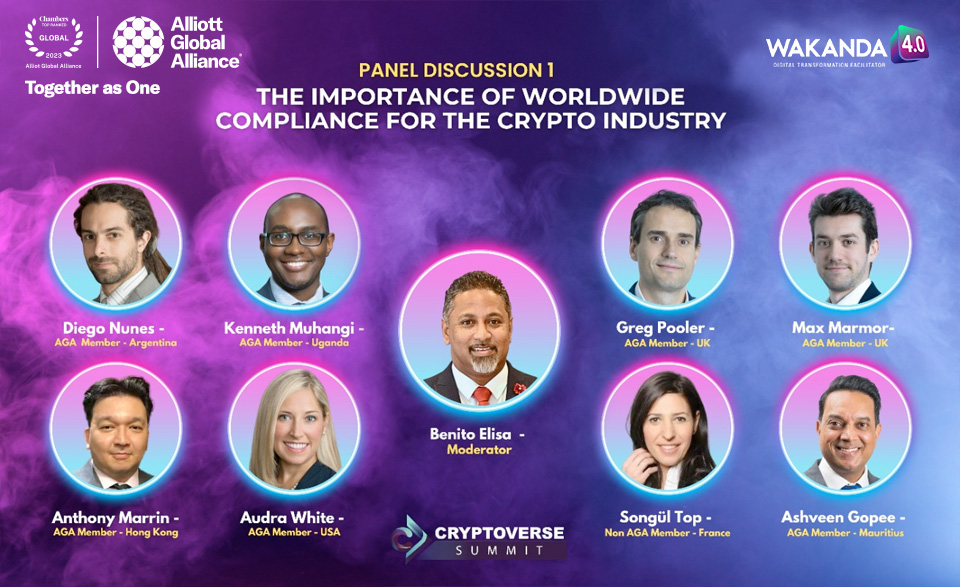 Since the Virtual Asset and Initial Token Offering Services ("VAITOS") Act came into force, Mauritius is gaining traction in becoming one of the most favourable and sought after jurisdictions for Virtual Asset Service Providers ("VASPs") to be incorporated and licensed.
This event will look to bring clarity on the legal framework for virtual assets and VASPs and promote Mauritius as a safe, robust, and virtual asset friendly jurisdiction. It will also seek to give visibility to virtual asset and blockchain projects currently underway in Mauritius and across the wider Africa continent.
Representing AGA on an international panel titled "The Importance of Worldwide Compliance for The Crypto Industry" will be various members of AGA's Crypto, Blockchain & Fintech Global Practice Group including: Ashveen Gopee, Lex Frontier (Mauritius), Audra White (Platt Cheema Richmond, USA), Diego Nunes (Estudio Nunes & Asociados, Argentina), Anthony Marrin (H.Y. Leung & Co, Hong Kong), Greg Pooler and Max Marmor (Sherrards Solicitors, UK) and Kenneth Muhangi (KTA Advocates, Uganda). AGA professionals will share their insights and expertise on the crucial role that compliance plays in shaping the future of the crypto industry globally and in their own jurisdictions.
With a growing number of AGA member firms building up expertise in cryptocurrency and the wider blockchain and fintech space, this conference is integral to the alliance's strategy to raise the profile of its collective experts and position itself as the 'go to' professional services brand for innovative international companies.
Interviewed in advance of the summit, AGA CEO Giles Brake comments:
"I am delighted that AGA is again taking part in this high-profile event. This area of the economy is global by nature and any company looking to capitalize on its potential will need access to business savvy lawyers, tax advisors, auditors, and accountants such as those who represent AGA across the world.

"Not only do AGA professionals know their jurisdiction's legal system and tax regime like the back of their hand, but they also know each other personally, work together seamlessly to provide an efficient global solution, and have their finger on the pulse with regards to the latest developments and opportunities linked to cryptocurrency."
Read Giles' full interview here.
Members can watch the live stream here from 08.00 (MAU) or 05.00 (BST)
The summit will be hosted again by IT services, consulting, and modern technology specialists Wakanda 4.0.
Watch the video below from Founder and CEO Benito Elisa:
Ranked as a Band 1 Law Firm Network by Chambers and Partners, AGA is one of the largest professional services alliances in the world, with 220 member firms in 95 countries. In Africa, AGA can offer clients representation in Algeria, Botswana, Cameroon, Egypt, Kenya, Lesotho, Libya, Malawi, Mauritius, Morocco, Nigeria, Senegal, South Africa, Tanzania, Tunisia, Uganda, Zambia, and Zimbabwe.
Further reading:
More insights from members of AGA's Crypto, Blockchain & Fintech GPG:
AGA headlines at First Cryptoverse Summit in Mauritius
Blockchain from the Perspective of a Public Accountant
Tax implications for Cryptocurrency Owners
Cryptoassets and Sports
The Nature of Cryptocurrencies within the Argentine legal framework
About Alliott Global Alliance:
Founded in 1979, and with 215 member firms operating out of 300 offices in 95 countries Alliott Global Alliance is an international alliance of independent, law, accounting, and specialist advisory firms, working across the world Together as One.
Each of our members share a common goal: to learn and share knowledge, resources, and opportunities to make the world smaller and their businesses stronger. We work with a spirit of generosity and openness — so that together, we can continue to fulfil our ambitions, gain greater experience, and drive mutual success.
Alliott Global Alliance is expanding fast, and the alliance has its sights set firmly on growing its legal and accounting membership to 100 countries. Opportunities are available to independent professional firms in specific countries in Africa, but also in Europe, China, the ASEAN region, Australasia, the Gulf Cooperation Council region, Central and South America and in North America. For information about membership email membership@alliottglobal.com.