AGA headlines at First Cryptoverse Summit in Mauritius
26 August 2022
Alliott Global Alliance ('AGA'), one of the world's largest and fastest-growing multidisciplinary alliances of professional services firms with 215 member firms in 95 countries, was headline sponsor at the first in-person Cryptoverse Summit in Mauritius recently.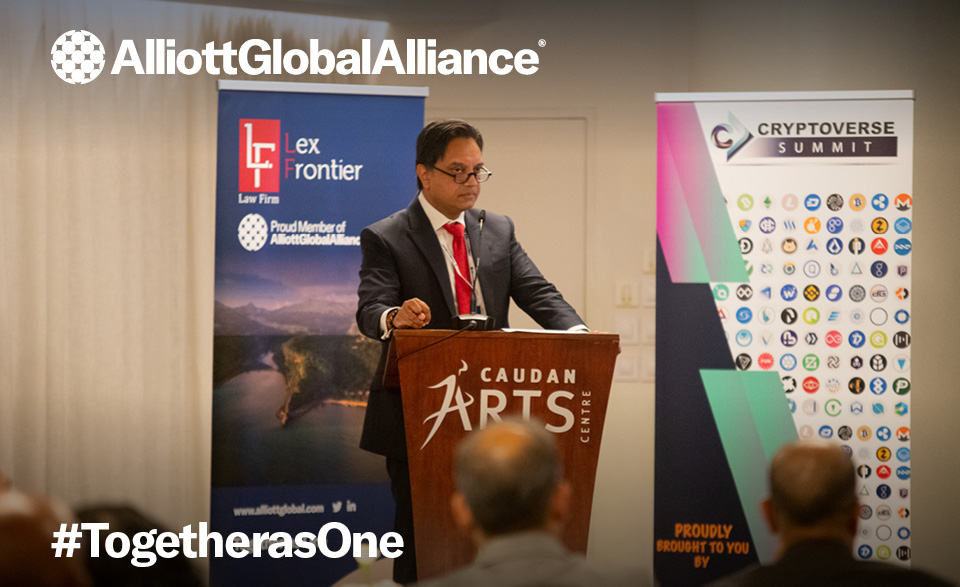 AGA was proud to be main sponsor of the first in-person Cryptoverse Summit in Mauritius, which took place on the 18th of May 2022 in partnership with IT services, consulting, and modern technology specialists Wakanda 4.0. The Summit was streamed online and had over 300 online attendees from Mauritius and worldwide
The aim of the summit was to bring more clarity to the world of Virtual Assets and Blockchain, offer updates on latest developments in the industry and to demonstrate how the Metaverse is going to change the world in near future, as highlighted by key players from across the industry. Delegates included those from management and IT companies, the Blockchain and Crypto Space, regulators, lawyers, and accountants.
Representing AGA at the conference was Ashveen Gopee, a member of the alliance's cryptocurrency global practice group, and the Managing Partner of law firm member Lex Frontier in Mauritius.
Ashveen presented and joined debates centred around the emerging cryptocurrency market and sat on a legal panel for discussions about the Virtual Asset and Initial Token Offerings Services Act in Mauritius.
Going forward, the CryptoVerse Summit will be taking place on a half yearly basis, to keep those in Mauritius and elsewhere, especially investors, updated about the latest developments within this dynamic industry.
Ashveen Gopee commented:
"Representing Alliott Global Alliance at this event, the first in Mauritius, has given the alliance, and our firm Lex Frontier, a platform to share the knowledge and experience we have in this exciting field.

Our participation has been invaluable because we have been able to provide an international perspective to a summit organised in a local jurisdiction. Seeing all the key players here altogether at this event is just the start of the challenges ahead for the industry."
Alliott Global Alliance CEO Giles Brake added:
"This was a very successful industry event which exposed the expertise of of AGA member firms in Mauritius and across the world as we pursue a strategy of promoting members' expertise beyond the alliance. Cryptocurrency, Blockchain and fintech generally, are fast-moving, cross border areas of practice - AGA wants to be at the forefront, with our member firms around the world positioned and ready to serve companies active in the market.

"We thank all of the team at Lex Frontier in Mauritius and our partners Wakanda 4.0 for their drive in making this event a huge success."
Watch Ashveen's full presentation at the event here
For more information contact ashveen.gopee@lexfrontier.mu
Further reading:
Read more insights from members of AGA's Cryptocurrency Global practice Group:
About Alliott Global Alliance:
Founded in 1979, and with 215 member firms in 95 countries Alliott Global Alliance is an international alliance of independent, law, accounting, and specialist advisory firms, working across the world Together as One.
Each of our members share a common goal: to learn and share knowledge, resources, and opportunities to make the world smaller and their businesses stronger. We work with a spirit of generosity and openness — so that together, we can continue to fulfil our ambitions, gain greater experience, and drive mutual success.
Alliott Global Alliance is expanding fast, and the alliance has its sights set firmly on growing its legal and accounting membership to 100 countries. Opportunities are available to independent professional firms in specific countries in Africa, but also in Europe, China, the ASEAN region, Australasia, the Gulf Cooperation Council region, Central and South America and in North America. For information about membership email membership@alliottglobal.com.