ADCO Law appointed to represent Alliott Global Alliance in Indonesia
09 January 2023
Alliott Global Alliance ('AGA'), one of the largest and fastest-growing global multidisciplinary alliances with 215 member firms in 95 countries, can now offer clients legal services in Indonesia through its new law firm member, ADCO Law.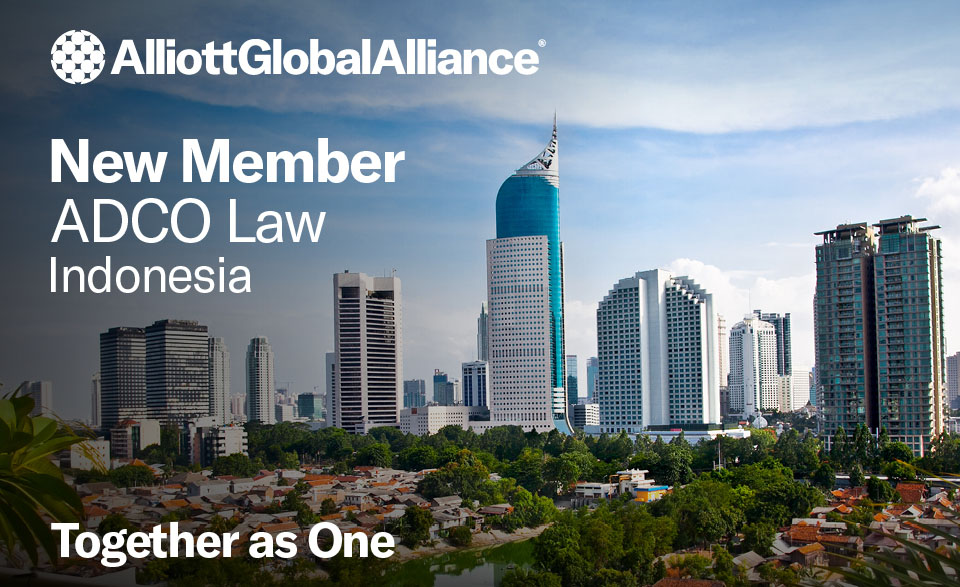 Founded in 2008 in Jakarta, ADCO Law offers a wide range of integrated services, including corporate and M&A, commercial litigation, project development, and employment law, in a variety of industry sectors, including mining, manufacturing, logistics, real estate, and government.
Ranked as one of the top law firms in the country, ADCO Law has an established local and international client base and its legal professionals are comprised of the top graduates from Indonesian and international law schools who can conduct business in the English, Indonesian, Chinese, and Korean languages.
The firm has intentions to expand its practice area offerings in 2023 to include banking finance and to launch Japan and South Korea desks to assist clients in these countries to comply with Indonesian laws and regulations. These will run alongside the successful launch of the Thailand Working Group in 2022.
Senior Partner at ADCO Law, Dendi Adisuryo comments:
"We are delighted to have been appointed as AGA's sole representative law member in Indonesia. We now have access across 95 jurisdictions, so we can reach out whenever our clients require additional legal or accounting assistance and share best practices and business opportunities with them.

"To us, collaboration is key to adding value to the client services we provide and working with colleagues from law and accounting firms in the APAC region and worldwide will both broaden our networking prospects and offer their clients the mutually beneficial legal assistance they require."
Alliott Global Alliance's CEO, Giles Brake adds:
"Indonesia's wealth of resources and its large and growing domestic market make it very attractive to corporate and high net worth investors, and it is imperative that AGA has a strong law firm representative who can navigate foreign clients through the myriad local regulations, laws, and social customs that need to be understood when setting up, protecting, and expanding their business and personal interests."

"With a highly skilled team of professionals who can think strategically about how the alliance will impact the firm's growth plans, we have no doubt that ADCO Law will quickly become a valuable player within the APAC regional membership. We welcome everyone at the firm warmly to the alliance."
Through affiliation with AGA, local independent law and accounting firms can offer clients global reach and access to an extensive range of professional services that enable them to compete head-on with the larger international firms in their jurisdictions. Across the Asia Pacific region, AGA has member firms in China, Hong Kong, Bangladesh, Singapore, Indonesia, Malaysia, India, Australia, Papua New Guinea, New Zealand, Japan, South Korea, Nepal, Pakistan, Thailand, Taiwan, the Philippines, and Vietnam.
About ADCO Law:
As Alliott Global Alliance's law firm representative in Indonesia, ADCO Law offers clients a wide range of integrated legal services, including commercial transactions and corporate disputes in a variety of industry sectors.
Over the course of more than a decade, we have grown to understand the industries of our clients as well as regulatory aspects, and we provide comprehensive and solid legal advice and solutions to minimize legal and business risks.
We actively engage with financial, tax, environmental specialists, accountants, and law firms from various jurisdictions to give added value to our clients. Moreover, having strong relationships with Government agencies, regulators, associations, and industry stakeholders ensures that our firm has a holistic view of legal matters. Read more.
About Alliott Global Alliance:
Founded in 1979, and with 215 member firms in 95 countries Alliott Global Alliance is an international alliance of independent, law, accounting, and specialist advisory firms, working across the world Together as One.
Each of our members shares a common goal: to learn and share knowledge, resources, and opportunities to make the world smaller and their businesses stronger.
We work with a spirit of generosity and openness — so that together, we can continue to fulfil our ambitions, gain greater experience, and drive mutual success.
Alliott Global Alliance is expanding fast, and the alliance has its sights set firmly on growing its legal and accounting membership to 100 countries. Opportunities are available to independent professional firms in specific countries in Africa, but also in Europe, China, the ASEAN region, Australasia, the Gulf Cooperation Council region, Central and South America and in North America. For information about membership email membership@alliottglobal.com.