Steinmetz, Haring, Gurman & Co join Alliott Global Alliance in Israel
04 January 2022
Alliott Global Alliance (AGA), one of the world's largest global multidisciplinary alliances, with 200 member firms in 85 countries, has admitted Top 50 Israeli law firm Steinmetz, Haring, Gurman & Co. Advocates ('SHG') as its exclusive law firm member in Israel.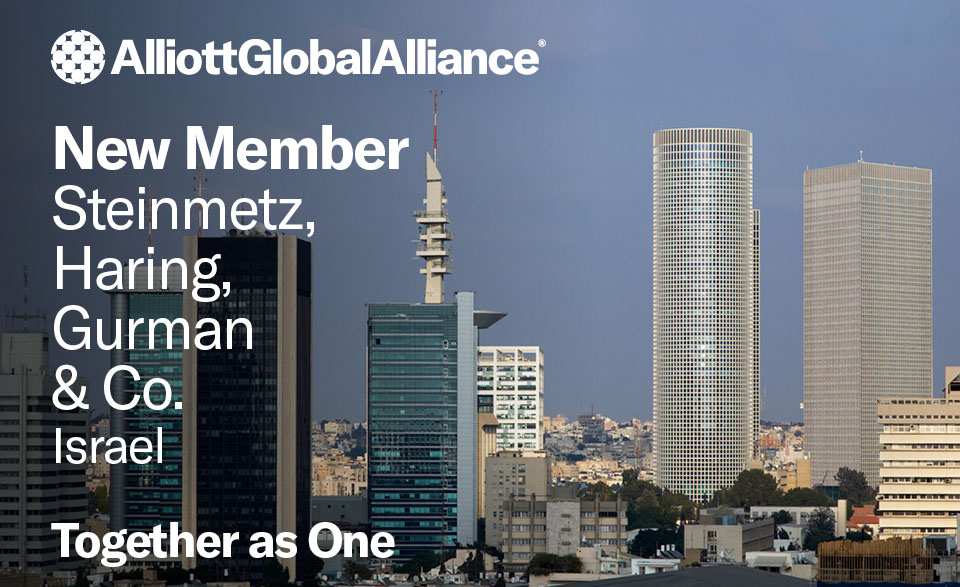 Established in 1991 and based in Tel Aviv, the firm has a long and proven track record practicing civil-commercial law for both Israeli and foreign clientele and has rankings with Israeli and international directories including Legal 500, Dun's 100, IFLR1000, Chambers & Partners, Bdi, and Pitchbook.
As AGA's law firm representative in Israel, SHG now offers clients global solutions via the Alliance's 200 local member firms in 85 countries that encompass legal advice, accounting, audit, tax, and specialist advisory support.
SHG offers legal services including commercial and corporate law; securities and capital markets; real estate; international transactions; litigation, and labor law. SHG's diverse client base includes public and private local and international corporations, institutional entities, and high net worth individuals. The firm's team assists clients in all stages of their commercial pursuits; from preliminary reviews and due diligence processes; contractual negotiations; corporate formation, and the execution of commercial transactions and daily operations.
Senior Partner Manny Gurman comments:
"As part of our development strategy we had been looking to partner with an alliance of like-minded and independent law, accounting and specialist firms. Alliott Global Alliance offers us the potential to gain knowledge and share resources and opens opportunities for collaborative working with our global colleagues. We are honoured and excited to be admitted as AGA's first sole law firm member in Israel."
Alliott Global Alliance's CEO, Giles Brake adds:
"Our Alliance's search for a strong law firm representative in Israel reached a happy conclusion when we first met with SHG. Their credentials to become our sole member in Israel are impeccable: a growing and highly experienced team of legal professionals; an impressive range of commercial law practices; and an extensive national and international client base. SHG's affiliation with AGA provides significant mutual benefits to all parties, and we look forward to continuing to build a very strong relationship with our new friends and colleagues in Tel Aviv."
AGA is also represented in Israel by the 28 accounting member firms of 'Alliott Global Alliance Israel', ensuring a 'one stop shop' for professional services for clients doing business in Israel.
The alliance has its sights set on expanding its coverage in the Middle East in 2022, particularly to Saudi Arabia, Bahrain, Qatar, and Kuwait.
About Steinmetz, Haring, Gurman & Co
Steinmetz, Haring, Gurman & Co. is a highly experienced firm, having a long and proven track record in the practice of civil-commercial law in Israel.
Our clients will receive the best of both worlds because of the firm's size and expertise. On the one hand, we have a diverse team of specialists in different fields of law, yet, without compromise, we ensure that our clients benefit from the personal handling, supervision, and management of their matters by the supervising partner and the team members. Our size and expertise allow us to provide our clients with consistently professional, efficient, and personal attention.
About Alliott Global Alliance:
Founded in 1979, and with 200 member firms in over 85 countries, Alliott Global Alliance is an international alliance of independent, law, accounting, and specialist advisory firms, working across the world Together as One. Each of our members share a common goal: to learn and share knowledge, resources, and opportunities to make the world smaller and their businesses stronger.
We work with a spirit of generosity and openness — so that together, we can continue to fulfil our ambitions, gain greater experience, and drive mutual success.
Alliott Global Alliance is expanding fast, and the alliance has its sights set firmly on growing its legal and accounting membership to 100 countries. Opportunities are available to independent professional firms in specific countries in Europe, but also in, China, the ASEAN region, Australasia, the Gulf Cooperation Council region, Central and South America and in North America. For information about membership in Europe, contact Damien McMenamin (damien@alliottglobal.com), Chief Growth Officer.