Stallion Attorneys now represents Alliott Global Alliance in Tanzania and Zanzibar
16 November 2021
Alliott Global Alliance (AGA), one of the world's largest global multidisciplinary alliances, has expanded to Tanzania by appointing independent law firm Stallion Attorneys. The firm becomes the first law firm to represent AGA in Tanzania and Zanzibar.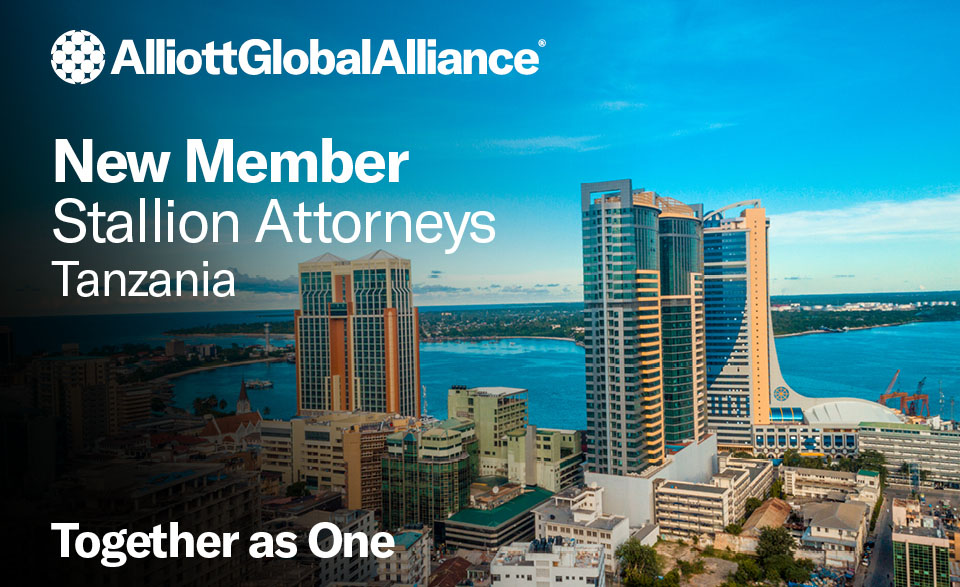 The strategic agreement between AGA and Stallion Attorneys increases the size of AGA's international alliance to 200 member firms in 85 countries. Affiliation enables Stallion Attorneys to offer cross border legal and Intellectual Property (IP) related services to their geographically expanding clients via the member firms of AGA who like them, are fully independent, locally owned, and managed, mid-size professional services firms.
A Top 25, full-service law firm, Stallion Attorneys was founded in 2016 by Shehzada A. Walli. The firm's practice areas include corporate law, dispute resolution, employment law, immigration law, investment law, Intellectual property and real estate law, and their client portfolio includes companies in the hospitality, finance and banking, technology, construction, and real estate sectors, and includes Fortune 500 companies.
Stallion Attorneys played a leading role in organising the first law conference in Tanzania 'LawCon2021' and Founding Partner Mr. Walli also recently ran for President of the Tanganyika Law Society (TLS). Business at the firm is conducted in English and Swahili languages.
Shehzada comments:
"At Stallion Attorneys we pride ourselves in providing pro-active, accessible, efficient, ethical, and reliable solutions for our growing client base and through our membership of Alliott Global Alliance and by using its brand, we hope to expand this client base by generating new opportunities locally and by entering new territories worldwide.

"It is an honour to be the first AGA member firm in Tanzania & Zanzibar and we look forward to working with, and getting to know, our members across Africa, sharing best practice and seeking out possibilities to work on collaborative initiatives."
Alliott Global Alliance CEO, Giles Brake, adds:
"With our global resources and brand behind them, this young, dynamic firm has a competitive advantage in their local market and is in an optimum position to help drive the growth of their clients in the years ahead. We are confident that Stallion Attorneys, with its energy, dedication to client service and now its global resources, will become the first port of call for organizations wanting to partner with a local law firm that can coordinate a multitude of professional services almost anywhere in the world. A very warm welcome to Shehzada and his team."
Alliott Global Alliance is growing continuously and now has member firms in the following African countries: Cameroon, Ghana, Kenya, Lesotho, Malawi, Mauritius, Morocco, Nigeria, Senegal, South Africa, Tanzania, Tunisia, Uganda, Zambia, and Zimbabwe.
About Stallion Attorneys:
Stallion Attorneys is a modern law firm aimed at changing the dynamics of client/attorney relationships by providing pro-active, accessible, efficient, ethical, and reliable solutions.
We are an evolved law firm based in Tanzania with a strategic plan to be in tune with our clients and the ever-changing nature of business. If you're looking for legal assistance from an Advocate, Notary Public and/or Commissioner of Oaths,
you've come to the right place!
Let our skilled team provide practical solutions to your legal requirements in a timely and efficient manner.
About Alliott Global Alliance:
Founded in 1979, and with 200 member firms in over 85 countries, Alliott Global Alliance is an international alliance of independent, law, accounting, and specialist advisory firms, working across the world Together as One.
Each of our members share a common goal: to learn and share knowledge, resources, and opportunities to make the world smaller and their businesses stronger.
We work with a spirit of generosity and openness — so that together, we can continue to fulfil our ambitions, gain greater experience, and drive mutual success.
Alliott Global Alliance is expanding fast, and the alliance has its sights set firmly on growing its legal and accounting membership to 100 countries. Opportunities are available to independent professional firms in specific countries in Africa, but also in Europe, China, the ASEAN region, Australasia, the Gulf Cooperation Council region, Central and South America and in North America. For information about membership in the African region, contact Sophia Rook-Blackstone (sophia@alliottglobal.com), Membership Growth Manager.