Record attendance at APAC Regional Conference in the Land of Smiles
25 April 2023
A record number of lawyers and accountants from Alliott Global Alliance (AGA) met for the alliance's APAC Regional Conference in Bangkok, Thailand from 20-22 April. This was the first time that AGA had gathered in Thailand since 2005.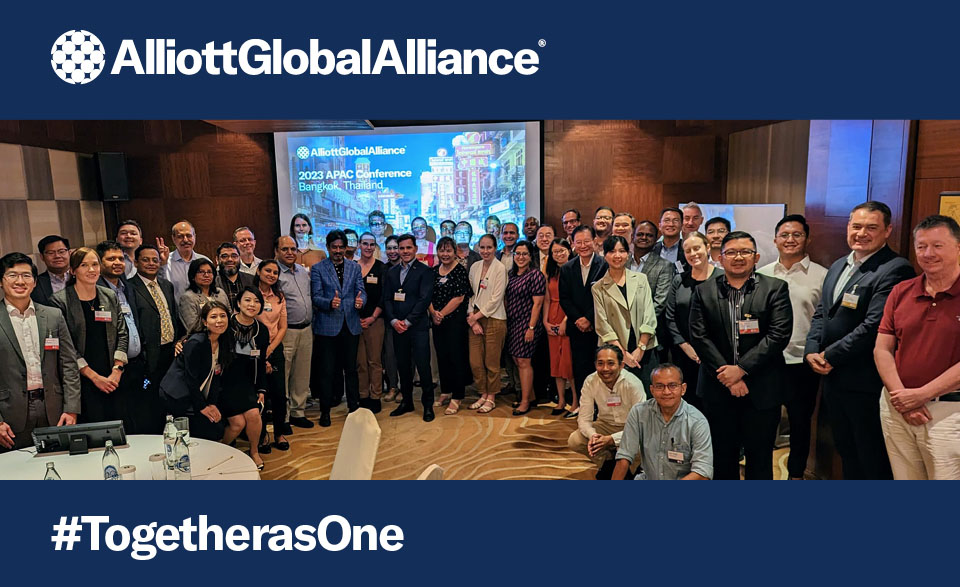 Hosted by AGA's Thai law and accounting member firms, GPS Legal and Administration Outsourcing Company, some 50 delegates from 30 member firms were in attendance for a conference whose goal was to strengthen relationships between member firms representing the alliance in their jurisdictions and to discuss 'go-to-market' initiatives designed to present AGA as an alternative to the Big Four accounting firms and 'Big Law'.
AGA's CEO Giles Brake talked about the alliance's regional strategy and recent growth across the globe, while other sessions focused on finding solutions to challenges keeping firm leaders awake at night, and on exploring the tax, regulatory and legal developments across the region that are driving business opportunities between jurisdictions. Guest expert speakers brought attention to economic and geopolitical trends in the region and to the impact of emerging technologies such as artificial intelligence on today's professional services firm.
A programme of social and evening events also ensured strong personal relationships developed between the principals at each member firm and showcased the very best of Thailand's culture, cuisine and nightlife.
Giles Brake comments:
"This was our largest ever APAC Regional Conference. The impact of the alliance's organic growth in this region in recent years was reflected in the quality and warmth of the exchanges enjoyed by all delegates. Thank you to our generous hosts Lawrence, Pum, John and Steve – we leave the Land of Smiles with fantastic memories of you and your country."
Across the Asia Pacific region, AGA offers a wide range of professional services via member firms in China, Hong Kong, Bangladesh, Singapore, Indonesia, Malaysia, India, Australia, Papua New Guinea, New Zealand, Japan, South Korea, Nepal, Pakistan, Thailand, Taiwan, Philippines, and Vietnam.
About Alliott Global Alliance:
Founded in 1979, and with 215 member firms operating out of 300 offices in 95 countries Alliott Global Alliance is an international alliance of independent, law, accounting, and specialist advisory firms, working across the world Together as One.
Each of our members share a common goal: to learn and share knowledge, resources, and opportunities to make the world smaller and their businesses stronger. We work with a spirit of generosity and openness — so that together, we can continue to fulfil our ambitions, gain greater experience, and drive mutual success.
Alliott Global Alliance is expanding fast, and the alliance has its sights set firmly on growing its legal and accounting membership to 100 countries. Opportunities are available to independent professional firms in specific countries in the APAC region but also in Europe, the Gulf Cooperation Council region, Central and South America and in North America. For information about membership in China, the ASEAN region and Australasia, email membership@alliottglobal.com.