Record attendance at AGA Worldwide Conference in Athens
31 October 2023
A record 155 accountants and lawyers from 49 countries visited Athens 23-26 October for Alliott Global Alliance's (AGA's) 2023 Worldwide Conference.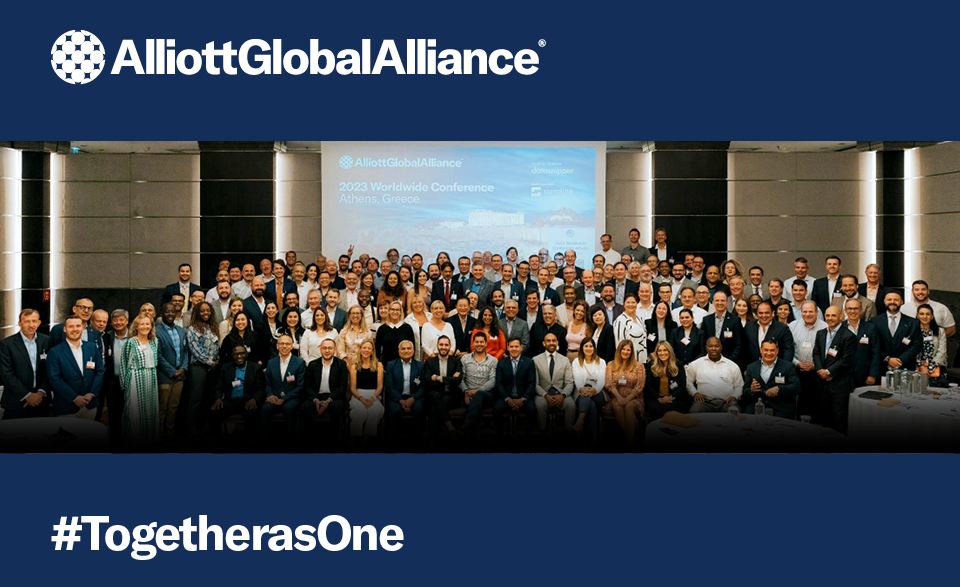 AGA is one of the largest and fastest growing global multidisciplinary alliances, with 220 law and accounting firms operating out of 300 offices in 95 countries. This event saw the largest turnout for an AGA Worldwide Conference to date, with some 30 percent of attendees coming from new or recently affiliated member firms.
This year's programme included a mix of plenary and breakout sessions and unstructured networking, as well as social activities that introduced delegates and their companions to the unique nightlife and culture of Athens.
A rooftop drinks reception and dinner hosted by AGA Headline Sponsor, DataSnipper, set the event off to the perfect start, offering beautiful views of the Acropolis and city of Athens.
The conference began with member-led and external consultant facilitated tracks designed to foster greater collaboration in multi-country business, use of technology and firm management. Sponsor sessions (including from Gold Sponsor, Suralink) showcased the latest technologies helping firms to digitally transform their practices and increase efficiencies and profitability.
AGA's goals and strategy were outlined by CEO Giles Brake, and a fireside chat with new members ensured attendees gained an understanding of their new colleagues at a business and personal level.
Guest speakers Dr. Raphael von Hoensbroech, Artistic Director and Managing Director of the Konzerthaus Dormund and Dr. Thomas Mueller, a prominent criminal psychologist and former hostage negotiator, provided entertaining and thought provoking presentations on leadership and how to manage fear and crisis situations.
The conference concluded with AGA's Excellence Awards recognising member firm best practice in categories including business development, brand ambassadorship, global citizenship and innovation. A press release will follow soon on this year's winners.
Giles Brake, AGA CEO commented:
"Without doubt, this was the most successful Worldwide Conference on record. We had a very high level of attendance, but moreover, the levels of engagement and collaboration were off the scale. This event showcased member firms' readiness for a future that will require them to tap into the alliance and into each other's professional expertise, business acumen, innovations and and resources. A huge thank you to all our sponsors and to our local member firms Kleopas Alliott Business Consultants and Foutsis & Partners for their outstanding hospitality. We look forward to our next Worldwide Conference in Vietnam in November 2024."
About Alliott Global Alliance:
Founded in 1979, and with 220 member firms operating from 300 offices in 95 countries Alliott Global Alliance is an international alliance of independent, law, accounting, and specialist advisory firms, working across the world Together as One.
Each of our members share a common goal: to learn and share knowledge, resources, and opportunities to make the world smaller and their businesses stronger. We work with a spirit of generosity and openness — so that together, we can continue to fulfil our ambitions, gain greater experience, and drive mutual success.
Alliott Global Alliance is expanding fast, and the alliance has its sights set firmly on growing its legal and accounting membership to 100 countries. Opportunities are available to independent professional firms in specific countries in Africa, but also in Europe, China, the ASEAN region, Australasia, the Gulf Cooperation Council region, Central and South America and in North America. For information about membership in Africa email membership@alliottglobal.com