Q&A with Amie Cheung - APAC Deputy Chair
12 January 2022
Learn more about Amie Cheung, Principal of Hong Kong accounting firm, Lawrence Cheung CPA (LCCPA) and recently appointed Deputy Chair of the Asia Pacific region of Alliott Global Alliance.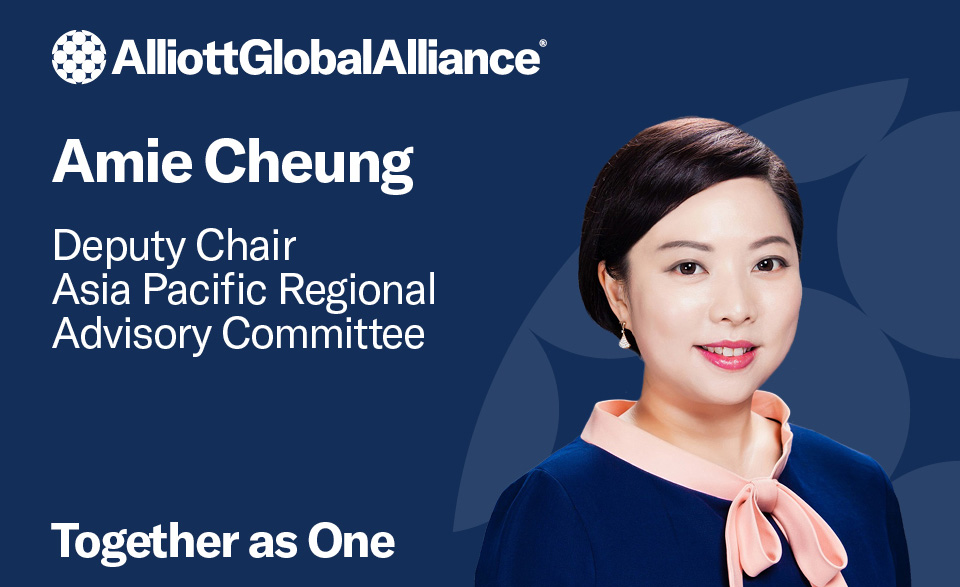 WHY DID YOU CHOOSE THIS AS YOUR CAREER?
I love meeting people, especially entrepreneurs, I like to understand their business and to find areas that they have weaknesses whereby I can step in and help. Being the daughter of Lawrence Cheung M.H., J.P., the foremost name in Hong Kong accounting circles, provides me with a sound platform to pursue my dream career. I joined the family-owned accounting firm in 2000, having had years of working experience of assisting my father manage the family business. Developing solid skills in management and business development, I have always regarded my father as my life mentor. From life to career, my father has given me a lot of inspiration. I then became a relentless learner of different industries and have visited thousands of clients' businesses, learning a lot from pioneers of different industries locally and globally, which in turn has enriched my knowledge when giving out business advice to clients.
WHAT IS THE BEST PART OF THE JOB?
The best part of my job is meeting with clients from different industries across the world by marketing and business development via my role as principal of our accounting firm.
IN YOUR OPINION, WHAT SETS YOUR FIRM APART?
Our mission is to provide "one-stop bespoke" services to our clients from all over the world. By truly understanding the needs of our clients, our dedicated and experienced team of professionals, comprises Certified Public Accountants (Practising) and Qualified Public Accountants with technical excellence, who strive to provide efficient and reliable advice and to offering a wide spectrum of services including audit and assurance, taxation, accounting, company secretarial, internal control etc. to support clients' comprehensive business needs.
Moreover, our niche on taxation advice must be mentioned, there's only a few CPA practice owners in Hong Kong who have been tax assessors in the Inland Revenue Department (IRD) and gained solid big four experience. My father achieved his vision and grew his firm and trained his staff to become a tax consulting and audit firm at the forefront in Hong Kong.
Finally, as an Alliott Global Alliance member, we are rich with talented and highly experienced professionals, and we focus on maximizing simplicity for cross border business and performing international benchmarking so we can provide the highest standard of service to our clients globally, setting our firm apart from others.
WHAT DO YOU SEE AS YOUR GREATEST ACHIEVEMENT TO DATE?
Having had relationships with international networks since 2006, I am especially pleased to have joined Alliott Global Alliance (AGA) in 2013. As offering cross border assistance is one of our firm's key strengths, our clients need advice on a global level, but also need the reassurance of knowing that their overseas advisors are known to us and can deliver a quality service. Being members of AGA helps us to provide the highest standard of service to our multinational clients. Taking on a leadership role as the Deputy Chair of the Asia Pacific region of AGA is one of my greatest achievements to date.
WHAT MOTIVATES YOU?
I am motivated by analyzing client's data and information with a view to making improvements to their business.
NAME ONE ITEM YOU CANNOT LIVE WITHOUT:
Music. I love singing and listening to music, it helps motivate, energize, and relax me. Music an inseparable item that I cannot live without.
ARE YOU A MEMBER OF ANY COMMERCE, CULTURAL OR COMMUNITY ORGANISATIONS?
I am a member of Entrepreneurs' Organization since 2008 and served on the Board of Directors of Hong Kong Chapter from 2011 to 2016.
Further reading:
Commencement of new inspection regime by Hong Kong Companies Registry
Amie Cheung appointed Deputy Chair of Alliott Global Alliance's APAC region
About Lawrence Cheung C.P.A. Company Limited:
Founded in 1978, Lawrence Cheung C.P.A. Company Limited ("LCCPA") is a professional accounting firm registered with the Hong Kong Institute of Certified Public Accountants ("HKICPA"). We have more than 40 staff members, including 6 Certified Public Accountants (Practising) and 7 Qualified Public Accountants who provide an integrated range of services with the commitment to excel in all practice areas. Our directors are ex-Big-Four accountants with extensive experience of auditing Hong Kong and overseas private and listed companies, taxation, business advisory, computer consultancy, merger and acquisition, company secretary, risk management, initial public floatation, corporate and group restructuring exercises.
LCCPA has over 1,000 clients with around 50% from overseas. Our clients' portfolio is diversified from SMEs, regulated entities (asset management, securities dealers, and corporate finance companies) under Securities and Futures Ordinance to multi-national corporations.