Partnership agreed with Accountests to help member firms hire faster and with confidence
05 September 2023
As part of a wider People strategy, Alliott Global Alliance has entered into a partnership with market-leading provider of technical skills and personality tests, Accountests.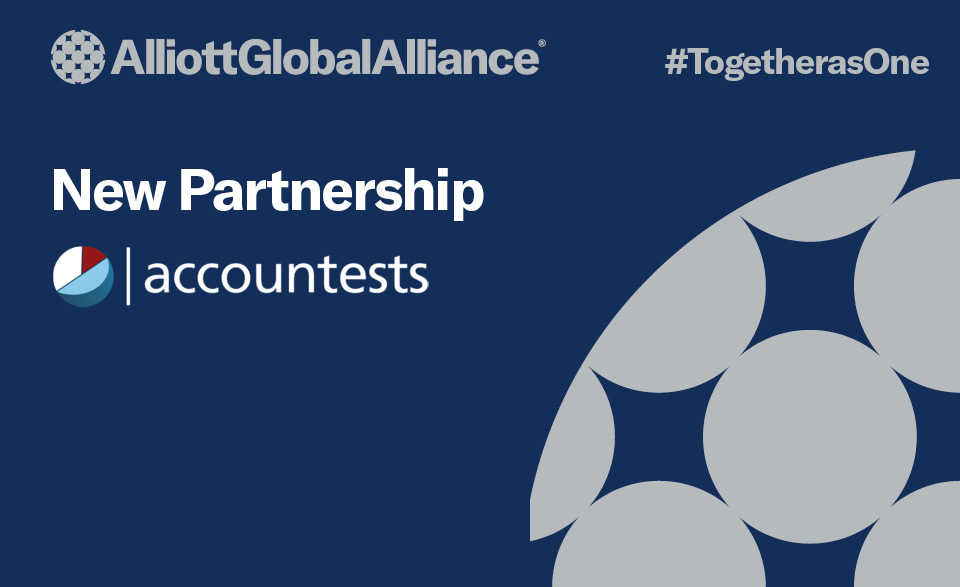 The partnership with Accountests, which kicks off with a virtual event ('Hiring fast with confidence') on September 18, will ensure AGA accounting member firms have ready access to events and tools that enable them to hire better accountants and bookkeepers.
Accountests was launched to address frequently heard requests from employers of accountants and bookkeepers for a reliable method of assessing the technical competency of candidates for accounting and bookkeeping roles. These employers experienced the frustration and cost of hiring staff whose actual accounting ability fell significantly short of the abilities claimed on CVs and resumes and at interview; shortfalls that went undetected in existing selection processes.
Co-Founder and Director, Giles Pearson, was a partner at PwC for 18 years before setting up the business. Pearson comments:
"Accountests helps accounting firms to reduce the risk of costly and stressful bad hires through a suite of reliable pre-employment tests, developed by accountants, so firm owners can spend more time helping clients. Knowing the capability of candidates before hiring speeds up the hiring process and improves the experience for both parties. AGA members who have used Accountests have seen the benefits, especially for remote hiring."
Daryl Petrick, Partner at Bowman & Company LLP in Stockton, California, and Chair of AGA in North America region, adds:
"Accountests helped us to validate the experience of a remotely based candidate. This person is located 3,000 miles away so these tests enabled us to assess the candidate in a way that otherwise would not have been possible given we were unfamiliar with the candidate's previous employers. Accountests gets an A+ from our firm!"
Giles Brake, CEO of AGA, comments:
"Accounting firms in many countries are experiencing severe staff shortage in many countries, with the problem being particularly acute in the United States. We recognize the need to provide greater HR support to alliance member firms around the world who face difficulties in recruiting and retaining quality staff. We are delighted to partner with Accountests as part of the alliance's People strategy – this relationship will add value to member firms' own HR and people strategies as they seek to build firms ready to face current and future challenges."
About Alliott Global Alliance:
Founded in 1979, and with 220 member firms operating out of 300 offices in 95 countries, Alliott Global Alliance is an international alliance of independent law and accounting firms, working across the world Together as One.
Each of our members share a common goal: to learn and share knowledge, resources, and opportunities to make the world smaller and their businesses stronger.
We work with a spirit of generosity and openness — so that together, we can continue to fulfil our ambitions, gain greater experience, and drive mutual success.
Alliott Global Alliance is expanding fast, and the alliance has its sights set firmly on growing its legal and accounting membership to 100 countries. Opportunities are available to independent professional firms in Europe, China, the ASEAN region, Australasia, the Gulf Cooperation Council region, Central and South America and in North America, and regions in Africa. For information about membership, email membership@alliottglobal.com.