Northern California CPA firm BHLF LLP joins Alliott Global Alliance
23 November 2022
BHLF LLP ('BHLF') has joined Alliott Global Alliance ('AGA') as the alliance's representative member firm for the Contra Costa County region in Northern California. AGA is one of the world's largest and fastest-growing global multidisciplinary alliances, with 215 member firms in 95 countries.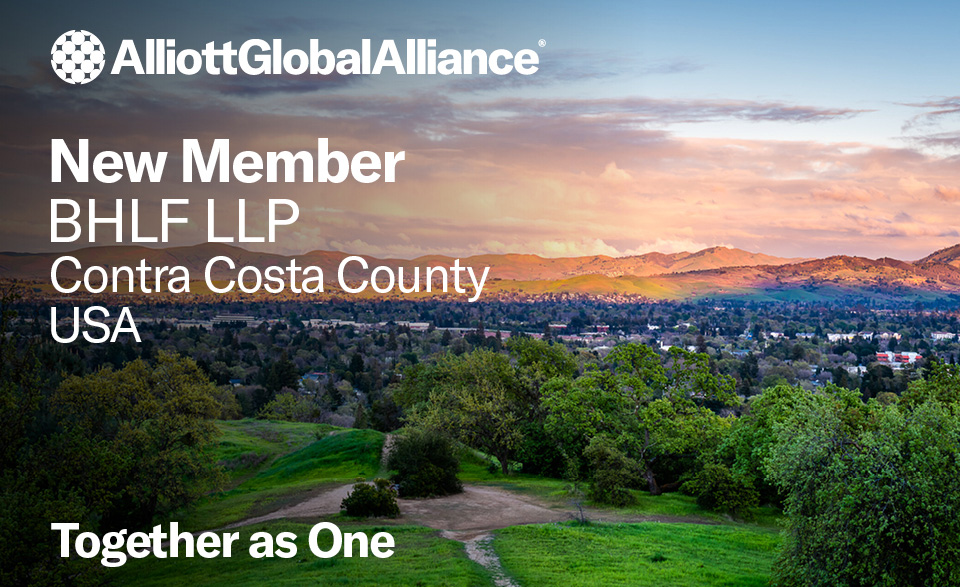 Based in Walnut Creek, 30 minutes west of San Francisco, BHLF's admission expands AGA's North American alliance to 32 firms (covering the US, Canada, and Mexico).
Established in 2012, BHLF, led by Managing Partner Gary Bong, provides audit, tax and consulting services to clients operating mainly in the retail sales, waste management, employee benefits, non-profit and services sectors.
Gary comments:
"We are delighted to have joined the alliance to represent the group in this important region of California. The firms' affiliation with AGA will now contribute to our ability to gaining new business and to expanding our current client base, reaching those with interests further across the US and internationally.

"By working with our colleagues across 95 countries and through learning and development programs, conferences and other resources provided by the Executive Office, we now have a great platform from which to market our international reach and to develop and expand the services we offer."
Alliott Global Alliance CEO Giles Brake adds:
"We are delighted to be able to provide the global solution needed by this fast-growing CPA firm whose clients frequently require advice outside of their region. Through AGA, BHLF can now offer seamless access to a 'safe pair of hands' in over 300 cities across the world, ensuring clients benefit from the wide range of expertise offered by not only accounting firms, but also business law firms.

We look forward to supporting BHLF to develop and build their client base and access the knowledge and resources necessary to navigate and thrive in today's increasingly complex business environment. A very warm welcome to Gary and all the team."
So far in 2022, Alliott Global Alliance has added five firms to its North American membership: Rogers and Company CPAs (Washington DC Metro Area), Tuggle Duggins PA (Greensboro, North Carolina), Continuum Legal Group LLP (Atlanta, Georgia) Cambaliza McGee LLP (San Diego, California) and BHLF LLP (Contra Costa County, California). Further development of the alliance is planned in 2022 and into 2023 for the key commercial centers across the Mid-Atlantic, South, Midwest, Southwest, and West Coast regions.
About BHLF LLP:
At BHLF, our goal is to help positively impact our clients' business.
As the accounting, audit and tax representative of Alliott Global Alliance in Contra Costa County, California, we draw on the extensive knowledge of our partners, allowing us to be trusted business advisors as well as efficient accountants. Our competitive fee structure is based on our ability to implement the most current software and industry training to deliver the top-notch service our clients deserve.
Our firm is committed to exceeding the expectations of our clients, at every level. Our unique distinction is in being able to assist a wide range of businesses and individuals with a more personalized approach. This results in the type of confidence and support that allows our clients to feel comfortable reaching out with any questions or concerns.
We are the friendly and dedicated accounting team you can trust.
About Alliott Global Alliance:
Founded in 1979, and with 215 member firms in 95 countries, Alliott Global Alliance is an international alliance of independent, law, accounting, and specialist advisory firms, working across the world Together as One. Each of our members share a common goal: to learn and share knowledge, resources, and opportunities to make the world smaller and their businesses stronger.
We work with a spirit of generosity and openness — so that together, we can continue to fulfil our ambitions, gain greater experience, and drive mutual success.
Alliott Global Alliance is expanding fast, and the alliance has its sights set firmly on growing its legal and accounting membership to 100 countries. Opportunities are available to independent professional firms in North America and in specific countries in Europe, China, the ASEAN region, Australasia, the Gulf Cooperation Council region and Central and South America. For information about membership in North America, contact membership@alliottglobal.com.