Abbantia Law Firm supports European Mining & Minerals Conference in Seville
20 July 2022
Senior Partners at Abbantia Law Firm, Alliott Global Alliance's (AGA) member in Seville, will join the Mining and Minerals Hall (MMH) global event from 18–20 October at the Seville Conference and Exhibition Centre (FIBES).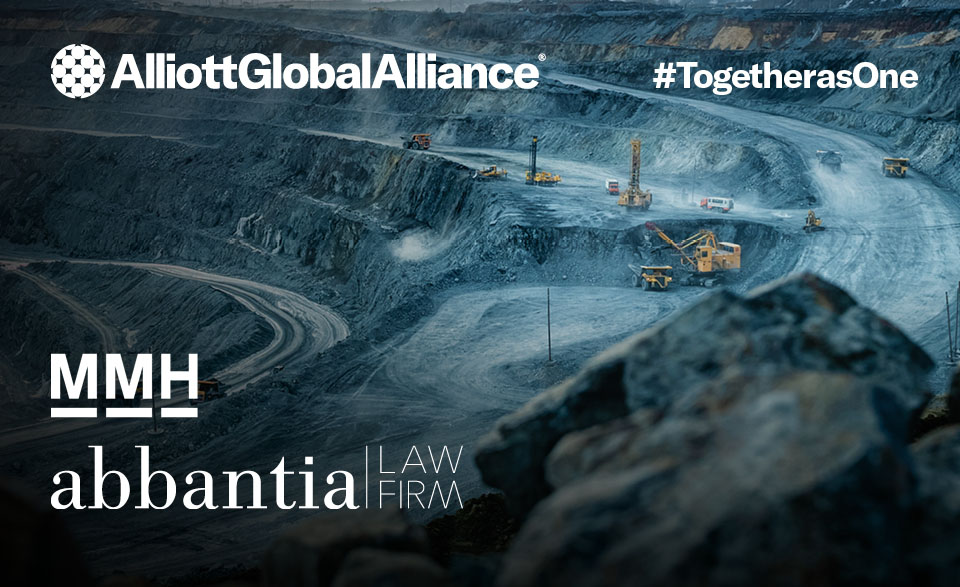 The Mining and Minerals Hall (MMH) global event, running for the fourth time, is the only one of its kind in Europe, bringing together professionals, research companies, universities, and experts from all over the world to highlight shared developments and knowledge from across the mining sector.

Today more than ever, mining is being called upon to play a decisive role in the future of the planet. And it is facing great challenges linked to decarbonisation and the energy and digital transition (or the 'circular economy') in the global transformation towards a more sustainable world.

The full programme will cover recent technological advancements in innovation, including processes for exploration, extraction, production, and treatment of ore materials, and will reinforce the strategic importance of mining as an essential sector to revitalise the economy. Commitment to promoting the use of clean and digital technologies will also be top of agenda.

Carlos Montesa, Partner at Abbantia Law Firm commented:
"Through our connections with local government, we are proud to have supported this global event for the cutting-edge mining industry for many years. Mining is essential for development in Spain, generating a turnover of 26.6 billion euros and 320,000 direct and indirect jobs on more than 4,650 mining sites and factories. Our country has significant mineral resources that are essential for addressing the great technological and material challenges of our time.
"We are therefore delighted to again be in attendance at one of the most important mining and minerals conferences in the calender year and to be in a position to offer relevant support and legal advice to visitors, exhibitors and our fellow AGA colleagues' clients who may want to invest in the country."
For more information about this event or about the services Abbantia Law Firm can offer, please contact Carlos Montesa at carlos.montesa2@abbantia.com in the first instance.

AGA member firms work with many clients across the mining and natural resources sectors including Wildeboer Dellelce LLP in Canada, Muvingi & Mugadza in Zimbabwe, SBC Solutions in Papua New Guinea, Ritz Attorneys in Malawi and AHRP Law Firm in Indonesia.
Further reading:
The need for due diligence prior to mining project investment
Important changes to Zimbabwe's mining regulatory framework
COP26 Implications and opportunities for Zimbabwe
About Abbantia Law Firm:
Abbantia Law Firm has tailored itself to the constant changes in the business world to help clients find the most satisfactory legal solutions for each issue at any given time.

We have been involved in some of the most important and innovative issues that the professional services market has experienced and since our incorporation, we have assisted many companies with their business development. During this time, we have gained our clients' trust, and the respect of our partners and competitors.