Maria Zabala appointed as Alliott Global Alliance's EMEA Regional Chair
23 November 2021
Maria Zabala, Partner at Abbantia Law Firm in Bilbao, Spain, has been elected Chair of the EMEA Region for Alliott Global Alliance (AGA), one of the world's largest global multidisciplinary alliances.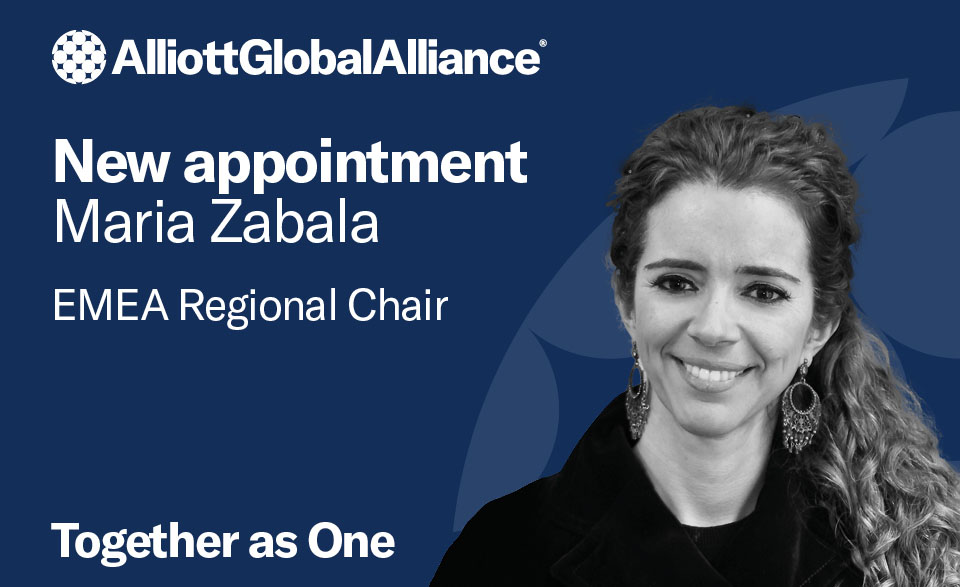 Effective 1 November 2021, Maria transitions her role on the Worldwide Board of Directors from representing the views and needs of the legal side of the alliance's membership to those of the members of the EMEA region.
Formerly the Deputy Chair of the EMEA region, Maria succeeds Giorgio Marcolongo, partner at BES Associati in Milan, who himself has been promoted to Worldwide Deputy Chair in support of new Worldwide Chair, Darsi Casey.
Maria will serve a three-year term and play an important part in supporting the implementation of the alliance's strategic plans at the EMEA and international levels alongside Worldwide Board members from across the legal and accounting professions.
Maria will be supported in her responsibilities by newly elected EMEA Region Deputy Chair, Zaheer Anis, partner at Alliott Management Consulting in the UAE.
As a partner at Abbantia's Bilbao office, Maria focuses on assisting national and international clients to establish and develop their business in Spain. A specialist in IT, business and communications law, Maria works closely with corporate and family groups, providing advice in areas including mergers and acquisitions, corporate restructuring, commercial/corporate contracts, and the dissolution and liquidation of companies.
Maria comments:
"It is an honour to be appointed to this position within the alliance and to step into the leadership role. I will do my best to lead by Giorgio's example and to work with Zaheer and the rest of the Board to help develop and implement strategies that will continue to help raise the profile of AGA further across the EMEA region.

"I also look forward to working closely with our law and accounting member firms there and to discuss and help develop strategies that will see us all working even more effectively and collaboratively together into 2022 and beyond."
Alliott Global Alliance CEO, Giles Brake adds:
"I am delighted with Maria's appointment as Chair of the EMEA region. She combines with great skill a steely determination and incredible warmth and empathy. Her business acumen and ability to lead by example will help us through the immense challenges of the next few years. I would also like to thank Giorgio for his passion and dedication to the role as EMEA Chair over the last few years. He passes on the baton to Maria with the EMEA region in very good shape. We are blessed to have such a deep bench of talented leaders on whom we can rely on to give the time and energy that will be required to move the alliance forward in the years to come."
About Abbantia Law Firm:
Abbantia Law Firm has tailored itself to the constant changes in the business world to help clients find the most satisfactory legal solutions for each issue at any given time. We have been involved in some of the most important and innovative issues that the professional services market has experienced and since our incorporation, we have assisted many companies with their business development. During this time, we have gained our clients' trust, and the respect of our partners and competitors.
About Alliott Global Alliance:
Founded in 1979, and with 200 member firms in 85 countries Alliott Global Alliance is an international alliance of independent, law, accounting, and specialist advisory firms, working across the world Together as One.
Each of our members share a common goal: to learn and share knowledge, resources, and opportunities to make the world smaller and their businesses stronger.
We work with a spirit of generosity and openness — so that together, we can continue to fulfil our ambitions, gain greater experience, and drive mutual success.
Alliott Global Alliance is expanding fast, and the alliance has its sights set firmly on growing its legal and accounting membership to 100 countries. Opportunities are available to independent professional firms in specific countries in Africa, but also in Europe, China, the ASEAN region, Australasia, the Gulf Cooperation Council region, Central and South America and in North America. For information about membership in Europe, contact Damien McMenamin (damien@alliottglobal.com), Chief Growth Officer.