Jeff Berger elected Legal Chair on Board of Alliott Global Alliance
10 December 2021
Jeffrey S. Berger, Co-Managing Partner of the New York City law firm Golenbock Eiseman Assor Bell & Peskoe ('Golenbock Eiseman'), has been elected Legal Chair of Alliott Global Alliance ('AGA'), one of the largest global multidisciplinary alliances of independent law and accounting firms.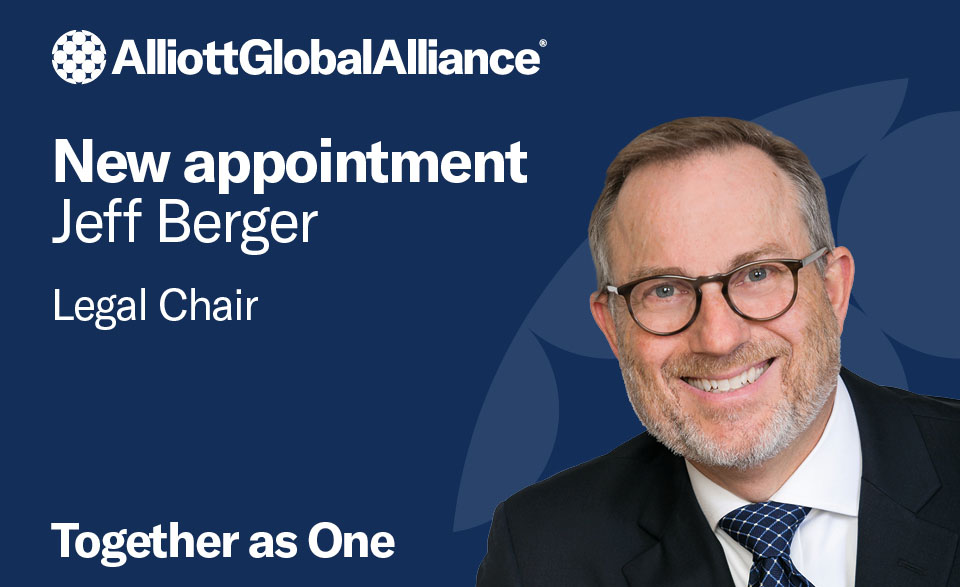 Effective 1 November 2021, Jeff moves to the Legal Chair position after a very successful three-year tenure as Chair of the North America region.
At Golenbock Eiseman, Jeff leads the firm's corporate tax practice. He is involved in structuring many of the corporate transactions in which the firm is involved, especially in the areas of mergers and acquisitions, corporate finance, limited liability companies, partnerships and S corporations, executive compensation, private equity and venture capital investments, and fund formations.
As well as representing the interests of the legal membership on the AGA Worldwide Board, Jeff will play an important role in formulating an alliance-wide strategy that will drive up the alliance's value proposition and in supporting the Executive Office to implement plans.
Jeff Berger comments:
"It is an honour to be appointed to this important position within the alliance to represent our law firm members on the Worldwide Board. As Legal Chair, I will strive to develop and implement strategies that will continue to help raise the profile of AGA across all jurisdictions.

"I look forward to working closely with our law firm members and finding ways we can all work together more effectively and collaboratively in 2022 and beyond."
Alliott Global Alliance CEO, Giles Brake adds:
"Jeff's appointment and continued involvement on our Worldwide Board reflects his achievements as Chair of the North America region and the high esteem in which he is held by the global membership. We have a fast-growing legal membership and must be ready to meet head on the various legal and commercial challenges to our business. I can think of no-one we would rather have in our corner right now than Jeff."
Daryl Petrick, CPA and Tax Partner at Bowman & Company CPAs in Stockton, California, succeeds Jeff Berger as Chair of the North America region.
About Golenbock Eiseman Assor Bell & Peskoe:
Golenbock Eiseman Assor Bell & Peskoe LLP counsel and represent a wide variety of domestic and international companies and individuals, ranging from Fortune 500 corporations and private equity funds to closely held private companies, investors and individuals involved in significant transactions and disputes.
They are proud of their long track record of carefully crafted transactions, successful trials, and settled cases. For their clients, mid-size means small teams of experienced lawyers, fewer billable hours spent reviewing other lawyers work, less on-the-job training, and quicker turnaround. They take pride in their sophistication, experience, and ability to take on major engagements for their clients while also maintaining a hands-on, personalized approach to all their clients matters.
About Alliott Global Alliance:
Founded in 1979, and with 200 member firms in over 85 countries, Alliott Global Alliance is an international alliance of independent, law, accounting, and specialist advisory firms, working across the world Together as One. Each of our members share a common goal: to learn and share knowledge, resources, and opportunities to make the world smaller and their businesses stronger.
We work with a spirit of generosity and openness — so that together, we can continue to fulfil our ambitions, gain greater experience, and drive mutual success.
Alliott Global Alliance is expanding fast, and the alliance has its sights set firmly on growing its legal and accounting membership to 100 countries. Opportunities are available to independent professional firms in specific countries in Europe, but also in, China, the ASEAN region, Australasia, the Gulf Cooperation Council region, Central and South America and in North America. For information about membership in North America, contact Damien McMenamin (damien@alliottglobal.com), Chief Growth Officer.