GPS Legal appointed as Alliott Global Alliance's law firm member in Thailand
17 November 2020
Alliott Global Alliance (formerly 'Alliott Group'), the international alliance of law and accounting firms, has expanded its presence in the Asia Pacific region by appointing highly regarded GPS Legal as its law firm member in Bangkok, Thailand.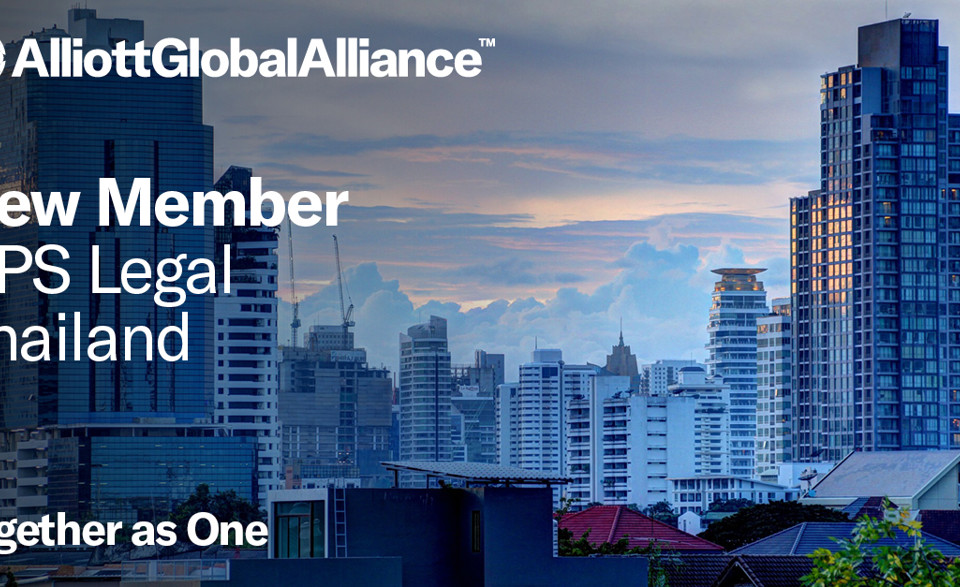 GPS Legal is an established law firm in Bangkok with strong roots in the local community and an extensive network of professional and business contacts across Thailand and South East Asia. Their appointment comes soon after the announcement of GPS Accounting, its sister company, also joining as the alliance's accounting representative in Thailand. Entering Thailand increases the alliance's presence to 15 countries in the Asia Pacific region following the addition of members in Bangladesh, Hong Kong, China, Singapore, Malaysia and now Thailand over the last year.
Founded in 2014 and headed up by Managing Partner Lawrence Chaney, GPS Legal is a full-service law firm offering corporate, litigation and dispute resolution, intellectual property, real estate and family law services to resident and overseas individuals, local and regional SMEs and global multinationals working mainly across the fintech, banking, IT, manufacturing, hospitality, retail and real estate sectors. Work is conducted in the Thai and English languages.
Lawrence comments:
"We are delighted to join Alliott Global Alliance at a time of significant growth and following the announcement of their exciting rebrand. This relationship will greatly expand our global footprint and give us access to other jurisdictions and expertise. Our affiliation with a top tier global association will also help to strengthen and enhance our own brand and we are very well positioned to offer Alliott Global Alliance members access to accurate, informed and thorough advice and assistance in Thailand and across South East Asia."
Alliott Global Alliance COO Giles Brake said:
"GPS Legal provides a dynamic presence for the alliance in a key South East Asian economy. We are undergoing fast organic growth and targeted law firms in Thailand with English speaking capability, an international orientation, a wide range of business law services, and extensive experience in working with foreign clients. GPS Legal impressed us with their credentials in these areas and provide representation which ensures high levels of client service, but also unlocks new opportunities for member firms in other countries. We extend a warm welcome to our friends and colleagues at GPS Legal."
Alliott Global Alliance is growing continuously and now has member firms in the following APAC countries: China, Hong Kong, Bangladesh, Singapore, Indonesia, Malaysia, India, Australia, New Zealand, Japan, South Korea, Nepal, Pakistan, Thailand, and Taiwan.
About GPS Legal & Consulting:
GPS Legal is a full-service law firm in Thailand providing legal services to resident and overseas individuals, local and regional SMEs, and global multinationals.
With its unique culture and complexity of laws, regulations, and bureaucratic nuances, Thailand's dynamic and ever-shifting legal landscape often presents a maze of challenges that require precise, insightful, and discreet navigation. GPS has a solid footing in the community with extensive local networks, strong personal relationships, and insider know-how. By delivering accurate, informed, and thorough answers together with concrete, real-world solutions, clients trust and rely on us to help them overcome those challenges and achieve maximum results.
GPS Legal. Clear Direction in a Complex World.
About Alliott Global Alliance:
Founded in 1979, and with 185 member firms in 80 countries Alliott Global Alliance is an award-winning alliance of independent, law, accounting, and specialist advisory firms, working across the world Together as One. Each of our members share a common goal: to learn and share knowledge, resources, and opportunities to make the world smaller and their businesses stronger.
We work with a spirit of generosity and openness — so that together, we can continue to fulfil our ambitions, gain greater experience, and drive mutual success.
Alliott Global Alliance is expanding fast, and the alliance has its sights set firmly on growing its legal and accounting membership to 100 countries. Opportunities are available to independent professional firms in specific countries in Africa, but also in Europe, China, the ASEAN region, Australasia, the Gulf Cooperation Council region, Central and South America and in North America. For information about membership in Asia, contact Damien McMenamin (damien@alliottglobal.com), Head of Global Business Development.