Foutsis & Partners law firm joins Alliott Global Alliance in Greece
01 September 2021
Alliott Global Alliance (AGA), one of the world's largest global multidisciplinary alliances, with nearly 200 member firms in 82 countries, has continued to expand its legal alliance in South-eastern Europe by appointing leading independent Greek law firm, Foutsis & Partners.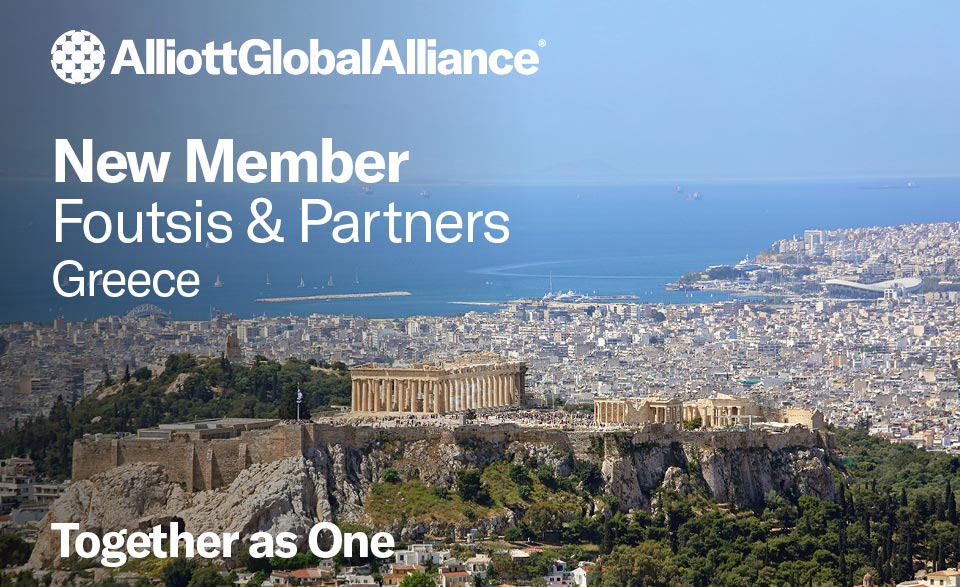 Established in 1946 and headed up by Managing Partner Dimitrios Foutsis, Foutsis and Partners has a team of specialist lawyers, offering legal solutions including administrative, business crimes, corporate and commercial, M&A, employment, IP, international tax, dispute resolution and restructuring & insolvency to numerous national companies and private individuals, as well as to many multinational corporations. Staff at the firm conduct business in the Greek, English, German, French, and Arabic languages.
Dimitrios comments:
"The long-standing relationships we have developed with our clients have helped Foutsis & Partners evolve over many years, as we embrace the growing and ever-developing business needs of those who reside in Greece and in other jurisdictions.
"Through our membership of AGA, we can build new relationships with our like-minded colleagues, learn from their experiences, and benefit from a global platform upon which we can further raise our profile and, which in turn, could lead to the sharing of business opportunities and mutual collaboration."
Alliott Global Alliance CEO Giles Brake adds:
"Our alliance now has 30 law firms across Europe and is experiencing fast growth in many of the region's investment hot spots. After achieving significant growth in Western Europe in the last decade, we are now expanding quickly into South-eastern Europe with law firms joining us to represent the alliance in Greece, North Macedonia, and Albania. There are huge opportunities for leading independent law firms to accelerate their development by collaborating with like-minded firms to serve international clients. Foutsis & Partners has taken another big step forward in elevating their firm to the next level. We welcome Dimitrios and his colleagues to our global team."
The alliance has its sights set on expanding its European coverage further in 2021, particularly in Scandinavia, Central & Eastern Europe, and the Balkan Peninsula.
About Foutsis & Partners:
Foutsis & Partners (FP) has been operating  for 70 years.
The firm's team of talented lawyers, all of whom are specialists in different fields of practice, provide quality legal solutions of the highest standards.
In addition to numerous national legal entities and private individuals, the firm counts multinational corporations among its extensive list of clients. Through its long-standing interaction with international clients and the firm's international networking, FP has evolved over the years, embracing the growing and ever-developing business needs of each of its clients.
About Alliott Global Alliance:
Founded in 1979, and with 197 member firms in 82 countries, Alliott Global Alliance is an international alliance of independent, law, accounting, and specialist advisory firms, working across the world Together as One. Each of our members share a common goal: to learn and share knowledge, resources, and opportunities to make the world smaller and their businesses stronger.
We work with a spirit of generosity and openness — so that together, we can continue to fulfil our ambitions, gain greater experience, and drive mutual success.
Alliott Global Alliance is expanding fast, and the alliance has its sights set firmly on growing its legal and accounting membership to 100 countries. Opportunities are available to independent professional firms in specific countries in Europe, but also in, China, the ASEAN region, Australasia, the Gulf Cooperation Council region, Central and South America and in North America. For information about membership in Europe, contact Damien McMenamin (damien@alliottglobal.com), Head of Global Business Development.