Flores Piper appointed as AGA's law firm member in Belize
16 January 2023
Alliott Global Alliance ('AGA'), one of the world's largest and fastest-growing multidisciplinary alliances of professional services firms, has appointed Flores Piper LLP (Flores Piper) as its sole law firm representative in Belize in Central America. AGA has 215 member firms in 95 countries.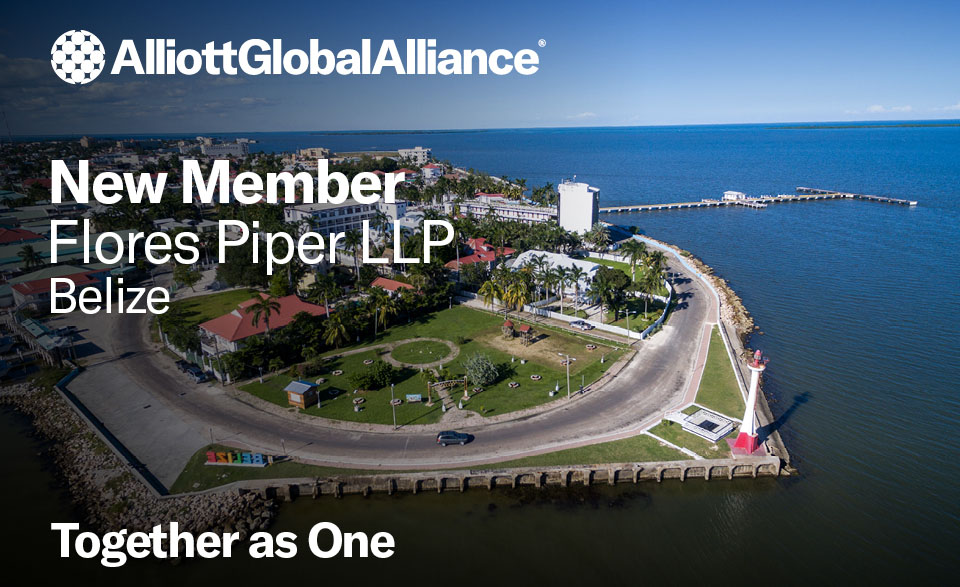 With the appointment of Flores Piper, AGA has expanded to yet another country for the first time, strengthening its value proposition for regional and global companies seeking a collaborative international service provider that can coordinate their needs across the world.
Established in 2021 in Belize City by partners Wayne Piper and Oneyda Flores Piper, the team offers commercial, IP, corporate registrations, commercial litigation, and real estate legal services to clients primarily in the retail, petroleum, real estate investment, hospitality, and transport sectors. Staff at the firm conduct business in the Spanish and English languages.
Wayne and Oneyda are both members of the Bar Association of Belize, while Oneyda is also a member of the Inter-American Association of Intellectual Property (ASIPI), as their Belize representative.
Wayne comments:
"It is an honor to represent AGA in a new country and to be recognised as its exclusive law firm member in Belize. We are very much looking forward to gaining access to and sharing best practices with our colleagues and to further developing our international profile.
"Following recent legislative changes in Belize, particularly those affecting the corporate and offshore sectors, we see great opportunities to grow our practice over the next two years and to working with other member firms from across the alliance to maximise the opportunities available in Belize to their clients."
Giles Brake, Alliott Global Alliance CEO, adds:
"Flores Piper is a young firm, headed up by an ambitious and proactive leadership team who have a clear strategic vision. The collaboration between AGA and Flores Piper will deliver significant benefits to foreign and domestic investors operating in and around this region of the world.

"Admission to AGA positions Flores Piper as a leading mid-size law firm in their country and enables the firm to differentiate itself as a local firm that has the global reach needed by international companies and investors. Their affiliation adds further strength and credibility to AGA's network of like-minded, mid-size professional firms in the Latin America & Caribbean region. A very warm welcome to all the team."
Across Latin America and the Caribbean, AGA has member firms in Argentina, Belize, Brazil, Chile, Colombia, Costa Rica, Ecuador, El Salvador, Guatemala, Mexico, Panama, Peru, Saint Kitts & Nevis, Uruguay, and Venezuela.
About Flores Piper LLP:
As Alliott Global Alliance's law firm representative in Belize, Flores Piper LLP is a boutique firm offering a customized experience in legal and business consultation services to both local and international clients. Providing comprehensive legal and business advice tailored to suit each client's specific needs, the team at Flores Piper utilise their expertise and background in business and law to offer clients an unparalleled service.
About Alliott Global Alliance
Founded in 1979, and with 215 member firms in 95 countries Alliott Global Alliance is an international alliance of independent, law, accounting, and specialist advisory firms, working across the world Together as One.
Each of our members share a common goal: to learn and share knowledge, resources, and opportunities to make the world smaller and their businesses stronger.
We work with a spirit of generosity and openness — so that together, we can continue to fulfil our ambitions, gain greater experience, and drive mutual success.
Alliott Global Alliance is expanding fast, and the alliance has its sights set firmly on growing its legal and accounting membership to 100 countries. Opportunities are available to independent professional firms in specific countries in Africa, but also in Europe, China, the ASEAN region, Australasia, the Gulf Cooperation Council region, Central and South America and in North America. For information about membership in Central and South America email membership@alliottglobal.com