Alliott Group Members Join Forces to Sponsor Expat Academy Global Mobility Conference in Amsterdam
07 February 2020
Global Mobility practice group continues to promote tax and immigration service offering to international companies with expatriate populations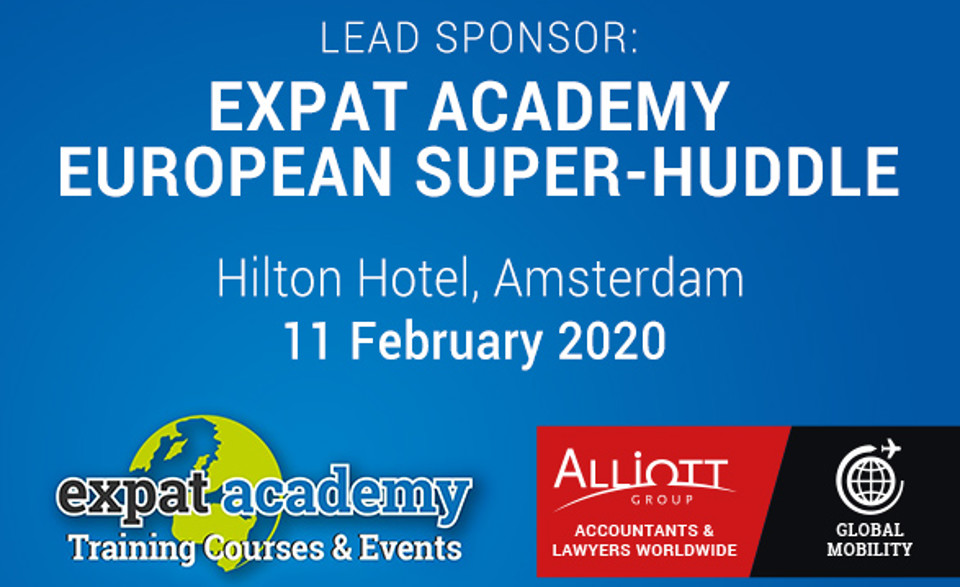 On Tuesday 11 February 2020, six firms from Alliott Group will team up as the Lead Sponsor of the Expat Academy's European Super-Huddle in Amsterdam.
The conference at The Hilton Amsterdam will bring our member experts in tax, social security, immigration, payroll and compliance advisory services together with approximately 100 global mobility and HR directors from an impressive range of public and private companies who face challenges in ensuring their global mobility programmes remain compliant and ahead of the game in a fast-changing global business world. Corporate and vendor attendees will engage in a day of learning, connecting and sharing.

Luc Lamy, EMEA Chair of Alliott Group/Global Mobility and Partner at Tax Consult in Belgium, comments:
"We have seized the opportunity to partner with The Expat Academy and their vibrant community of global mobility professionals to ensure a successful conference. Our tax and immigration experts will be sharing our local and cross border expertise with attendees during roundtable discussions and from our booth in the networking area. We plan to ensure that as many clients and industry vendors as possible become aware of Alliott Group as a name they can trust and of our members' ability to offer dynamic and responsive solutions to the diverse but connected challenges they face locally and internationally."
Alliott Group member firms in Amsterdam will include Alliotts and Ellisons Solicitors (UK), Feher Legal & Tax (Hungary), Tax Consult (Belgium), Audalis (Germany) and Borrie Expatriate Services (Netherlands).

Alliott Group COO, Giles Brake, adds:
"This will be our fifth conference sponsorship in the global mobility sector and demonstrates the proactive and very personal approach our members take to working with their clients and with each other. We believe there is a market for locally based professional firms with international perspectives and connections who can help international companies to manage the risks inherent in moving teams of people in and out of different jurisdictions."
About Alliott Group/Global Mobility
Alliott Group/Global Mobility brings together 160 carefully selected, medium sized tax, immigration and legal services providers in 164 cities across 66 countries in the EMEA, Americas and APAC regions. Member firms serve organisations of all sizes, from fast-growing start-ups to the local subsidiaries of international groups.
Global Mobility Professionals managing mobility programmes in the EMEA, Americas, APAC and Australasian regions can count on the expertise, efficiency and collaborative approach provided by the team's member experts, many of whom have backgrounds working for the big global consulting firms. Outsourcing tax and legal compliance and advisory services to Alliott Group/Global Mobility members adds specialist technical expertise and greater efficiency to the global mobility function. Global mobility and HR professionals can focus on the 'bigger picture' strategic issues related to managing expatriate populations, rather than worry about compliance. For more information visit our global mobility website or contact Alliott Group COO, Giles Brake (giles@alliottgroup.net).