Darsi Casey elected Worldwide Chair of Alliott Global Alliance
03 November 2021
Darsi Casey, Co-Founder and Managing Shareholder at accounting firm Casey Neilon in Nevada, USA, has been elected the Worldwide Chair of Alliott Global Alliance (AGA), one of the world's largest global multidisciplinary alliances. The appointment sees Darsi succeed Colin Farmer and is effective as of 1 November 2021.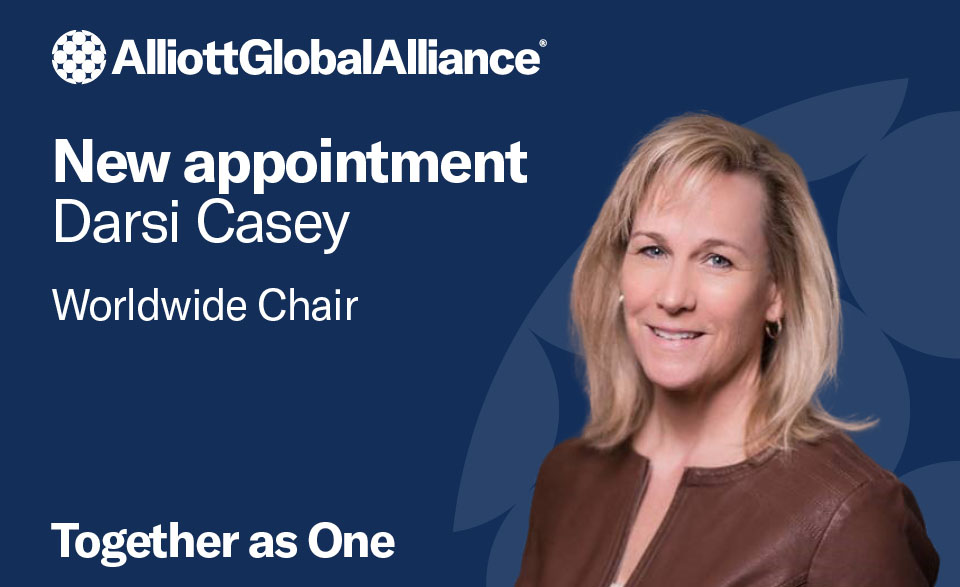 Darsi has been promoted to the Chair role after serving firstly as the Chair of the North America region and for the last four years as Colin Farmer's Deputy Chair. Colin Farmer, consultant at Alliotts LLP in London, steps down after a highly successful tenure which has seen him lead AGA during the most sustained growth period in its 42-year history and through the myriad challenges of the pandemic. He hands the torch to Darsi with AGA enjoying significant forward momentum.
Darsi, one of Accounting Today's Managing Partner Elite, is the first woman to serve as Chair of AGA and will be supported in her role by her newly elected Deputy, Giorgio Marcolongo, partner at BĒS Associati (Milan, Italy). She will serve a three-year term and play an important part in leading the Worldwide Board in developing and implementing the next stage of AGA's strategic plans.
Darsi comments:
"It is an honour to be appointed to this position within the Alliance and to step into such an important role recently held by Colin. Colin has demonstrated great passion and skill in leading the Worldwide Board and taking AGA to the exciting place it is today.
"I aim to continue Colin's great work, lead by example and work with the Executive Office and our members from all regions to bring their ideas and concerns to the attention of the Worldwide Board. I look forward to leading AGA in the coming years."
Colin said:
"I am delighted with Darsi's appointment to succeed me as the Worldwide Chair. Throughout her tenure as Deputy Chair, Darsi's commitment to the Board and to the Alliance has been second to none. Her vision and strong drive will be instrumental in helping to shape AGA in the future and I wish her many congratulations on this fantastic achievement."
Alliott Global Alliance CEO, Giles Brake adds:
"It takes a very special person to serve as Worldwide Chair, so I am really delighted that Darsi has been elected to this prestigious role. Her determination, problem solving ability and strategic thinking are exactly what the alliance needs at this stage of its development. The alliance faces significant challenges to remain competitive and relevant to member firms and their clients in the years ahead. However, I am very confident that with Darsi at the controls, we are in the optimum position to convert these challenges into opportunities and establish the alliance as a leader in our industry."
About Casey Neilon:
Casey Neilon services time-starved entrepreneurs that are owners or key stakeholders in growing businesses. Many of our clients own and are involved in multiple businesses with a variety of ownership structures doing business in multiple states simultaneously. Our clients often need to make complex financial decisions within short windows of time and rely on the advisors at Casey Neilon to provide them with information and oversight to assist with these decisions and to help them with long-term planning. In addition to tax, accounting, audit and consulting services for our business clients and their owners, Casey Neilon specializes in tax, audit, and consulting to captive insurance companies.
About Alliott Global Alliance:
Founded in 1979, and with 200 member firms in 85 countries Alliott Global Alliance is an international alliance of independent, law, accounting, and specialist advisory firms, working across the world Together as One. 
Each of our members share a common goal: to learn and share knowledge, resources, and opportunities to make the world smaller and their businesses stronger.
We work with a spirit of generosity and openness — so that together, we can continue to fulfil our ambitions, gain greater experience, and drive mutual success.
Alliott Global Alliance is expanding fast, and the alliance has its sights set firmly on growing its legal and accounting membership to 100 countries. Opportunities are available to independent professional firms in specific countries in Africa, but also in Europe, China, the ASEAN region, Australasia, the Gulf Cooperation Council region, Central and South America and in North America. For information about membership in the APAC region, contact Damien McMenamin (damien@alliottglobal.com), Chief Growth Officer.