Coinmen Consultants join Alliott Global Alliance in India
25 October 2021
Alliott Global Alliance (AGA), one of the world's largest global multidisciplinary alliances, with 200 members in 85 countries has strengthened its presence in India by appointing financial and business consulting firm Coinmen Consultants ("Coinmen") in New Delhi.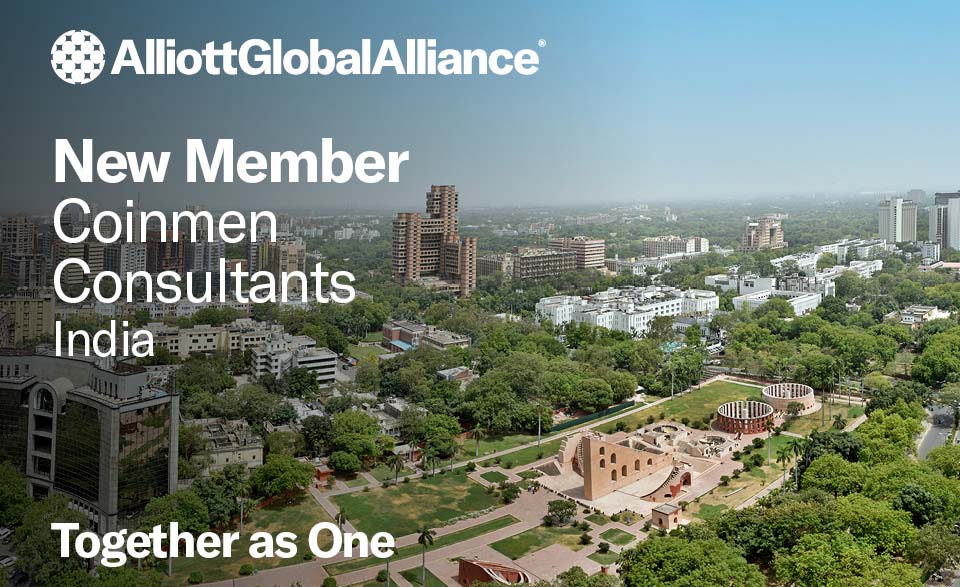 Founded in 2010 by Vikrant Suri, Mohit Aggarwal and Nitin Garg after their respected careers working for the Big Four accounting firms, Coinmen has over 80 staff, including 5 partners.
Coinmen's admission provides clients with further strategic expertise in India, including in M&A, cross border transaction advisory, global mobility, virtual CFO services, corporate finance, and transfer pricing.
Serving clients mainly in the infrastructure, manufacturing, not for profit and real estate sectors, Coinmen also support international clients through their Japanese, French, Korean and Spanish desks, conducting business in these languages as well as in English.
Nitin comments:
"We are honoured to have been admitted to Alliott Global Alliance and to now offer our clients access to expertise in over 80 countries. We look forward to collaborating with our fellow members in the region, and globally, with a view to sharing best practice and to seeking out mutually beneficial business development and networking opportunities.

"Our intention is to be a proactive member of AGA by participating in learning and development programmes, global practice groups and by being a support to members with clients who have business interests in India. We also hope to make important friendships along the way".
Alliott Global Alliance CEO, Giles Brake adds:
"Vikrant, Mohit and Nitin and team contribute additional resources and specialist expertise our members can tap into in this important global city. Coinmen is a strong, ambitious, and internationally focused firm, having grown considerably since their formation in 2010. We are delighted to put our international brand name behind their own strong local brand in India's professional services market, and we welcome the Coinmen team warmly to the Alliance."
Coinmen Consultants' appointment gives the alliance additional representation in New Delhi alongside BMC Support and Accounting Services and law firms King Stubb & Kasiva and Lex Counsel.
Alliott Global Alliance is growing continuously and now has member firms in the following APAC countries: China, Hong Kong, Bangladesh, Singapore, Indonesia, Malaysia, India, Australia, Papua New Guinea, New Zealand, Japan, South Korea, Nepal, Pakistan, Thailand, Taiwan, and Vietnam.
About Coinmen Consultants:
Founded in 2010, Coinmen is a financial and business consulting firm established by three visionary partners as a venture to bring their core principles to life.
The collective goal from day one was simple: Help companies do business in India; no matter their size, scale, country of origin, or the number of years they've been in the market for.
On the face of it – we're financial consultants, business advisors & chartered accountants who prefer to see businesses for what they truly are, we intrinsically consider ourselves as partners in growth who look beyond numbers. Why? Because going beyond the call of duty is something we have in common and pride ourselves on.
About Alliott Global Alliance:
Founded in 1979, and with 200 member firms in 85 countries Alliott Global Alliance is an international alliance of independent, law, accounting, and specialist advisory firms, working across the world Together as One.
Each of our members share a common goal: to learn and share knowledge, resources, and opportunities to make the world smaller and their businesses stronger.
We work with a spirit of generosity and openness — so that together, we can continue to fulfil our ambitions, gain greater experience, and drive mutual success.
Alliott Global Alliance is expanding fast, and the alliance has its sights set firmly on growing its legal and accounting membership to 100 countries. Opportunities are available to independent professional firms in specific countries in Africa, but also in Europe, China, the ASEAN region, Australasia, the Gulf Cooperation Council region, Central and South America and in North America. For information about membership in the APAC region, contact Damien McMenamin (damien@alliottglobal.com), Chief Growth Officer.