CGT & Associates appointed as Alliott Global Alliance's accounting firm member in Lesotho
01 March 2021
Alliott Global Alliance ('AGA'), one of the world's largest multidisciplinary alliances of professional services firms, continues its expansion across Africa by appointing CGT Chartered Accountants ("CGT") as its sole accounting firm member in Lesotho in Southern Africa.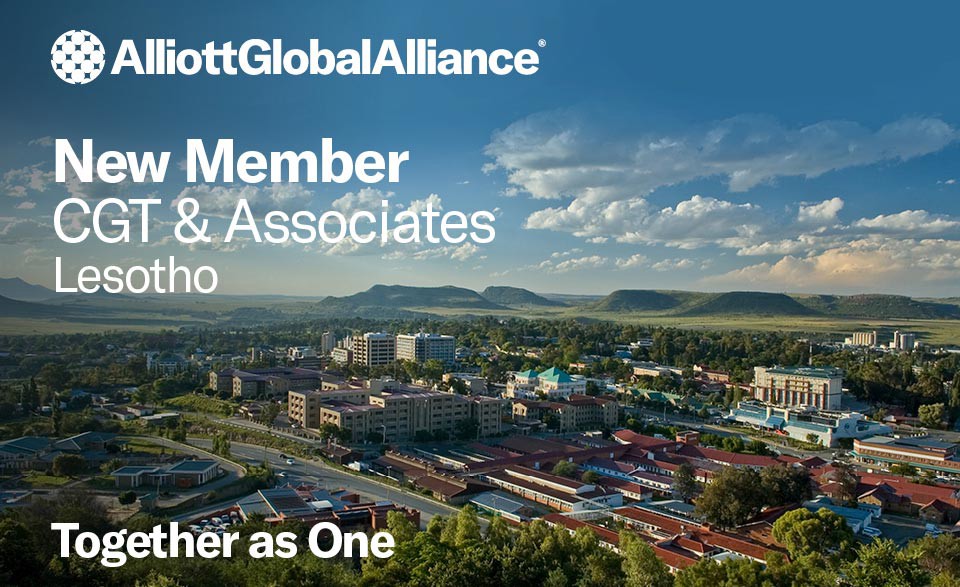 Established in 2018 by Managing Partner Sesinyi Rakubutu, CGT & Associates offers audit, tax, accounting, and consultancy services to clients based mainly in the retail, construction, mining, not for profit, health, and manufacturing sectors. Although newly established, CGT is already developing a strong reputation in the local market.
Sesinyi comments:
"It is an honour to be admitted as the exclusive accounting firm member of Alliott Global Alliance in Lesotho. Through this alliance, we will be able to enhance our competitiveness in the local audit market, allowing us to compete for work of larger clients, therefore raising our profile in the international business community.

"We will also be able to offer support to our clients in other jurisdictions through our collaboration with other alliance members and look forward to sharing knowledge and transferable skills with like-minded professionals in the region and from across the membership."
Alliott Global Alliance Giles Brake adds:
"We are really pleased to put the power of the AGA global brand behind the CGT & Associates name in Lesotho in Sub-Saharan Africa. This young firm has an experienced leadership team led by Managing Partner Sesinyi Rakubutu who has serious ambitions to develop the firm into one of the country's Top 10 audit firm. We are very confident alliance membership will give CGT & Associates the global platform they need to achieve their aims and to unlock the opportunities Lesotho offers to foreign investors. Welcome to Sesinyi and to all our other new friends and colleagues at CGT".
The alliance now has a presence in the following African countries: Cameroon, Ghana, Kenya, Lesotho, Malawi, Mauritius, Morocco, Nigeria, Senegal, South Africa, Tunisia, Zambia, and Zimbabwe.
About CGT & Associates Chartered Accountants:
CGT & Associates Chartered Accountants ("CGT") is an auditing, accounting, tax consultancy and advisory services firm that strives to provide the highest quality service to its clients. CGT was registered with Lesotho Institute of Accountants in June 2018 as an Accounting and Tax firm.
CGT is a growing national provider of business advisory services in Lesotho. It is an all-encompassing business consultancy providing services & consultancy in the different business fields to assist organizations to outperform in the challenging marketplace, audit & assurance, tax, finance & accountancy, incorporation & investment as well as HR & market studies.
Our team is our utmost asset and thus they are meticulously selected to meet the challenge of a dynamic business environment.
About Alliott Global Alliance:
Founded in 1979, and with 190 member firms in 80 countries Alliott Global Alliance is an award-winning alliance of independent, law, accounting, and specialist advisory firms, working across the world Together as One. Each of our members share a common goal: to learn and share knowledge, resources, and opportunities to make the world smaller and their businesses stronger.
We work with a spirit of generosity and openness — so that together, we can continue to fulfil our ambitions, gain greater experience, and drive mutual success.
Alliott Global Alliance is expanding fast, and the alliance has its sights set firmly on growing its legal and accounting membership to 100 countries. Opportunities are available to independent professional firms in specific countries in Africa, but also in Europe, China, the ASEAN region, Australasia, the Middle East, Central and South America and in North America. For information about membership in Africa, contact Sophia Rook-Blackstone (sophia@alliottglobal.com) Membership Development Executive.