Alliott Group expands legal membership to Canada with the appointment of Toronto law firm Wildeboer Dellelce
22 July 2020
This appointment strengthens Alliott Group's membership in North America and provides high calibre legal coverage in one of the world's major business cities.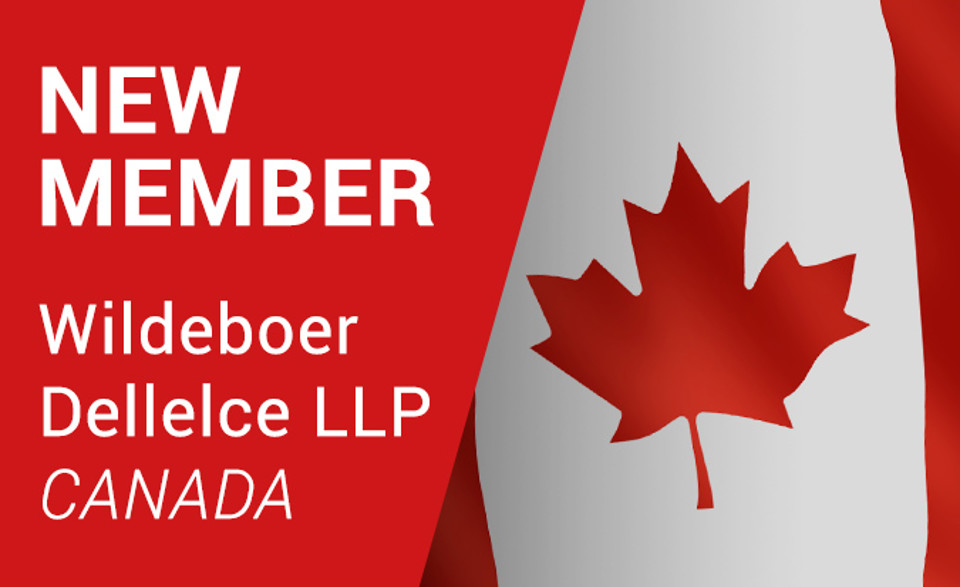 Alliott Group, the world's sixth largest multidisciplinary alliance of professional services firms, has added to its legal membership in North America by appointing Top 10 corporate, securities, and business law firm Wildeboer Dellelce LLP in Toronto, Canada. This appointment strengthens Alliott Group's membership in North America and provides high calibre legal coverage in one of the world's major business cities.
Founded in 1993, and with a strong growth record and culture, Wildeboer Dellelce is a 90-staff firm led by Managing Partner Perry Dellelce. The firm, which is highly regarded for its corporate work, is ranked by Chambers Canada 2020, and was selected as one of the Top 10 Corporate Law Boutiques in Canada by Canadian Lawyer Magazine.
The team works across all traditional industries including financial services, real estate, technology, life sciences and biotechnology, industrial and consumer products and mining and natural resources. Wildeboer Dellelce is also recognised for its work in new and emerging markets including in cannabis, fintech and e-sports. Business at the firm is conducted in French, English, Mandarin and Spanish.
Partner Rory Cattanach comments:
"Our firm already has business relationships with many Canadian and US law firms and, given the growing nature of our practice, our membership in Alliott Group will assist us to expand our relationships to other countries and industries including to accounting firms with whom we see an opportunity to provide and receive referrals within Canada and internationally. Our involvement with Alliott Group is also a way to engage our younger lawyers in our business development and marketing activities. Beyond providing top tier advice at competitive rates, we see our firm and our lawyers being active participants in Alliott Group and its activities."
Jeffrey Berger, Chair of Alliott Group's North America region and Co-Managing Partner of New York law firm Golenbock Eiseman Assor Bell & Peskoe LLP said:
"Expansion of the North America membership is a key alliance priority. We plan to appoint strong independent business law and accounting firms that will complement and support each other's growth activities and drive new business opportunities across the region and the globe. We are delighted to welcome Wildeboer Dellelce and look forward to working with the team in future."
Alliott Group COO Giles Brake adds:
"Toronto is an important global city where we have been looking for a law firm for some time that will fit into and thrive within our international family of firms. We are therefore delighted to welcome Wildeboer Dellelce to our alliance. They are a high calibre firm that is growing fast due to the vision of their leadership, their strong and clear values, and the commitment of their team members. The firm's partners have already collaborated with their new Alliott Group counterparts in different countries on several matters, demonstrating the quality of their advice and their commitment to high levels of personal service. A huge welcome to all at the firm."
About Wildeboer Dellelce LLP:
Wildeboer Dellelce LLP is one of Canada's premier corporate, securities, and business transactional law firms. The firm is ranked by Chambers Canada 2020 as highly regarded for corporate work and was selected by Canadian Lawyer Magazine as one of the 'Top 10 Corporate Law Boutiques in Canada'.
Under the WD Group of Companies umbrella, Wildeboer Dellelce also offers additional services to niche clientele. The companies include WD Capital Markets, WD Numeric Corporate Services and International Hockey Group (IHG). To read more please click here.
About Alliott Group:
Founded in 1979, and with 180 member firms in 75 countries, Alliott Group is an award-winning international association ('alliance') of independent accounting, law and specialist services firms that need deeper levels of cross border resources to develop reputation, visibility, and new business. Alliott Group provides services to help its member firms to position themselves as the 'go to' firms in their local markets for businesses and private individuals with multi-market business interests.
Alliott Group is expanding fast, and the alliance has its sights set firmly on growing its legal and accounting membership to 100 countries. Opportunities are currently still available to independent professional firms in specific locations in North America, Africa, Europe, China, the ASEAN region, Australasia, the Gulf Cooperation Council region, and in Central and South America. For information about membership, contact Damien McMenamin (damien@alliottgroup.net), Head of Global Business Development.