Alliott Global Alliance expands to Portuguese accountancy market through appointment of BBS
03 December 2020
BBS, with offices in Lisbon and Porto, becomes the alliance's sole accounting firm representative in Portugal.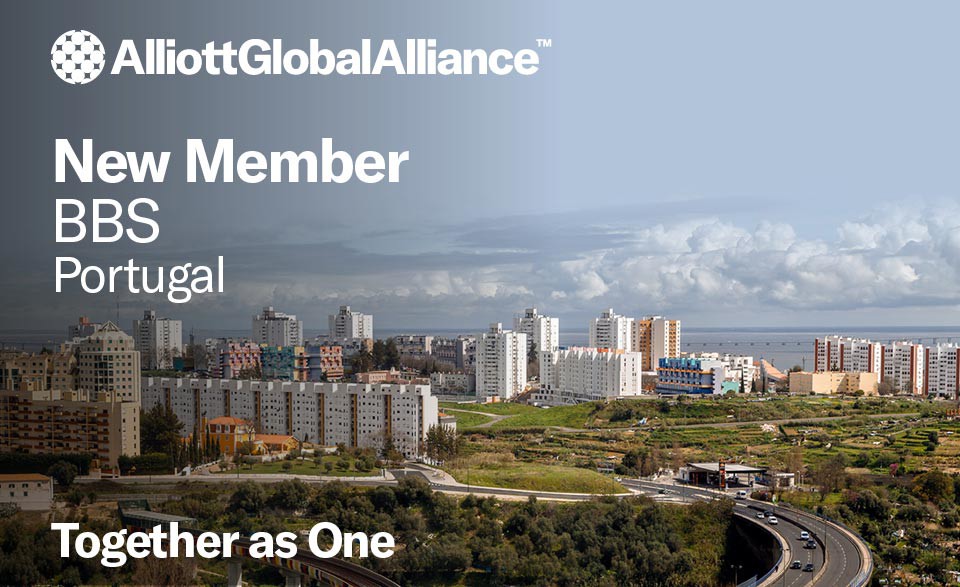 Portugal's accountancy market now offers another independent firm with the resources required to serve international clients within and outside Portugal's borders – local accounting firm Better Business Services ('BBS') has joined Alliott Global Alliance (AGA), a global multidisciplinary alliance with a presence in 225 cities across 80 countries worldwide. BBS, with offices in Lisbon and Porto, becomes the alliance's sole accounting firm representative in Portugal.
The appointment gives the alliance a dual presence in Portugal, with Alves, Botelho, Varela & Associados providing legal services in Lisbon.
Founded in 2006, BBS is a young, dynamic firm which provides services to over 300 SMEs including accounting and bookkeeping, tax consultancy, payroll outsourcing, corporate finance, and start up services.
Mainly working for clients in the consultancy, IT, real estate, manufacturing and retail sectors, BBS offers services to Portuguese and international companies operating in Portugal, including from Asia, the Americas and Europe. The firm also has a growing need to meet the needs of Portuguese companies expanding outside of the country.
Partners Ricarda Fernandes and Nuno Vieira da Silva head up the firm and are supported by 30 professionals including accountants, economists, and business administrators, all of whom have over 20 years' experience in tax and accounting consultancy. Ms. Fernandes previously worked as an auditor at KPMG and is a specialist in industry, consumer markets and media. Mr Viera da Silva is also a partner at Follow Us, a company focused on the active search for financing solutions, developed to support the management of SMEs. The staff conduct business in Portuguese, English, Spanish, and French.
Ms Fernandes comments:
"It is an honour to join Alliott Global Alliance at such a time of its extensive growth and to be appointed as its accounting representative in the region."
Mr Viera da Silva adds:
"This partnership will help to raise our profile locally and we are very much looking forward to offering our clients with an international presence support in other jurisdictions. The knowledge and experience we will gain from our fellow members will be invaluable and likewise, we can now offer the group access to an experienced accounting and tax provider in Portugal."
Alliott Global Alliance COO Giles Brake said:
"Portugal has become one of Europe's most attractive markets for international investors so there was a real imperative to find a trusted, high calibre accounting firm to serve the intricate needs of business and private clients. BBS have been selected based on their expertise in serving foreign clients and their own clear need for greater exposure to advisors in foreign markets who will help them to unlock new growth opportunities in Portugal. We extend a really warm welcome to Ricarda, Nuno and their team."
Alliott Global Alliance's growth has skyrocketed in 2020 with 37 firms joining the alliance in 35 countries. The alliance has its sights set on expanding its European coverage in 2021, particularly in Scandinavia, Central & Eastern Europe, and the Balkan Peninsula.
About BBS:
BBS is a young and dynamic company dedicated to providing support and guidance to SMEs in their various management activities.
We offer quality and technical rigor in all actions, supported by a culture of availability and proximity to the customer.
BBS positions itself as a partner that aims to support business at all stages of its life cycle, providing its customers with the conditions for real and sustained growth.
About Alliott Global Alliance:
Founded in 1979, and with 185 member firms in 80 countries Alliott Global Alliance is an international alliance of independent, law, accounting, and specialist advisory firms, working across the world Together as One. Each of our members share a common goal: to learn and share knowledge, resources, and opportunities to make the world smaller and their businesses stronger.
We work with a spirit of generosity and openness — so that together, we can continue to fulfil our ambitions, gain greater experience, and drive mutual success.
Alliott Global Alliance is expanding fast, and the alliance has its sights set firmly on growing its legal and accounting membership to 100 countries. Opportunities are available to independent professional firms in specific countries in Europe, but also in, China, the ASEAN region, Australasia, the Gulf Cooperation Council region, Central and South America and in North America. For information about membership in Europe, contact Damien McMenamin (damien@alliottglobal.com), Head of Global Business Development.