Alliott Global Alliance expands to Papua New Guinea through affiliation with SBC Solutions
09 November 2020
Alliott Global Alliance ('AGA'), one of the world's largest multidisciplinary alliances of professional services firms, has expanded its accounting membership in the Oceania region with the appointment of SBC Solutions in Port Moresby, Papua New Guinea's capital city.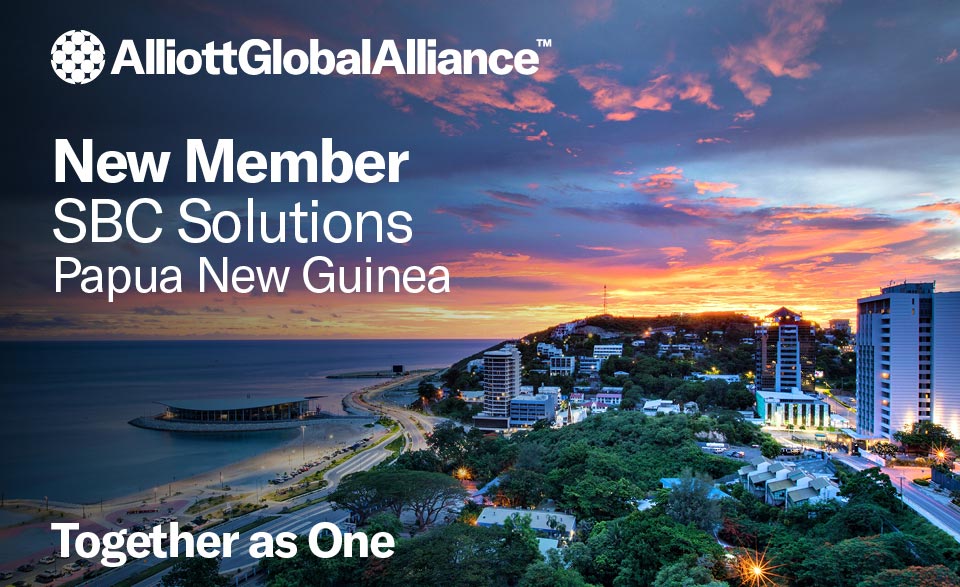 SBC Solution's affiliation with AGA in Papua New Guinea, the world's third largest island, expands the firm's reach to some 225 cities in 85 countries worldwide and gives the firm's clients and staff easy access to a wealth of resources. Membership also positions SBC Solutions among a small group of firms in Papua New Guinea that can offer the resources needed by companies and investors operating through their nation and internationally.
Alliott Global Alliance's business strategy is focused on achieving representation in 100 countries by 2025 to ensure clients have access to truly global solutions. Appointing SBC Solutions in Papua New Guinea is an integral part of the alliance's development plan in the Oceania region and supplements the alliance's existing representation in Australia and New Zealand.
Established in June 2000, SBC Solutions formerly known as Star Business Consultants is a two-partner firm (12 staff in total) that provides a comprehensive range of audit, tax, accounting, HR and general business consulting services to clients ranging from SMEs to large corporates, with niche expertise in serving companies in the extractive industries, NGOs and semi-government organisations. Already a Top 25 firm, SBC Solutions views membership of AGA as a key pillar in its future growth strategy.
Naime Tom O'ome, Principal of SBC Solutions commenting on the affiliation said:
"Our firm SBC Solutions formerly Star Business Consultants has been an established second tier Public Accounting, Audit, Tax and Business Consulting Firm in PNG since June 2000. We are grateful for and look forward to tapping into the great opportunities that are available through sharing of ideas, resources, assignment referrals and the expansion of our reach globally through this strategic alliance with the Alliott Global Alliance.

"As our firm celebrates 20 years of service this year, 2020, I am very hopeful that this strategic alliance with one of the largest global alliance groups will position our firm for future growth prospects for the next 20 years, and be known, not just as a local firm but also as an international firm providing quality and global standard services to our clientele and across our market place. As the first firm from PNG to be an alliance partner with Alliott Global Alliance, we look forward to taking full advantage of this strategic partnership to position our firm for growth in the next 20 years."
Alliott Global Alliance COO Giles Brake adds:
"Papua New Guinea is a developing country with abundant natural resources and significant opportunities for cross border investment. As a provider of compliance, tax, and advisory services to major players in the country's booming extractive industries, SBC Solutions will be able to connect our members' clients to these opportunities. Furthermore, we anticipate that the firm will see increasing interest in their services from international companies now that they have the support of an international alliance. We extend a very warm welcome to all of the team at SBC Solutions."
About SBC Solutions:
SBC Solutions, formerly Star Business Consultants was established in June 2000 in Tabubil Town by Tobias Thomas and Dasim Kel at Ok Tedi Mine in Western Province, Papua New Guinea. The firm currently has two partners and eleven employees specializing in providing Public Accounting, Audit, Tax, HR and Business Consulting services mainly to landowner umbrella companies in the extractive industry in PNG. The firm also provides professional services to Small Medium Enterprises, Corporates, Government organizations and NGOs.
Frank Bouraga, the Assurance and Advisory Partner is a CPA in PNG, registered with the Accountants Registry Board as a Public Accountant and an Auditor. He has a degree in accounting from the University of Central Queensland, Australia, previously worked with PricewaterhouseCoopers and Frank was the former Country Managing Partner for Ernest & Young in PNG from 2011 to 2016. Naime O'ome, the Principal Partner is a CPA in PNG, registered Public Accountant, he has a master's degree in Professional Accounting from the Divine Word University in PNG and Naime previously worked with PricewaterhouseCoopers in PNG. Both Naime and Frank each have more than 20 years of professional experience providing Accounting, Audit, Tax and Business Consulting Services.
About Alliott Global Alliance:
Founded in 1979, and with 185 member firms in 80 countries Alliott Global Alliance is an award-winning alliance of independent, law, accounting, and specialist advisory firms, working across the world Together as One. Each of our members share a common goal: to learn and share knowledge, resources, and opportunities to make the world smaller and their businesses stronger.
We work with a spirit of generosity and openness — so that together, we can continue to fulfil our ambitions, gain greater experience, and drive mutual success.
Alliott Group is expanding fast, and the alliance has its sights set firmly on growing its legal and accounting membership to 100 countries. Opportunities are available to independent professional firms in specific countries in Africa, but also in Europe, China, the ASEAN region, Australasia, the Middle East, Central and South America and in North America. For information about membership, contact Damien McMenamin (damien@alliottglobal.com), Head of Global Business Development.