Alliott Global Alliance expands to Jordan through affiliation with Rum for Tax & Financial Consulting
21 October 2020
Alliott Global Alliance, the world's sixth largest, multidisciplinary alliance of professional services firms, has expanded its accounting membership in the Middle East region with the appointment of Rum for Tax & Financial Consulting in Jordan.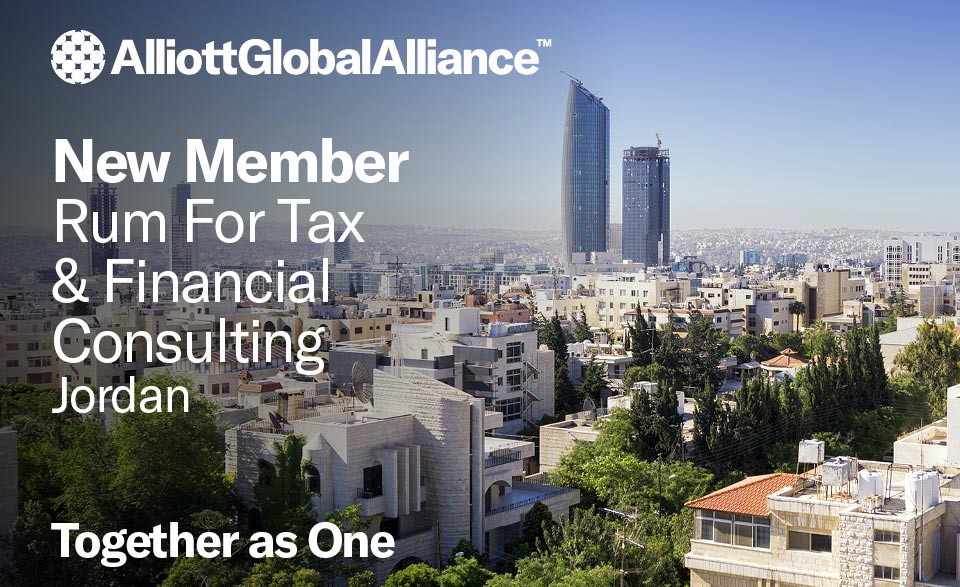 Rum for Tax & Financial Consulting's acceptance as the alliance's sole member in Jordan extends the firm's reach to some 225 cities in 80 countries across the globe. Membership positions the firm among a select cluster of firms in the country's capital Amman that have access to cross border resources and specialist expertise required by companies and investors operating through the region and internationally. 
Alliott Global Alliance's business strategy is focused on achieving representation in 100 countries by 2025 to ensure clients have access to truly global solutions. Appointing Rum for Tax & Financial Consulting in Jordan is an integral part of the alliance's development plan in the Middle East region and supplements existing representation in Afghanistan, Lebanon, Oman, Pakistan, Saudi Arabia, the UAE and Yemen.
Founded in 2004, Rum for Tax & Financial Consulting is a three-partner consulting firm that provides a comprehensive range of business and financial advisory services in Jordan. Audit/Managing Partner Mr Majdi Albadareen, CPA, heads up the Top 25 firm which has developed an increasingly strong profile in the country's accounting sector in recent years. The firm's staff are fluent in Arabic and English and specialise in audit, tax and accounting services, as well as management and business consulting. As well as the Jordanian Association of Certified Public Accountants, the firm is also a member of Jordan's Experts Society of Income & Sales Tax.
The firms' clients are mainly from the commercial, manufacturing, renewable energy, health and sport sectors.
Partner Mr Albadareen comments:
"We are proud to be part of Alliott Group, we believe that this will have a positive impact on us and on our clients as well. We look forward to share our expertise with other members, and benefit from theirs too. "
Alliott Group COO Giles Brake adds:
"Rum for Tax & Financial Consulting's areas of practice fit well with those of our accounting member firms in the region, ensuring synergy and opportunities for growth on all sides. We are confident that the support of a global alliance will enable our new colleagues in Jordan to achieve a higher status for their firm in the country's professional services market. We extend a warm welcome to Majdi and all of the team in Amman."
About Rum for Tax & Financial Consulting:
Rum for Tax and Financial Consulting is a leading consulting firm aiming to provide a comprehensive range of business and financial advisory throughout Jordan.
Our experience started in 1996 as individuals and then gathered our diverse experience in business to be in one institution in 2004. Our goal is to help our clients growing, improve, entrepreneurial business, achieve their ambitions by offering practical and imaginative advice.
About Alliott Global Alliance:
Founded in 1979, and with 180 member firms in 80 countries Alliott Global Alliance is an award-winning alliance of independent, law, accounting, and specialist advisory firms, working across the world Together as One. Each of our members share a common goal: to learn and share knowledge, resources, and opportunities to make the world smaller and their businesses stronger.
We work with a spirit of generosity and openness — so that together, we can continue to fulfil our ambitions, gain greater experience, and drive mutual success.
Alliott Group is expanding fast, and the alliance has its sights set firmly on growing its legal and accounting membership to 100 countries. Opportunities are available to independent professional firms in specific countries in Africa, but also in Europe, China, the ASEAN region, Australasia, the Middle East, Central and South America and in North America. For information about membership, contact Damien McMenamin (damien@alliottglobal.com), Head of Global Business Development.