Alliott Global Alliance expands to Botswana through OTTO ITUMELENG Law Chambers
23 January 2023
Alliott Global Alliance (AGA), one of the world's largest global multidisciplinary alliances, has expanded its presence further into Southern Africa by appointing Top 25 local firm OTTO ITUMELENG Law Chambers (OTTO ITUMELENG) as its legal member firm in Botswana.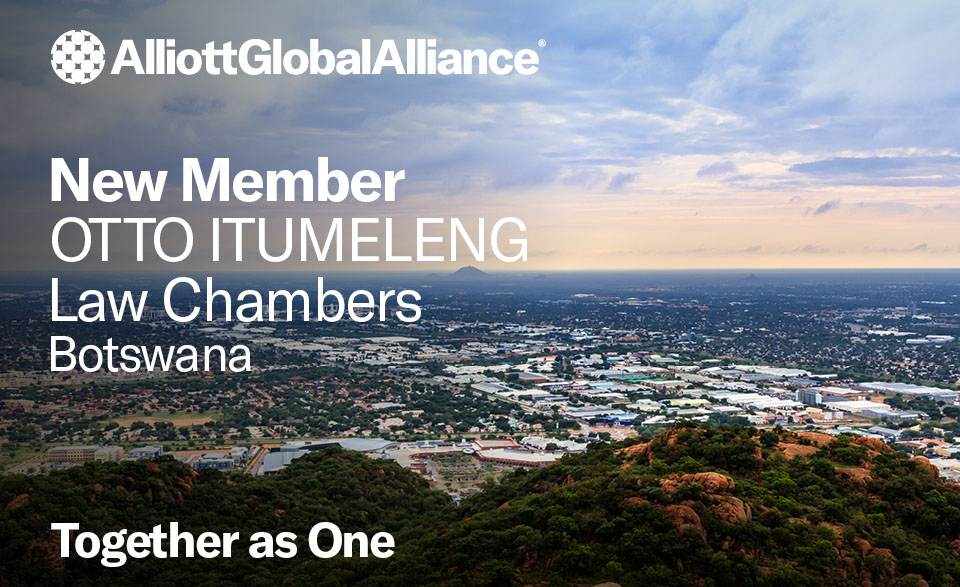 Established in 2010 and based in the country's capital city Gaborone, this latest appointment strengthens AGA in a challenging but strategically important region of the world. Affiliation with AGA gives the firm immediate global reach and the ability to offer support to their growing national and international client base through access to the alliance's 215 member firms in 95 countries.
Offering legal services including corporate and commercial, labour and employment, debt collection, conveyancing and property and international transactions, the team, led by Managing Partner Odirile Otto Itumeleng, mainly has clients who work across the banking and insurance, construction, engineering, energy and gas, investment and property, mining and mineral and telecommunications sectors. They also work for one of the largest trade unions in Botswana.
OTTO ITUMELENG's clients include those who are members of the Chamber of Mines, Construction Consortium, the International Labour Organisation and Cross Border Oil Transport Providers.
Odirile comments:
"By joining AGA as its exclusive law firm member in Botswana, we are now able to market our increased international reach in 95 countries to existing and potential clients that have a requirement for multi-jurisdictional assistance. In turn we are committed to attending in-person events and to providing members around the world with an understanding of the opportunities available in Botswana.

"We plan to expand our mining, transport, and international trade service offering and are therefore looking forward to engaging and collaborating with fellow members in the region who work across these sectors, for mutual benefit."
Alliott Global Alliance CEO, Giles Brake, adds:
"The addition of OTTO ITUMELENG Law Chambers means that we now have another high calibre law firm to represent the alliance in one of Africa's emerging hotspots. They join an ambitious international alliance whose like-minded member firms collaborate closely to protect their clients' assets and to expand their businesses across the region and globally.

"With plans to open offices in Maun and Ghanzi and to expand their service offering, OTTO ITUMELENG is definitely a firm to watch. We extend a very warm welcome to Odirile and all the team."
AGA is now one of the largest professional services alliances in Africa with coverage in 19 countries: Algeria, Botswana, Cameroon, Egypt, Ghana, Kenya, Lesotho, Libya, Malawi, Mauritius, Morocco, Nigeria, Senegal, South Africa, Tanzania, Tunisia, Uganda, Zambia, and Zimbabwe. Further growth is planned in 2023.
About OTTO ITUMELENG Law Chambers:
As AGA's sole law firm member in Botswana, the team at OTTO IMUMELENG pride themselves on offering a professional and person service in an approachable and friendly environment. Possessing traditional values, and with services available at competitive rates, all at the firm understand complex transactions and are ideally placed to aid any business or individual with their local and international requirements. Read more.
About Alliott Global Alliance:
Founded in 1979, and with 215 member firms in 95 countries Alliott Global Alliance is an international alliance of independent, law, accounting, and specialist advisory firms, working across the world Together as One.
Each of our members share a common goal: to learn and share knowledge, resources, and opportunities to make the world smaller and their businesses stronger.
We work with a spirit of generosity and openness — so that together, we can continue to fulfil our ambitions, gain greater experience, and drive mutual success.
Alliott Global Alliance is expanding fast, and the alliance has its sights set firmly on growing its legal and accounting membership to 100 countries. Opportunities are available to independent professional firms in specific countries in Africa, but also in Europe, China, the ASEAN region, Australasia, the Gulf Cooperation Council region, Central and South America and in North America. For information about membership in Africa email membership@alliottglobal.com